McCarthy faces GOP pushback on debt deal
By HENG WEILI in New York | China Daily Global | Updated: 2023-05-30 10:44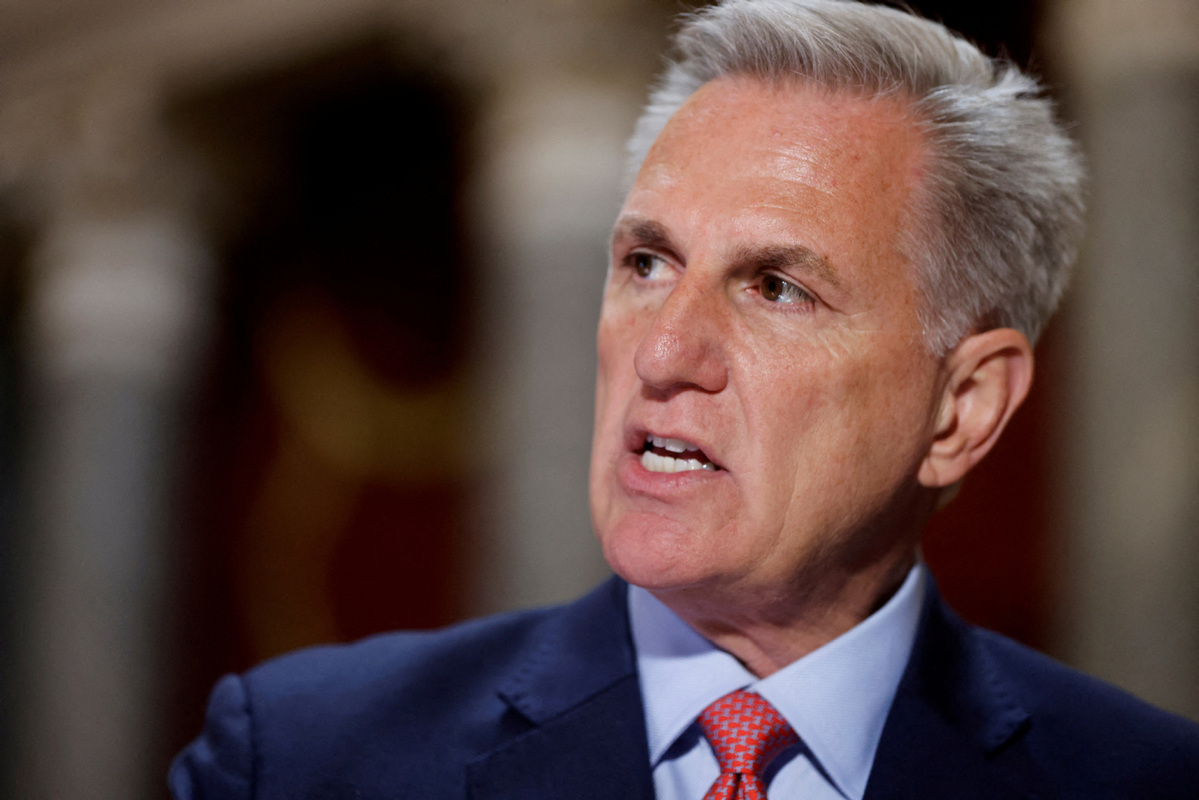 US House Speaker Kevin McCarthy is facing an outcry from members of his Republican Party after a holiday weekend deal with President Joe Biden to raise the debt ceiling.
Two main sticking points for opponents is that the House had voted on a measure that included lifting the debt ceiling for one year. Over the Memorial Day weekend, McCarthy and Biden agreed on a two-year deal that would raise the $31.4 trillion debt ceiling by $4 trillion.
Another contentious point was that McCarthy had vowed to block the White House's spending of $80 billion to hire 87,000 new Internal Revenue Service tax agents.
"Our very first bill will repeal the funding for 87,000 new IRS agents," McCarthy had previously said.
The number agreed to, however, was a scant reduction in new IRS funding to $78.1 billion.
"So there will be 85,260 more IRS agents rather than 87,000 to eat you alive. Big win," tweeted Representative Dan Bishop, a North Carolina Republican.
Florida Governor Ron DeSantis, a candidate for the Republican 2024 presidential nomination, said the deal does not do enough to change the country's fiscal trajectory.
"Prior to this deal our country was careening towards bankruptcy. And after this deal, our country will still be careening towards bankruptcy," he said on Fox News.
"The deal green-lights $4 trillion in new debt over the next year and a half, locks in inflated levels of spending from COVID, and keeps 98 percent of the Biden IRS expansion, DeSantis said.
The deal needs only a simple majority to pass, so even if several Republicans vote against it, it likely would clear Congress before June 5, the day that the Treasury Department says the United States would run out of money to pay its bills.
"This thing will absolutely pass. There's no question about that," said Republican Representative Dusty Johnson of South Dakota, who said he had talked to dozens of fellow lawmakers.
Biden said he had been working the phones as well. "It feels good. We'll see when the vote starts," he told reporters.
McCarthy, in a Twitter post Sunday heralding the agreement, received almost a uniformly negative response, with most saying he "caved".
In the tweet, the California Republican wrote: "President Biden claimed he'd never negotiate. Leader (Senate Majority Leader Charles) Schumer insisted there'd be a 'clean' debt increase. They were wrong. Republicans fought to spend less, block Biden's new tax proposals, claw back unspent COVID money, and fully fund our veterans and defense priorities."
The tweet resulted in "context" provided by readers, a feature added since Elon Musk bought Twitter.
"The budget agreement does not reduce spending. Rather, it limits the increase of spending. According to yahoo finance … it will 'keep overall non-defense spending largely at current levels into next year. Then, in 2025, there will be a small 1% increase in spending."
Defense spending for 2024 will be $886 billion, the number that Biden requested, which is 3.3 percent higher than the Pentagon's funding in 2023.
The 99-page bill also would suspend the debt ceiling limit through Jan 1, 2025, which means there would be no brinkmanship before the November 2024 presidential election.
A crucial first test on the weekend deal will come on Tuesday when the House Rules Committee takes up the bill, in a necessary first step before a vote in the full House. Though the panel is normally closely aligned with House leadership, McCarthy appointed some conservatives in exchange for support of him becoming House speaker.
One of those conservatives, Representative Chip Roy of Texas, said Monday he did not support the bill.
"It's not a good deal. Some $4 trillion in debt for — at best — a two-year spending freeze and no serious substantive policy reforms," Roy wrote on Twitter.
Another panel member, Ralph Norman of South Carolina, already has come out against the agreement.
"This is totally unacceptable, and it's not what we agreed to," Norman told The Washington Post on Friday as the deal was being hammered out.
In the Senate, Republican Mike Lee of Utah also came out against the bill, which could point to a tight vote there, where any member has the power to delay action for days. Democrats control the Senate by 51-49.
McCarthy has predicted it will draw the support of most of his fellow Republicans, who control the House 222-213.
House Democratic Leader Hakeem Jeffries of New York said he expects support from his side of the aisle, although many on his party's progressive left may vote "no" as well.
Representative Raul Grijalva, a progressive Democrat from Arizona, wrote on Twitter that the bill's changes to environmental rules were "disturbing and profoundly disappointing".
Grijalva was referring to an element of the bill that would speed up the permit process for some energy projects. The bill also would claw back unused COVID-19 funds and raise work requirements for food-assistance programs.
Representative Pramila Jayapal, a Democrat from Washington, called the work- requirement provisions "absolutely terrible policy" on CNN on Sunday.
As part of the agreement, able-bodied adults who are 54 and younger and do not have children must work or participate in a training program for at least 80 hours a month to receive food stamps for extended periods of time, The New York Times reported. If they cannot meet that requirement, they would get benefits for only three months over a three-year period. The current work rules apply to adults age 49 and younger.
Republicans have argued that deep spending cuts are necessary to curb the growth of the national debt, which at the current $31.4 trillion is roughly equal to the annual output of the economy.
Interest payments on that debt are projected to eat up a growing share of the budget in the decades to come as an aging population pushes up health and retirement costs, according to government forecasts.
Reuters contributed to this story.