Musk praises China's 'far more advanced' space program
chinadaily.com.cn | Updated: 2023-05-30 14:14

Elon Musk, CEO of Tesla and SpaceX, said in a tweet on May 30 that China's space program is far more advanced than most people realize.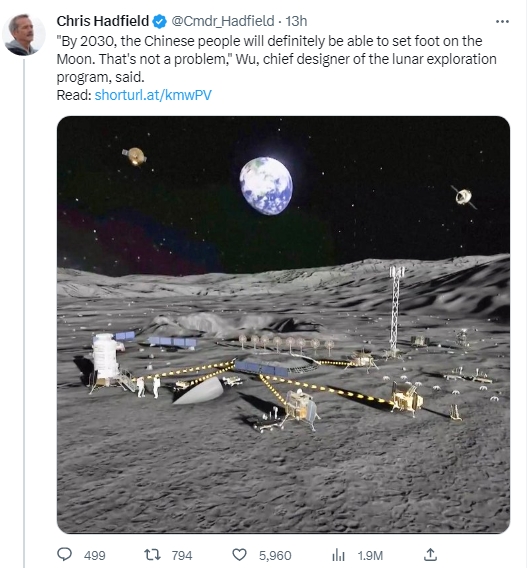 Musk made the comment in response to a tweet by Chris Hadfield, a former astronaut of the Canadian Space Agency, who reposted a CGTN report, citing Wu Weiren, the chief designer of China's lunar exploration program, as saying "By 2030, the Chinese will definitely be able to set foot on the Moon. That's not a problem".
Lin Xiqiang, deputy director of the China Manned Space Agency, echoed Wu's words and said at a news conference on Monday at the Jiuquan Satellite Launch Center that China's space authorities have launched the manned lunar program and plan to send astronauts to the moon before 2030.
According to Lin, China has fully completed and started operating its space station, and the Chinese will go further in exploring space. "The overall goals are to realize China's first manned landing on the moon before 2030, carry out scientific exploration and related technology demonstrations on the lunar surface, develop a commuting system and short-term stay system for crews, and develop human-robot integrated testing and other key technologies," Lin said.
China has confirmed it successfully launched its Shenzhou-16 manned spacecraft to the Tiangong space station. Gui Haichao, a payload specialist, becomes the first Chinese civilian on a spaceflight. Gui is a professor and doctoral supervisor at the School of Astronautics of Beihang University.