Global plastic waste in focus at talks in Paris
By JONATHAN POWELL in London | China Daily Global | Updated: 2023-05-31 08:58
Gathering seeks treaty that aims to cut the pollution by 80 percent by 2040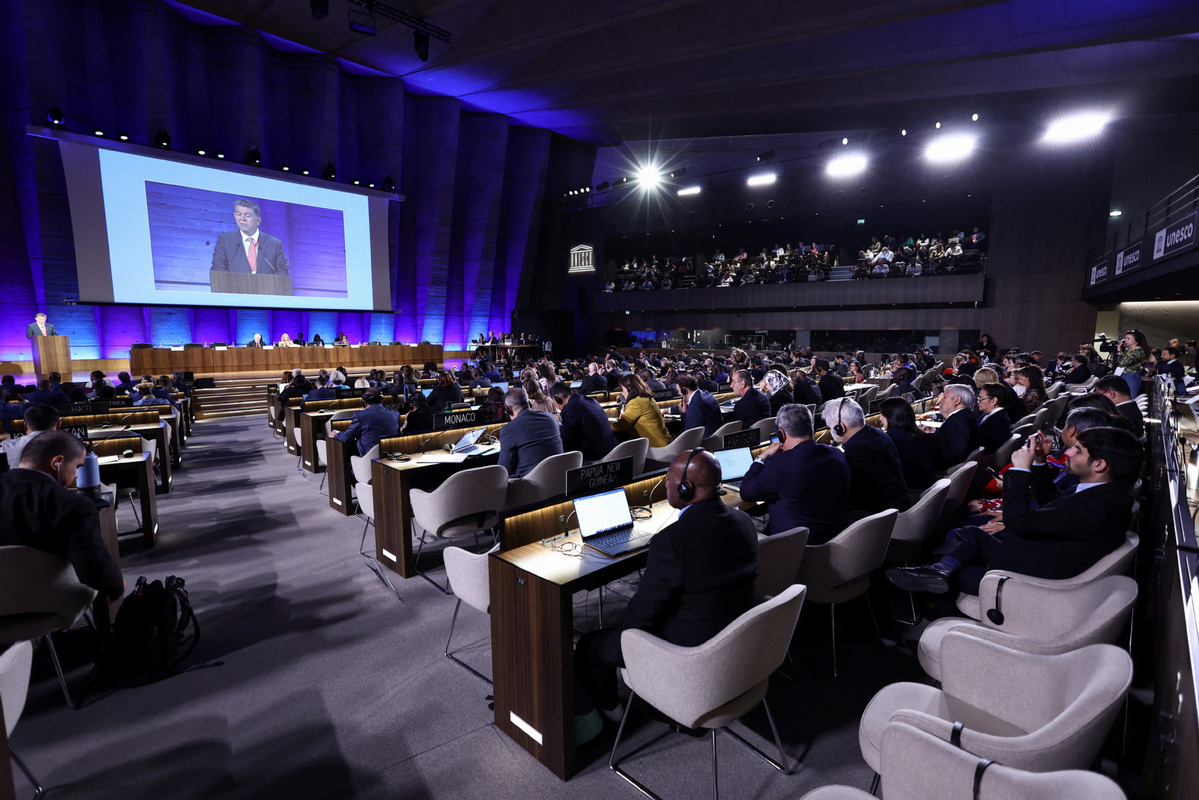 Representatives from nearly 200 countries are meeting in Paris this week to continue debate on a global plastics treaty, with nations favoring a limit on the production of plastics as the principal goal and the petrochemical trade preferring a target of "circularity" or recycling.
The latest talks, which began on Monday, seek a solution based on a report produced by the host of the meeting, the United Nations Environment Programme, which set the aim of reducing plastic waste by 80 percent by 2040.
Published earlier this month, the report outlined three core areas of action: Reuse, recycling and reorientation of plastic packaging to alternative materials.
Humanity produces more than 430 million metric tons of plastic annually, two-thirds of which are products that quickly become waste and can eventually end up in the human food chain, the UNEP said.
This week's gathering is the second of five meetings planned in order to reach a conclusion to negotiations by the end of next year. At the first meeting in Uruguay six months ago, countries discussed the possibility of global mandates, national solutions and a combination of both.
But there has been disagreement, with delegates still undecided on the treaty's key objectives, such as what kind of plastics it will focus on, and countries also need to address important issues such as financing policies, implementation and accountability, The Associated Press reported.
The report focuses too much on waste management, environmental groups said, which they regard as a concession to the global plastics and petrochemicals industry.
A coalition of 55 countries is pushing for a strong treaty with restrictions on hazardous chemicals and prohibitions on difficult-to-recycle plastics, Reuters reported.
"We have a responsibility to protect human health in our environment from the most harmful polymers and chemicals of concern through the treaty," said Rwanda's Minister of Environment Jeanne d'Arc Mujawamariya, who is co-chair of the High Ambition Coalition to End Plastic Pollution.
Inger Andersen, UNEP's executive director, told Reuters that any criticism of recycling in the UN report ignored its general proposals.
"We're talking about redesign, and when we're talking redesign, it's everything that we need to do so that we use less plastic. That's where it begins," she said.
Bjorn Beeler, international coordinator with the International Pollutants Elimination Network, told AP that countries need a clear plan by the end of this week to write up an initial draft of the treaty text, so it can be negotiated at the third meeting.
"If there's no text to negotiate, you're just continuing to share ideas," he said. "Then because of the timeline, we could be looking at an early failure."