Keeping it real
By Chen Nan | China Daily Global | Updated: 2023-06-01 07:49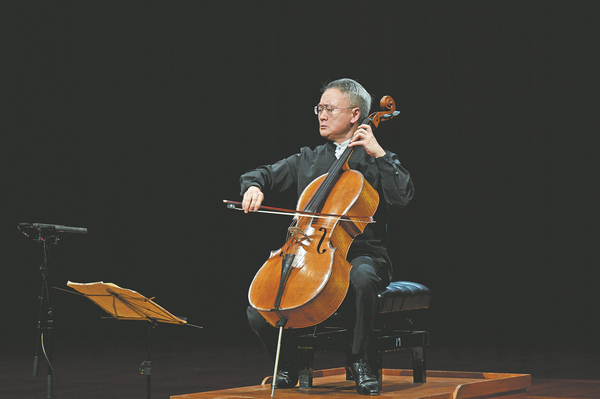 Accomplished cellist and teacher opens up about his artistic perspective and philosophy, encouraging young students to embrace their emotions, Chen Nan reports.
What is real art?
For cellist Wang Jian, the answer is obvious.
"Something that has the remarkable ability to evoke mutual emotions can be called real art," the cellist says. "Real art is not for a small group of people, but for everyone.
"For music in particular, it comes from the hearts of musicians, who deliver it to the listeners," he adds.
On Saturday, the 55-year-old cellist gave a recital at the National Centre for the Performing Arts in Beijing, playing Bach's Suites for Unaccompanied Cello, No 1, No 5 and No 3.
Sitting on the stage alone, the cellist explored the possibilities of a single musician on an instrument being heard in isolation.
He returned to the stage to warm applause, giving an encore by playing Suites for Unaccompanied Cello, No 6.
His recital brought an end to the NCPA's May Festival, an annual event dedicated to chamber music initiated by the institution in 2009.
Asked about the music pieces that he chose to play during the recital, the cellist says that Bach's Suites for Unaccompanied Cello, which is a collection of six suites for solo cello written around 1720, has rich texture and emotional resonance.
"Bach's cello suites are so beloved and renowned. They are very important music pieces for cellists since they have been written as practice pieces, intended to help hone a player's technique," says Wang, adding that those suites were largely forgotten by the public and they remained little known until they were performed and recorded by Spanish cellist Pablo Casals in the 1930s. By the early 21st century, the suites had become an essential part of the professional cellist's repertoire.
Wang has played the suites many times during his career, which spans four decades.
"When I play music pieces that can be called 'real art', I often feel like the composers and the great musicians who once played those pieces are still alive. I am connected to their spirit, which inspires me," says Wang.
Born in Xi'an, Shaanxi province, he moved to Shanghai at the age of 4 with his family. As a child, Wang learned to play cello with his father, also a cellist. His mother is a flutist who graduated from the Xi'an Conservatory of Music.
Considered a child prodigy, Wang was enrolled into the primary school attached to the Shanghai Conservatory of Music at 9 years old. In 1979, celebrated violinist Isaac Stern made a historic visit to China with a documentary crew. In 1981, the documentary about Stern's visit, which is titled From Mao to Mozart: Isaac Stern in China, was released and won an Oscar for the best documentary. Wang became known internationally as the child prodigy playing the cello with a serious expression.
In 1982, Wang was chosen as one of the children to perform in the United States and he toured the country for two months and played in about 50 concerts.
In 1985, he entered the Yale School of Music, where he studied with renowned cellist Aldo Parisot. The very next year, he made his debut at Carnegie Hall, and since then, he has embarked on an international career.
In March, after living and touring in Europe and the US for decades, Wang returned to his hometown, Shanghai, to teach at the strings department of the Shanghai Conservatory of Music.
In April, the Shanghai Symphony Orchestra staged a concert to welcome Wang at the Shanghai Symphony Hall. Wang played Cello Concerto No 1 in C Major by Joseph Haydn and Cello Concerto in B Minor, Op 104 by Antonin Dvorak. Along with 11 cellists from the orchestra, Wang played Hymnus for 12 Cellos, Op 57, by Julius Klengel.
"Music always comforts me. It offers me a different perspective from which to view my life. I want to share that with my students. I tell them to be sensitive and open up. When they play music, they have to be real and sincere," says Wang, who now lives in Shanghai.
The cellist also notes that young students are quite different from his generation.
"Since they have access to the internet, they can see the world and get firsthand information about anything," Wang says. "I am also impressed by the enthusiasm of audiences toward classical music in China. Young people go to concerts and young parents take kids to concerts, making the whole scene exciting and promising."
The cellist still has a hectic schedule, teaching and touring. One of his favorite hobbies is enjoying Chinese calligraphy. He says that the calligraphy brush functions the same as a cello bow.
"The calligraphers use the brush to write and the cellists use the bows to make sounds on the instrument. Both of them need to use the flow of qi (energy) through the movements of their hands," says Wang. "I am very interested in those great treasures of traditional Chinese culture. Those are real arts."
Contact the writer at chennan@chinadaily.com.cn