Washington criticized for deal with Taiwan
By ZHOU JIN | China Daily | Updated: 2023-06-03 07:30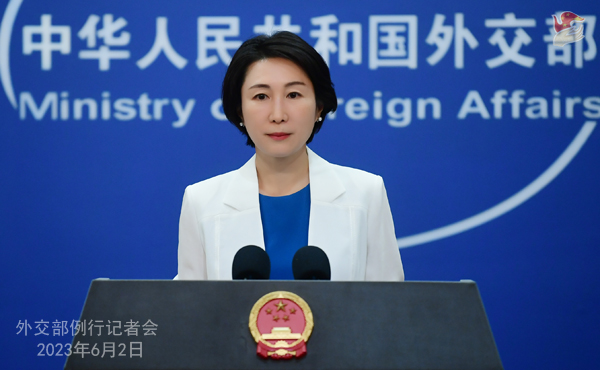 Beijing on Friday urged Washington to immediately revoke an initiative aimed at boosting trade relations with Taiwan, warning that the United States will bear all consequences if it continues to send wrong signals to "Taiwan independence" separatist forces.
The oppositions were made as several departments strongly deplored the so-called first agreement under the "US-Taiwan Initiative on 21st Century Trade", which was signed on Thursday.
Foreign Ministry spokeswoman Mao Ning said that China has lodged solemn representations to the US over the deal, which contravenes Washington's commitment of maintaining only unofficial relations with Taiwan.
Under the pretext of trade cooperation, the so-called initiative is a tool for the US to "rip Taiwan off", and it is the latest example of the US' attempts to "fudge and hollow out" the one-China principle, Mao said.
By signing the so-called deal, the Democratic Progressive Party, or DPP, authorities are offering Taiwan on a plate to the US, she said.
She added that the US must refrain from pushing forward the so-called initiative and agreement.
The Ministry of Commerce said Beijing opposes negotiating or signing any pact of sovereign implication or with official nature between China's Taiwan region and countries that have diplomatic ties with China.
A spokesperson urged the US to abide by the one-China principle and the three China-US joint communiques, prudently deal with its trade relations with Taiwan and stop any form of official exchanges with the island.
Zhu Fenglian, spokeswoman for the State Council Taiwan Affairs Office, said that the DPP authorities have no scruples to sell out the interests of Taiwan people and businesses to seek the so-called achievements in a relationship with the US.
Such a move goes against the will of the Taiwan people, and will only harm the DPP itself as well as Taiwan, she added.