Hebei aims for more trade with Europe
By ZHAO RUINAN in Shijiazhuang | China Daily | Updated: 2023-06-03 07:27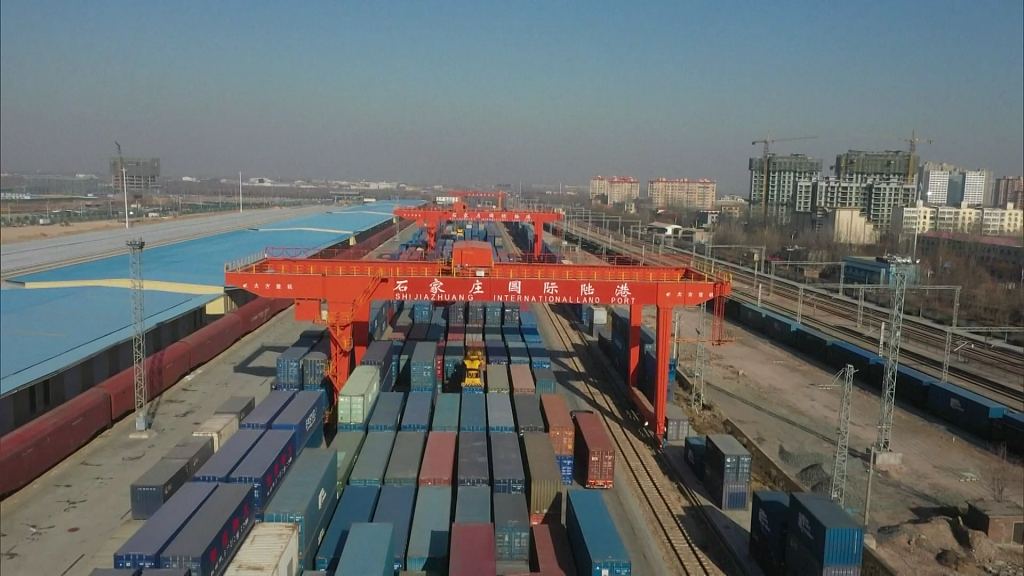 Unique advantages of train transport foster relations with BRI countries
Carrying 110 standard containers loaded with garments, power generators, refrigerators and various goods, a China-Europe Railway Express freight train embarked on its journey from Shijiazhuang International Land Port at 3 pm on Monday. The train is expected to reach its destination Budapest, Hungary's capital, in approximately 20 days.
This has become a typical scene at the Shijiazhuang port since the first China-Europe freight train departed from the port in Hebei province in June 2018.
The port has become a vital player in the Belt and Road Initiative, which connects the city to Europe, said Hu Shuguo, head of the department of foreign capital and overseas investment under the Hebei Development and Reform Commission, stating that this integration has ushered in a new chapter for Shijiazhuang.
He emphasized the pivotal role played by the China-Europe Railway Express in building an open economy since its opening.
"Under the framework of the BRI, the China-Europe Railway Express has fostered connections and exchanges with countries along the route," he said. "Additionally, it has stimulated local industries, particularly the development of export-oriented enterprises, thereby fulfilling local export demands."
Serving as an alternative to container shipping, the railway transports a wide range of Chinese goods, including clothing, household appliances and car parts, to European consumers.
Official data showed that the Shijiazhuang port has 14 international routes, covering more than 50 countries and regions. By 2022, the number of trains dispatched from the port has increased by 140 percent compared to the previous year, surpassing the total of the past four years. A total of 49,320 standard containers, weighing 488,000 metric tons and valued at 10.1 billion yuan ($1.43 billion), have been transported via the railway.
Experts have highlighted the unique advantages of transporting goods by train, such as the lower costs compared to air transport and the significantly reduced time compared to sea transport, making it a more cost-effective mode of transportation.
Liu Ruiling, chairman of the Hebei Land Port Group, emphasized the strong complementarity between Hebei's economy and countries along the BRI route.
"The operation of the China-Europe Railway Express in Shijiazhuang has established trade channels and facilitated exchanges between Hebei and these countries, accelerating Hebei's integration into the international market," Liu said.
Qiao Xiaolin, deputy director of the Hebei Development and Reform Commission, acknowledged the remarkable growth and important role of the express in promoting China's trade connectivity and cooperation with Europe.
The express has contributed to closer exchanges between China and central and eastern Europe, said Qiao, citing the China-Central and Eastern European (Cangzhou) SME Cooperation Forum as another example of closer ties.
Zhao Yongsheng, a professor at the Institute of Regional and International Studies at the University of International Business and Economics in Beijing, emphasized the significant contribution of the China-Europe railway to strengthening international economic and trade ties and ensuring the stability of global industrial and supply chains.
New trend
Zhao said there is a new trend emerging from China's engagement with Europe.
"The China-Europe Railway Express is expanding. Initially focused on western European countries with a limited number of trains and routes, there have been flourishing cross-continent networks and the deployment of more trains due to increasing trade and cultural exchanges between China and central and eastern European countries in recent years," Zhao said.
This year marks the beginning of the second decade of China-CEEC cooperation. Since 2012, China's trade with CEECs has grown at an average annual rate of 8.1 percent, and China's imports from CEECs have increased at an average rate of 9.2 percent annually.
Zhao said closer ties between China and central and eastern European countries will deepen mutual cooperation, as the two sides have tremendous potential for trade and investment.
"Against the backdrop of a global economic downturn and sluggish trade, the trade volume between China and central and eastern European countries has continuously reached new heights," Zhao said.