Ceramic pillow awakens dance drama
By Chen Nan | China Daily | Updated: 2023-06-03 11:42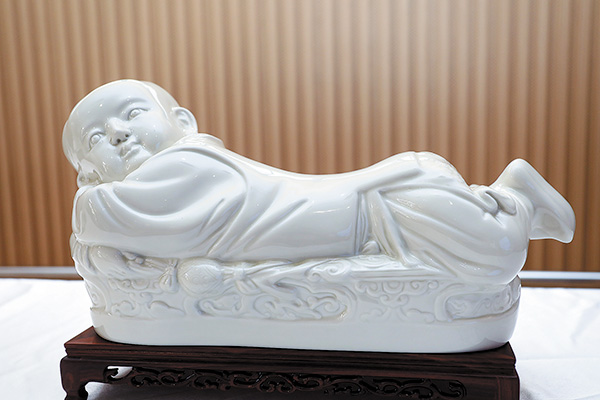 For centuries, the Ding Kiln in today's Quyang county, North China's Hebei province, produced white ceramics and was considered one of ancient China's "five great kilns".
The traditional technique of the Ding Kiln thrived in the Northern Song Dynasty (960-1127).
One of its most prized works from the dynasty is the baby-shaped pillow in ivory-white glaze, known as hai'er zhen, which is about 18.3 centimeters tall, 30 cm long and 11.8 cm wide.
It is one of the national treasures housed at the Palace Museum in Beijing.
The porcelain pillow portrays a baby boy lying on his belly, which is patterned with flowers and clouds, implying auspiciousness. The baby's back is where people rest their heads.
The pillow has become the theme of a homonymous dance drama production that will be premiered in 2024, and followed by 150 shows around the country, the China Oriental Performing Arts Group announced in Beijing on May 25.
"The new dance drama will highlight traditional cultural elements from the Song Dynasty (960-1279) and the pillow will be a major inspiration," says Jing Xiaoyong, head of the company. "The Ding kilns and their porcelain-firing technique will be introduced to the audience."
Jing adds that the company has produced and staged the dance drama, Poetic Dance: The Journey of a Legendary Landscape Painting, which proved to be a success. Since its premiere in Beijing in 2021, the dance drama, which was inspired by the classic painting, A Panorama of Rivers and Mountains, by Northern Song Dynasty artist Wang Ximeng, has seen more than 240 sold-out shows. It plans to tour nationwide, with 120 shows, later this year.