Classical renewal in the air
By Chen Nan | China Daily | Updated: 2023-06-05 06:27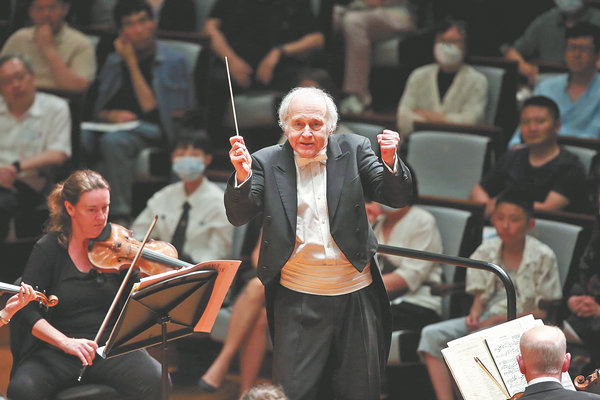 World-renowned conductor Adam Fischer is visiting the Chinese mainland for the first time, performing with the Wiener Symphoniker, or Vienna Symphony, in a tour of China that began on May 28 and finishes on Thursday.
On May 29, the conductor took the baton to lead the orchestra in performances including Johannes Brahms' Violin Concerto in D major, Op 77 and Richard Strauss' symphonic poem Don Juan, Op 20, featuring violinist Julian Rachlin, at the National Centre for the Performing Arts in Beijing.
"I didn't have time to walk around the city yet. But I was impressed by the venue and the Chinese audience," Fischer says.
They also performed two concerts at the NCPA on Tuesday and Wednesday, including Mozart's Symphony No 41 in C major, K 551 (Jupiter), Johann Strauss II's Die Fledermaus Overture and Fritz Kreisler's Marche Miniature Viennoise.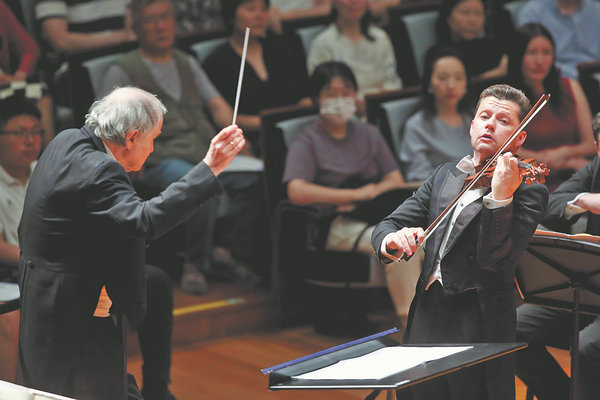 "I believe that musicians from around the world love to perform in China because the country has the most exciting audience. I saw many young people, and young parents bringing their kids to our concerts.
"Back in Europe, we often see senior audiences, and we are concerned about the future of classical music. In China, there is no such concern because those in the audience are very young," the conductor says.
Fischer, 74, the founder of two international festivals — the Wagner Days festival in Budapest, Hungary, and the Haydn Festival in Eisenstadt, Austria — says the music the orchestra chooses to play in China is very classic.
"Every time I play those musical works, I can see new possibilities behind each note," he says. "I would devote the rest of my life to music, though I have no idea how long I will live. What I do know is that music by great composers like Beethoven and Mozart keeps me young forever."
The orchestra performed at the NCPA in 2014 and 2017, says Jan Nast, intendant of the orchestra. "In 2019, when we discussed collaborations with the NCPA and planned to perform at the venue again, the coronavirus pandemic hit all of a sudden, which forced us to postpone our schedule," Nast says.
During the height of the COVID-19 pandemic, the orchestra created online concerts for classical music fans, like many other orchestras worldwide.
"Like the audience, our musicians are eager to get back to live concerts. The tour in China, especially concerts at the NCPA, is more like homecoming," he adds.