China is still a developing country
By Shang Fuxuan | China Daily | Updated: 2023-06-05 09:14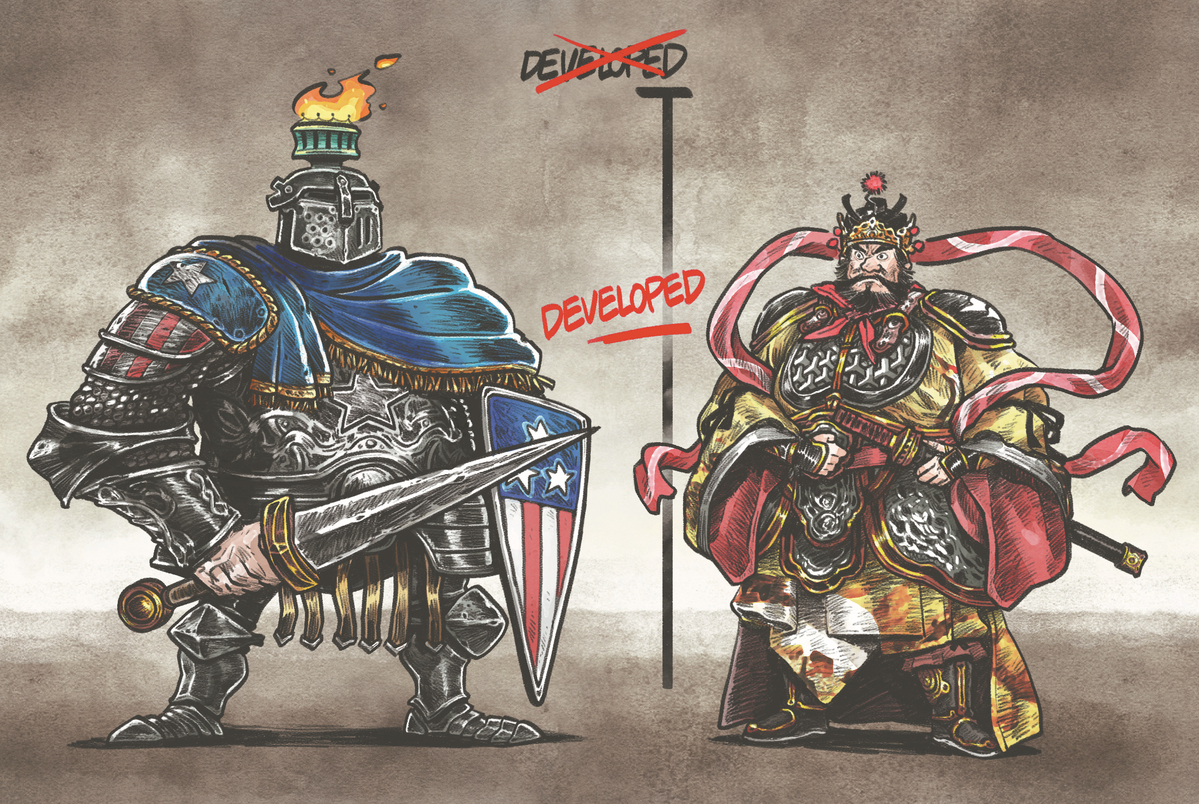 The United States House of Representatives recently approved "the PRC Is Not A Developing Country Act". The unanimous decision requires the US Department of State to change China's status as a "developing country" in international organizations where the United States participates in or is a part of, and to modify its status to "developed country".
So, is China a developed country?
The answer depends on the criteria used to describe a developed country.
Despite major achievements in modernization — the country's GDP is only second to that of the United States — China still has a long way to go before it becomes a "developed country".
Although China has made great economic progress, its development is uneven. In terms of urban and rural areas, the per capita disposable income of urban residents in 2022 was more than 49,000 yuan ($6,925), and that of rural residents was slightly over 20,000 yuan, according to the National Bureau of Statistics. In terms of groups, the per capita disposable income of the top 20 percent of Chinese households was more than 7,000 yuan per month, while the lowest 20 percent was less than 700 yuan per month.
These figures show that China still has a long way to go before it becomes a "developed country".
According to international standards, China is still a developing country.
There is no unified international definition for the classification of developing and developed countries among various international organizations at present. Different international organizations use different standards. For example, the UN uses geographical region as the standard. The IMF takes into account GDP calculated using the purchasing power parity method, while the United Nations Development Program uses the Human Development Index as the standard. Despite the different categorization methods, China should be recognized as a developing country in accordance with any of the standards.
According to the UN standard, apart from Japan, Canada, the United States, Australia, New Zealand and European nations, all others are developing countries. In 2021, China's per capita gross national income ranked 68th in the world and 79th in the Human Development Index, similar to that of other major developing countries.
In 2022, China's per capita GDP was $12,741, one-fifth that of developed economies and only one-sixth that of the United States. In economic and social terms, the average life expectancy in China is 78.2 years in 2021, compared with 80.2 years in high-income countries. Internet penetration in China is 70 percent, compared with 89 percent in high-income countries; China's university enrollment rate is 58 percent, compared with 80 percent in high-income countries; China's per capita export of intellectual property is only $8, compared with $336 for high-income countries. These and other data show that it is technically untenable to claim that China is not a developing country by any standard.
That is the reason why China has been recognized as a developing country in international agreements and treaties, such as the WTO, the UN Framework Convention on Climate Change and the Montreal Protocol on Substances that Deplete the Ozone Layer, which has been accepted by the majority of members of the international community.
China has never used its status as a developing country to seek additional benefits or evade international responsibilities. From 2013 to 2021, for instance, China's average contribution to world economic growth was 38.6 percent, higher than that of the G7 countries combined. China was the first country to achieve the UN Millennium Development Goals. It has contributed to more than 70 percent of the world's poverty reduction. China is now the second-largest contributor to the UN's peacekeeping operations. In the WTO, the actual special and differential treatment clauses enjoyed by China are far lower than the average level of other developing countries.
It is obvious that China's developing country status is universally acknowledged.
So, why has the United States House of Representatives insisted on changing China's status as a developing country?
It is because the issue of status involves a series of complex international political and economic factors. It concerns the collective rights and interests of emerging countries and the historical responsibilities of the United States and developed countries in the West, and this should be solved by all parties, rather than being judged unilaterally by any one party.
In recent years, the United States has deliberately hyped up the issue of developing-developed status, changing the previous binary division method of developed and developing countries and proposing a tripartite method of dividing developing countries into different income-level groups in an attempt to relegate the preferential treatment currently granted to developing countries from permanent to temporary "exception clauses".
In addition to China, some other countries, such as Brazil, India, Turkiye and the Republic of Korea, have also faced or are facing similar challenges of being deprived of developing country status. Now the United States is seeking to separate China from the ranks of developing countries, and it will not stop here. The final target of the United States is to cancel the collective rights and interests of emerging countries.
Judging from history, international multilateral rule-making should be conducted retroactively. Developed countries, led by the United States, bear an inescapable responsibility for the poverty, war, pollution and social unrest in many countries. It is their inescapable responsibility to provide compensation to developing countries instead of excluding them from the group to avoid shouldering their responsibilities. Such acts of politicizing and polarizing the development of today's world will do nothing but harm. It runs counter to the overall interests of developing countries and undermines the consensus on international cooperation and development, which in turn will also run counter to the interests of developed countries.
The act of abolishing China's developing country status is completely due to the United States' shortsighted self-interests. It presupposes the so-called Western modernization standards and denies the developing country status of some countries through domestic legislative means, which is essentially a kind of discourse hegemony, forcing other countries to cut their own steps to fit the United States' standards.
The writer is an associate researcher at the China Center for Contemporary World Studies.
The views don't necessarily reflect those of China Daily.