Fujian Museum puts spotlight on Armenian culture
By WANG RU in Fuzhou | China Daily | Updated: 2023-06-06 06:13
When Shi Zhang, who works at the Fujian Museum in Fuzhou, East China's Fujian province, received Armenian guests from the Yerevan History Museum and took them around an exhibition at her workplace in 2021, she was surprised to hear from them that they had a type of musical instrument in their collections very similar to the bili, an ancient Chinese bamboo flute.
In this way she got to know the duduk, a double reed woodwind instrument made of apricot wood originating from Armenia. The two instruments can produce similar sounds, and some scholars believe the bili originated from the duduk, which came to China through its connections to Central Asia.
The discovery led her to find more similarities between Chinese and Armenian cultures, and a friendship that resulted in an ongoing exhibition, titled Armenian Cultural Treasures of the 19th and 20th Centuries, which kicked off at the Fujian Museum on May 18. Both the Fujian Museum and the Yerevan History Museum have joined together to organize it.
Located at the juncture of Asia, Europe and the Middle East, Armenia has a long history of cross-cultural exchange. Its capital Yerevan was an important station on the ancient Silk Road and the Tea Road of Ten Thousand Miles, or the Sino-Russian Tea Road that once saw tea from Fujian carried all the way to Mongolia and Russia from the 17th century to the early 20th century.
With the aim of showing the history and culture of Armenia — unfamiliar to many Chinese — in a vivid way, the exhibition tries to explore similarities between Chinese and Armenian cultures. It shows artifacts related to the Tea Road of Ten Thousand Miles, tea culture and other aspects of cultural heritage that are important to both countries, according to Shi, curator of the exhibition.
Many Armenian costumes and decorations are on exhibition. According to Shi, Chinese and Armenian people share a love for red, regarding the color as auspicious, and often wear red during important events like wedding ceremonies. Moreover, the plant, animal and geometric patterns on their clothes are similar to some of those in China.
A wool rug on display, with Armenian words showing it was made in 1899 by a rug-weaving school, has an exquisite pattern of feathers, scrolls and plants. According to Shi, the highlands of Armenia are one of the cradles of rug weaving. Samples of ancient rugs discovered in archaeological sites in Armenia date as far back as the 7th century BC.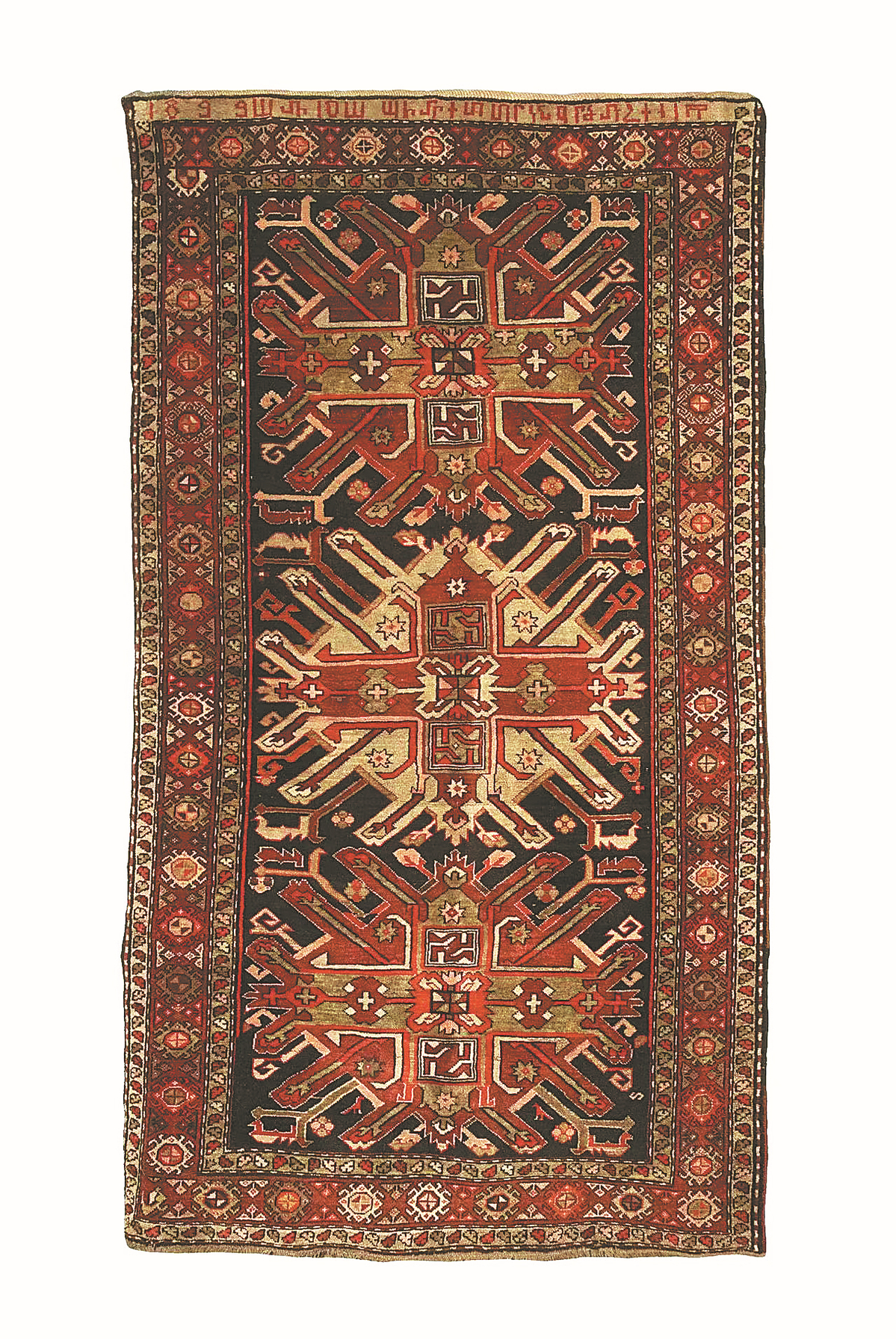 "Rugs have a religious meaning in Armenian people's lives, and that is why they are so important. Many Armenians believe the patterns on the rugs can expel evil things, so they often put sick children in them to try to dispel sickness and ensure safety," says Shi.
The exhibition shows early mentions of Armenia in modern China which is in the Chronicles of Four Continents, a translated version of Scottish geographer Hugh Murray's The Encyclopedia of Geography. The book records the location of Armenia and its special local products, namely textiles and wine.
The book was sponsored for translation by Qing Dynasty (1644-1911) official Lin Zexu in 1839 in order to gain more understanding of Western countries when he was leading the fight against opium smuggling in what is now Guangdong province.
"Every part of the exhibition shows the communication between civilizations," says Shi.
"Both China and Armenia are ancient civilizations, with frequent trade and cultural exchanges and close historical ties. The friendship and cooperation between people from these two countries continues to this day."