Ningxia wineries' reputation for quality grows overseas
By ALEXIS HOOI in Beijing and HU DONGMEI in Ningxia | China Daily Global | Updated: 2023-06-07 10:20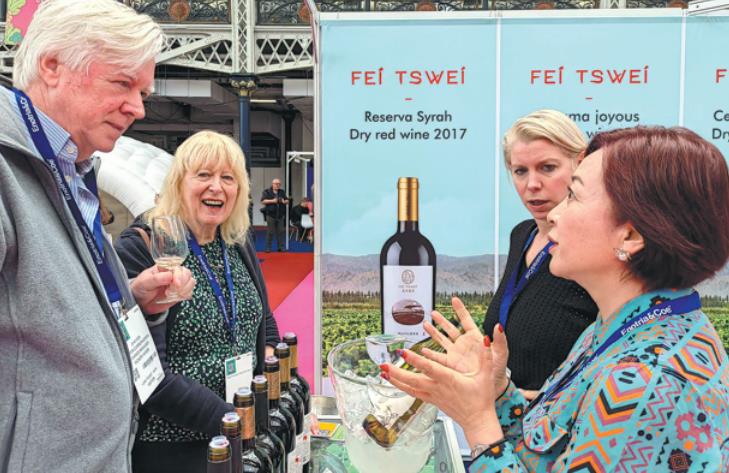 When Chinese winery owner Zhang Yanli decided to set up shop a decade ago, she realized that her main business strategy needed to include the overseas market.
"Grape wine, after all, is an international product," she said. "Some people even mistakenly say that it is still exclusively an imported product."
In those days, Zhang's Fei Tswei winery in Northwest China's Ningxia Hui autonomous region was considered to be in an emerging production area, and if "you didn't get the recognition of experts and consumers in traditional wine drinking countries, or even those countries that know wine best, I think it was problematic", she said.
The first few crates of Zhang's wine that were delivered to Japan in July 2019 marked the fruition of her vision to go global. Her winery was among Ningxia's quality wine producers that were looking to expand at home and abroad in the aftermath of the COVID-19 pandemic by taking advantage of the growing recognition of the region's high winemaking standards.
Many of Ningxia's up-and-coming vineyards are in the eastern foothills of the Helan Mountains, which run parallel to the Yellow River in an area that winemaking experts say is ideal for producing quality wine. This is due to the large difference between the area's daytime and nighttime temperatures, its optimal water and heat levels, and good soil permeability.
Grape cultivation in the area covers at least 35,000 hectares, accounting for nearly one-third that of the whole country, according to industry figures. More than 220 major wineries produce a total of 130 million bottles of wine each year, and the region's pre-pandemic wine exports reached more than 20 countries and regions, with a total output value of over 26 billion yuan ($3.65 billion),
Regional authorities plan for Ningxia's wineries to cover more than 66,000 hectares by 2025, with annual output of high-quality wine reaching more than 300 million bottles and comprehensive output value hitting 100 billion yuan.
At a major international wine and spirits fair in the Hong Kong Special Administrative Region in May, the latest offerings from Ningxia, including regional winemaker Jiuxi's Yuyue product line, made their presence felt among the 140 exhibitors from 12 countries and regions — including France, Germany and Italy — that showcased their products.
Chateau Hedong is another of the Ningxia wineries making an impact overseas via expos, exhibitions and wine-tasting events.
In February, its owner Gong Jie received an invitation to participate in the Slow Wine Fair in Bologna, Italy, where more than 700 exhibitors presented products.
"These foreign events are meant to help understand the global wine industry's latest products, on top of understanding cutting-edge trends and new technology," Gong said.
"I hope to bring Chinese red wine to foreign countries and open the international market, so that friends all over the world can taste our red wine, he said.
Gong said his goals are to "enhance the brand influence and status overseas of wines from the eastern foothills of the Helan Mountains in Ningxia, narrow the gap between our local wine and foreign ones, improve technology, marketing and brand communication models, and strive to enter the first-class ranks".
Legacy Peak winery owner Liu Hai also took part in the Bologna show, as well as the ProWein Trade Fair in Germany in March.
"Thanks to local government support, I hope to continue to participate in more high-quality overseas wine exhibitions, in line with the overall image of our production area," Liu said.
The Ningxia winemaker, who likened the development of Chinese wine to a road of learning that involved overcoming many obstacles, expressed the hope that more Chinese wines will appear in the world's top restaurants.
Yuan Hui, chairman of the company that owns Yuanshi Vineyard, said at a recent industry conference in Ningxia that promoting the green, sustainable development of the region's wine sector must also be a priority.
Like his fellow winemakers, Yuan, whose vineyard also showcased its products at the Bologna wine fair, expressed full confidence in the region's potential and place in the global wine industry.
Huang Siming, director of the administrative committee of the Ningxia Helan Mountain East Foothill wine industry park, said the recent activities that helped regional winemakers grow their presence overseas will bear further fruit, as wineries continue to build their expertise.