US ex-V-P Pence to seek GOP nomination, to face Trump
By AI HEPING in New York | China Daily Global | Updated: 2023-06-07 10:52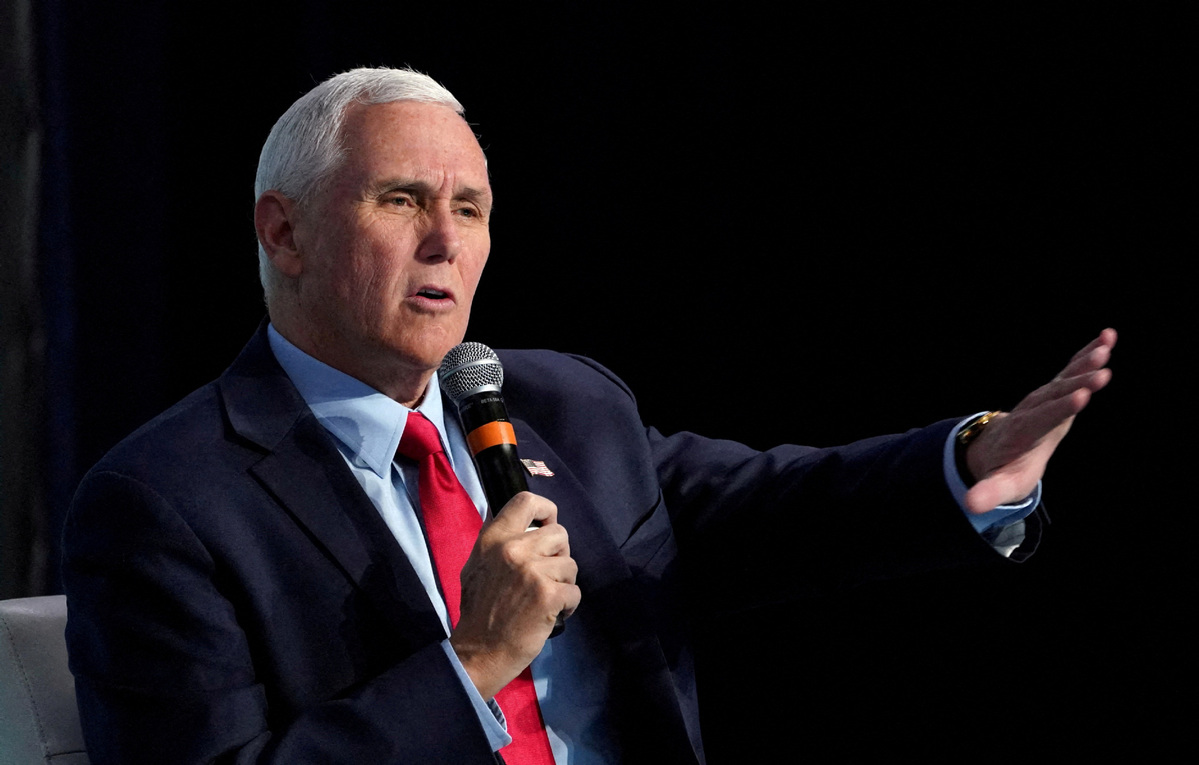 Former US vice-president Mike Pence — the once-loyal deputy to Donald Trump who ended his bid to cling to the presidency — is joining the race for the Republican presidential nomination Wednesday, forcing him to navigate competition — and confrontation — with his former boss.
Pence on Monday filed the paperwork for his bid for the 2024 Republican presidential nomination, and will formally announce his candidacy in Des Moines, Iowa, which holds the first caucus on the Republican primary calendar.
Republicans are aiming to hold their Iowa caucuses in mid-January, but that remains unsettled. Pence's kickoff event will be on the same day of his 64th birthday.
Republicans face a crowded field, with the candidate list growing to more than half a dozen this week. Former New Jersey governor Chris Christie, who also ran in 2016 and has become one of Trump's chief Republican critics, is poised to join the race Tuesday evening at a town hall event in New Hampshire. North Dakota Governor Doug Burgum is expected to announce on June 7 in Fargo.
Iowa has played a winnowing role in nominations fights for both Republicans and Democrats, helping some candidates while killing the hopes of the rest. It will be the first testing ground for how Pence and others seeking the GOP presidential nomination will try to distance themselves from Trump, the party's most popular figure, while trying to win the backing of his supporters without alienating them,and even those Republicans open to someone else but who still like Trump.
Trump still has a firm grip on conservative voters, and Florida Governor Ron DeSantis — who announced his candidacy last month — is seen as the only real threat to Trump.
Pence served as a member of the House of Representatives between 2001 and 2013, and as Indiana's governor between 2013 and 2017 and was Trump's runningmate in 2016.
So far, Pence has polled in the single digits in every public survey taken.
In a hypothetical matchup, a May 25-30 YouGov/Yahoo News poll found DeSantis would lose to Trump by approximately 24 points in a one-on-one primary, while Pence would lose to Trump by nearly 60 percentage points.
Every announced candidate for the GOP nomination has one target: Trump. But Pence perhaps faces the biggest challenge of all of them. He needs to redefine himself to Republican voters and emerge from being in Trump's shadow for four years, and from being an exceedingly loyal vicepresident.
"This campaign is going to reintroduce Mike Pence to the country as his own man, not as vice-president, but as a true economic, social, and national security conservative — a Reagan conservative," Scott Reed, a co-chair for Pence's Committed to America Super PAC, told reporters in May.
"For four years, we had a close working relationship. It did not end well," Pence wrote in his book, "So Help Me God."
It ended on January 6, 2021, when Pence refused to go along with Trump's plan to overturn the 2020 election. Trump had tried to convince Pence that he could somehow reject voters' will as he presided over the ceremonial counting of the electoral college votes, even though a vicepresident has no such power.
Prior to the count that day, Trump has said: "I hope our great vice president comes through for us. He's a great guy. Of course, if he doesn't come through, I won't like him very much."
As the count was underway at the Capitol, a violent mob of Trump's supporters stormed the building, smashing through windows, assailing police officers and sending Pence, his family and his staff racing for cover as members of the mob chanted, "Hang Mike Pence!" Trump said at the time that Pence didn't have the "courage" to act.
Pence has said Trump's "reckless words" endangered his family and everyone else who was at the Capitol that day. He has said that "history will hold Donald Trump accountable".
With the red meat Republican base voters, they think he betrayed Trump on January 6," said Gunner Ramer, the political director of the Republican Accountability Project, an anti-Trump GOP group that isn't affiliated with any candidate. "The Never Trump Republicans don't like him because he worked for Trump."
Though Pence has consistently praised the record of the Trump-Pence administration, he has also stressed differences between the two men, on policy and style.
Pence has unequivocally backed US support for Ukraine and said that Congress and the White House should consider cuts to Medicare and Social Security, positions at odds with those articulated by Trump and DeSantis.Another area of disagreement: abortion. Pence said that Trump wants "to relegate the issue of life to only the states". A staunch social conservative who supports federal abortion restrictions, Pence said that "more than ever, the Republican Party needs to stand unapologetically for the sanctity of life".
In Iowa, Pence will be going after the state's conservative, evangelical Christian voters who make up a substantial portion of Iowa's Republican electorate. He is an avowed social conservative. A February Monmouth poll found that 34 percent of Evangelical voters said they want Trump as the nominee, 32 percent said DeSantis, and three percent said Pence.
Agencies contributed to this story.