PV firms energized to add installed solar capacity
By Zheng Xin | China Daily | Updated: 2023-06-08 07:43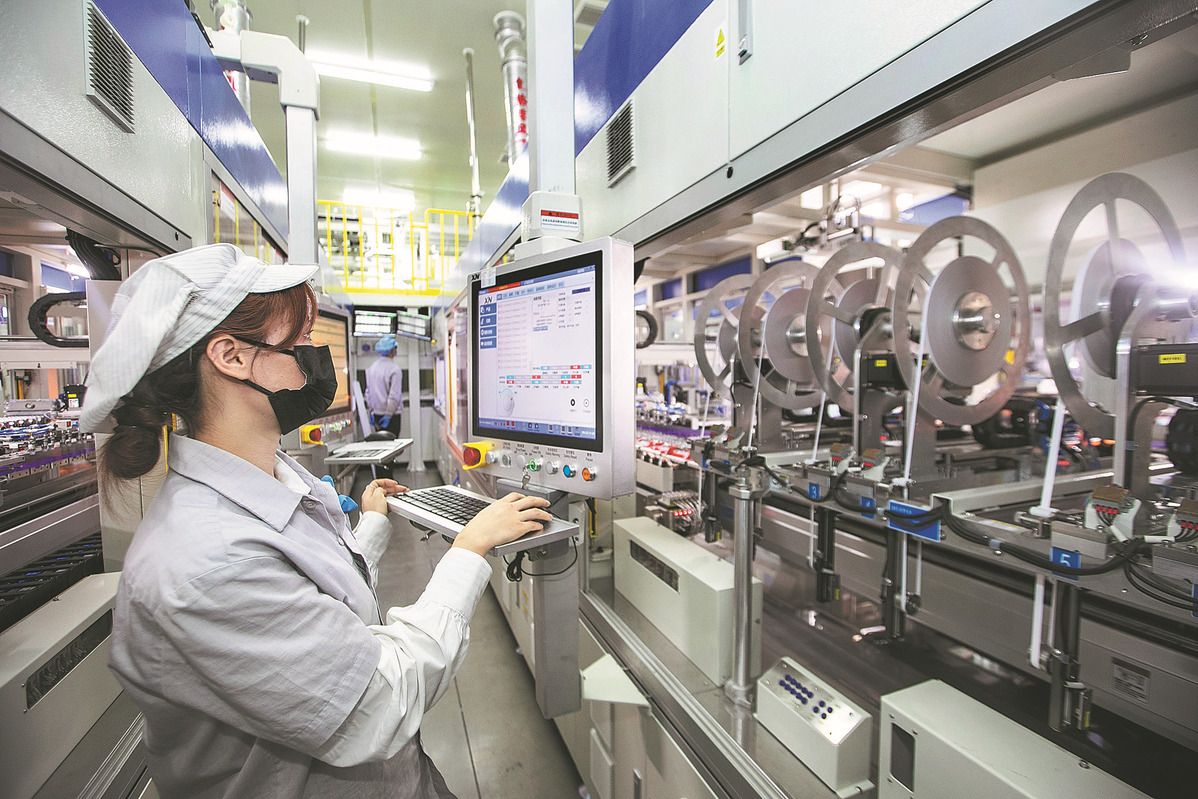 Chinese solar companies' recent announcements of newly installed solar power capacity are expected to further cement the country's leading position in solar energy production worldwide while facilitating the country's green energy transition, said industry experts.
LONGi Green Energy Technology, a Chinese photovoltaics company, announced plans on Tuesday to invest approximately 12.5 billion yuan ($1.75 billion) in the construction of a project with an annual production capacity of 20-gigawatt monocrystalline silicon rods, 24-GW monocrystalline cells and supporting facilities.
On the same day, top polysilicon maker Tongwei Co Ltd announced its plan to invest in the construction of a project that will have an annual production capacity of 25 GW solar cells and 20 GW PV modules.
China's solar sector has been accelerating at an already world-beating pace in installations, with decreasing costs and rising demand at home and abroad, analysts said.
Fueled by falling costs in the solar supply chain and rising power consumption, especially green power, the country has been pressing ahead with expansions to meet its ambitious goals of a carbon dioxide emissions peak by 2030 and carbon neutrality by 2060, said Lin Boqiang, head of the China Institute for Studies in Energy Policy at Xiamen University.
"China, the largest solar market, is expected to continue to set records in battery conversion efficiency and cost-per-kilowatt-hour as solar companies keep investing in research and development," he said.
"The advances in technology will further lower prices and promote the widespread adoption of clean energy globally."
In the first three months, China added 33.66 GW of grid-connected installed solar power capacity, representing an increase of 155 percent year-on-year, data from the National Energy Administration showed.
The strong quarterly growth is partly due to the drop in supply chain prices, which is caused by the gradual ramping up of PV silicon production capacity — the raw material used to make solar panels — as well as falling prices for modules.
Li Zhenguo, president of LONGi, said improving efficiency and reducing the levelized cost of electricity, or LCOE, has always been the eternal theme of the PV industry's development.
Solar cell efficiency is the beacon of PV technology innovation and every 0.01 percent improvement in solar cell conversion efficiency requires enormous efforts, he said.
On the other hand, the shutdown of outdated capacity has also been accelerating with the continuous progress of industry technology and increasing competition and the issue of overcapacity has always been a temporary phase looking at the development of the past decade.
Innovation remains the biggest driving force for the development of the PV industry to achieve healthy competition, Li said.
Strategic research provider BloombergNEF said recently in a note that China is expected to install 154 GW of solar capacity this year, raising its China forecast from a previous total of 129 GW.
Liu Hanyuan, chairman of Tongwei Co, was quoted by Bloomberg as saying that installations in China could surge to 200 to 300 GW next year.
"The actual development always wows us. The energy transition could only be achieved between 2050 and 2060 when we see reality go beyond our expectations multiple times," he said.
Solar panel maker JA Solar Technology Co forecasts new solar installations of about 150 GW in China this year and sees potential for that to rise to as much as 180 GW if lower prices boost demand.
LONGi announced recently that it achieved a breakthrough in the efficiency of its silicon solar cells, a new world record efficiency at 26.81 percent for its HJT silicon solar cells on full-size silicon wafers through mass production, the latest world record since a Japanese company set the efficiency record at 26.7 percent in 2017.
This is the first time in the history of the PV industry that a Chinese solar technology company has set the world record for silicon solar cell efficiency, and the achievement will be included in the next version of efficiency tables that are published in the technological progress, said Martin Green, a professor at the University of New South Wales in Australia, known as the "Father of PV".