2022 saw worsening level of US drug deaths
By BELINDA ROBINSON in New York | China Daily Global | Updated: 2023-06-08 10:35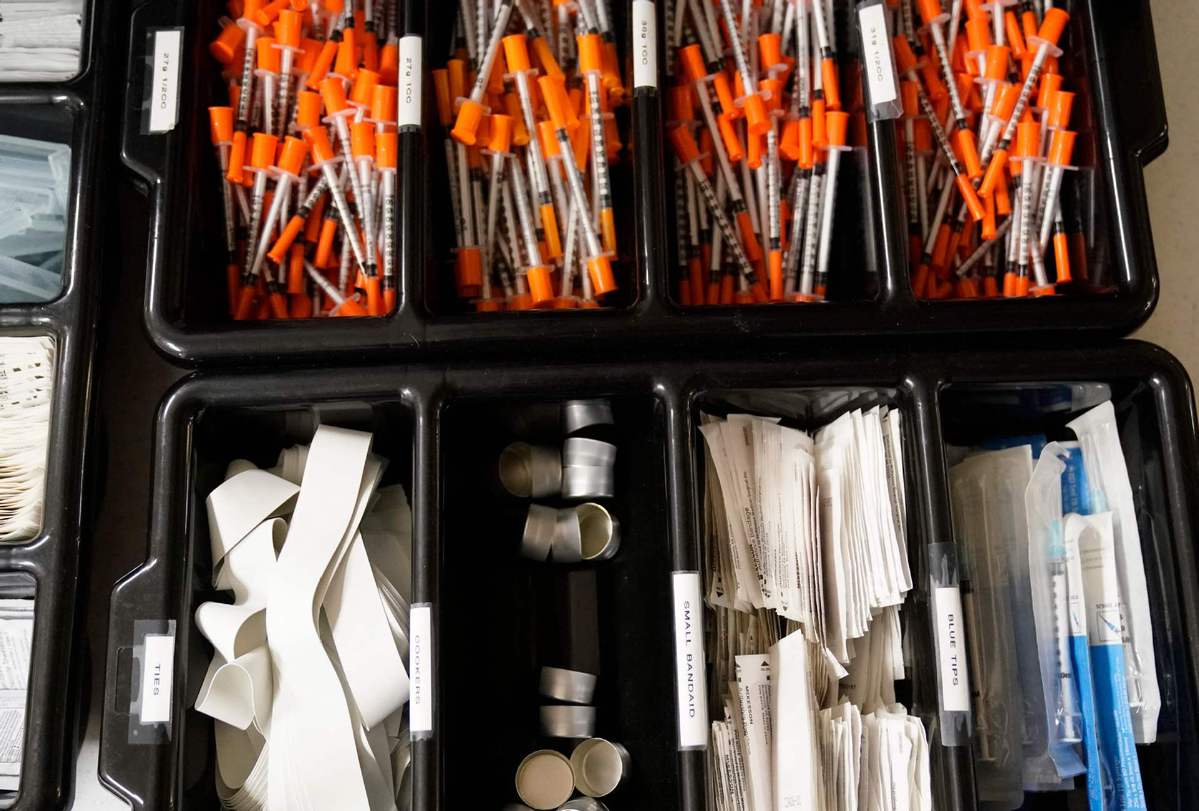 More than 100,000 Americans died from drug overdoses last year, as experts suggest drug use was worsened by the stress, anxiety and worry of the prolonged COVID-19 pandemic.
Data from the Centers for Disease Control and Prevention (CDC) found that 109,680 deaths were caused by drug overdoses in 2022. It was two percent higher than the 107,622 overdose deaths in 2021.
Data also show that the largest number of drug overdoses in 2022 were due to fentanyl and synthetic opioids. Fentanyl is involved in more deaths of Americans under age 50 than suicide, homicide or cancer, the Drug Enforcement Administration said.
Karen Cassiday, a clinical psychologist, managing director of the Anxiety Treatment Center of Greater Chicago and past president of the Anxiety and Depression Association of America, told China Daily: "The pandemic had several unique characteristics that lent themselves to triggering anxiety, depression, substance abuse and eating disorders."
Texas and Washington State both saw the biggest increases in drug-related deaths in 2022, with approximately 500 more deaths per state.
Several other states including Florida, Kentucky, Indiana, Maryland, Ohio, Pennsylvania and West Virginia had increases of 100 or more deaths due to the misuse of drugs. Deaths from drugs have been high for the past few years.
Since the 1990s, the US has been battling against the misuse of opioid prescriptions, which became rampant, and later led to widespread heroin use. By 2015, the number of overdoses due to heroin peaked. By 2016, fentanyl was one of the most abused drugs.
Over the past several years, a growing number of drug overdose deaths have been attributed to illicit fentanyl, a highly addictive drug. Deaths from fentanyl climbed even higher amid the stress brought on by the coronavirus pandemic, research shows.
Republican and Democratic lawmakers have taken different approaches to address the problem.
In April, President Joe Biden announced that, as part of his "National Drug Control Policy'' his administration will "save lives by disrupting the trafficking of illicit fentanyl and its precursors into American communities''.
Dr Rahul Gupta, director of the White House's Office of National Drug Control Policy, said in a statement that improving access to naloxone to reverse overdoses had also helped to keep the number of overdoses steady.
On May 25,the US House of Representatives passed the Republican-led legislation "Halt All Lethal Trafficking of Fentanyl Act''. It aims to permanently schedule fentanyl-related substances as schedule 1 drugs, enabling tougher penalties like prison sentences for fentanyl abuse.
The bill has the support of the president. But critics say it harkens back to the failed 1980s policy of the "war on drugs''.
Liz Komar, sentencing reform counsel for the Sentencing Project, a research group that works to address racism in the criminal justice system, said in a statement: "Fifty years after the beginning of mass incarceration, the evidence is clear: the war on drugs has harmed communities.
"Harsh punishments don't save lives or make us safer. We urge Congress to remember the lessons of the 1980s and 1990s – mandatory minimums are not the answer to the overdose crisis."
In New York, officials from the Department of Health and Mental Hygiene are trying a different approach to stop drug overdoses. On June 5, it unveiled the city's first free public health vending machine in Brooklyn.
The machine is stocked with naloxone, a drug that can reduce or reverse overdoses. It also has fentanyl test strips, maxi pads and safe sex kits. Users must enter their New York City zip code to get the supplies. The machine, cost $11,000 and is funded by the city.
Dr Ashwin Vasan, the city's health commissioner, said in a statement: "We are in the midst of an overdose crisis in our city, which is taking a fellow New Yorker from us every three hours and is a major cause of falling life expectancy. Public health vending machines are an innovative way to meet people where they are and to put life-saving tools like naloxone in their hands."
New York City had more than 1,370 confirmed overdose deaths in the first half of 2022, according to figures from city health officials. In 2021, overdoses reached a record high of 2,668. In 2020, there were 2,103.
Following national trends, at least 84 percent of the city's overdose deaths in 2021 were due, in part, to an opioid. Fentanyl was involved in 80 percent. Vasan added that Xylazine, also known as "Tranq" or the "zombie drug" has been causing fresh havoc.
Four other vending machines are set to be unveiled this year in other New York City boroughs with high overdose rates.
Similar public vending health machines are already in use in Clark County, Las Vegas and Cincinnati, Ohio, and in parts of Europe, Canada and Australia.
The city is aiming to reduce the number of drug overdose deaths by 15 percent by 2025. The pledge was released in March as part of Mayor Eric Adams's "Care, Community, Action plan." One of its key measures is to increase access to free naloxone.
Agencies contributed to this report.