Competency, skills key to getting a job
By Yao Yuxin | China Daily | Updated: 2023-06-09 07:08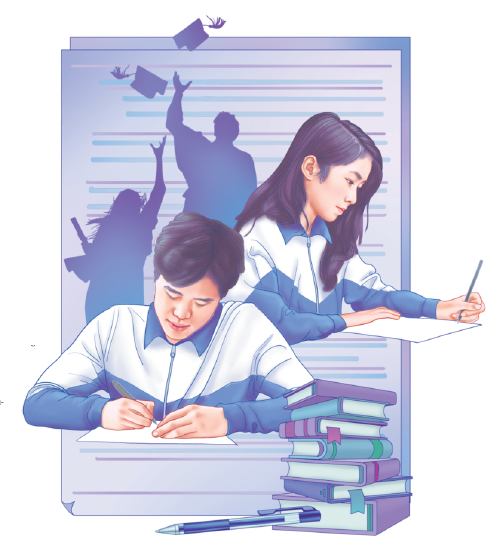 Editor's note: This year, a record-breaking 12.91 million students have registered to sit the college entrance examination, or gaokao. But amid news of job scarcity and even master's degree and PhD holders working as delivery personnel, many have started doubting the necessity of seeking higher education. Two experts share their views on the issue with China Daily's Yao Yuxin. Excerpts follow:
Higher education doesn't necessarily mean good jobs
The debate on the necessity of pursuing university education seems irrelevant, with 59.6 percent of high school graduates enrolling in universities. For today's students, it is no longer a matter of whether or not to seek admission to a university, because when a majority of their fellow students are pursuing higher education, how can they compete in the job market and society without it?
However, it is crucial to understand that simply attending a university, even a prestigious university, does not guarantee a good job. It is a misconception to equate higher qualifications with better employment prospects.
Higher education degrees have lost some of their value in today's world, while competency and skills have become more important. Today's world is shifting from a degree-oriented society to a competency-based one. Merely enrolling in a university does not necessarily mean getting access to a desirable position. Instead, students must approach their studies seriously and focus on enhancing their core competency to seek better jobs.
When considering enrolling in a university, a student needs to evaluate if the university and the major he or she chooses is suitable for him/her. Will pursuing a major truly enhance a student's ability and knowledge?
Students should also be clear about their career goals and understand the basic requirements of their desired profession, and then strive to improve their skills and competency accordingly.
There are cases of master's and doctorate degree holders struggling to find a good job, often due to their overemphasis on qualification while neglecting the need to acquire skills. The situation was different 20 years ago, when the gross university enrollment rate was below 10 percent. Today, all university graduates should be prepared to take up whatever job they get and improve their core competency and skills.
When entering the job market, a student's qualifications may be the same as many others'. With the same qualifications, it is a student's competency that will attract the attention of employers. This is the reality we face today, and it requires the students to adopt a new approach when making decisions about pursuing higher education.
Xiong Bingqi, director of the 21st Century Education Research Institute