Li, Scholz vow to strengthen Sino-German cooperation
By Cao Desheng in Berlin | China Daily | Updated: 2023-06-21 07:17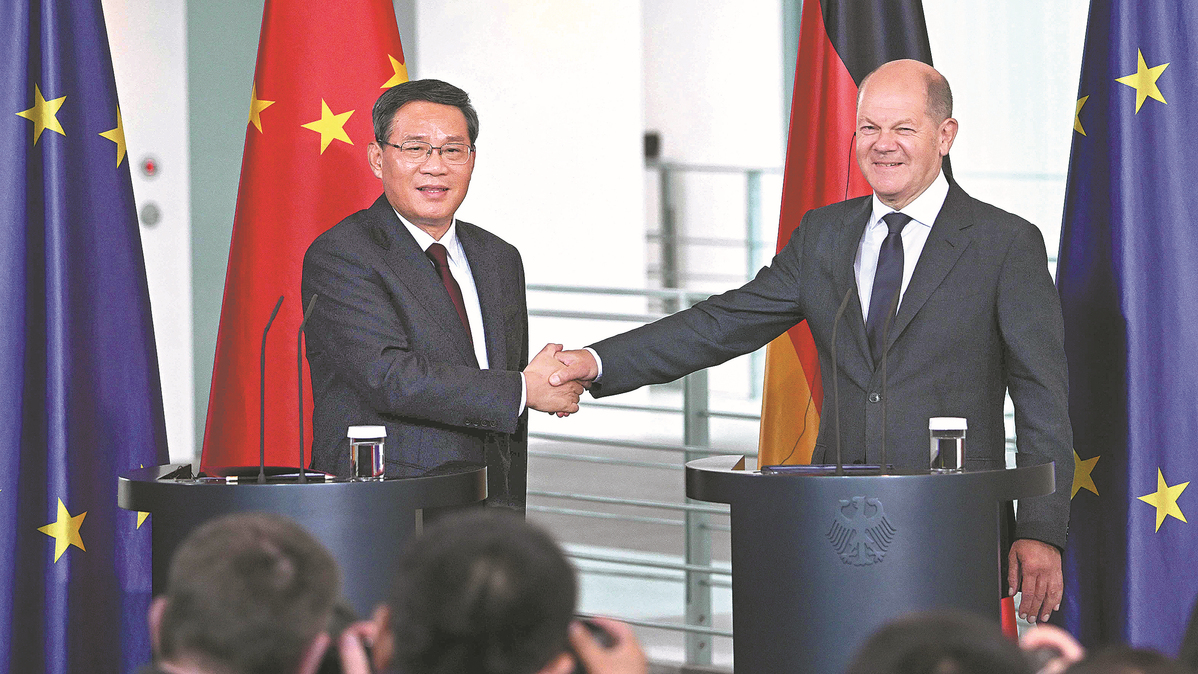 Premier Li Qiang called on Tuesday for strengthened ties between China and Germany to better serve the development of both countries and inject more positive energy and stability into a turbulent world.
In talks with German Chancellor Olaf Scholz in Berlin, Li, who started his four-day visit to Germany on Sunday, also urged Germany, when it comes to economic and trade cooperation, to base its actions on international rules and a "contractual spirit", while maintaining an open attitude and being independent.
As influential major countries, China and Germany should work together more closely, Li said, adding that priority should be given to jointly responding to climate change and promoting green technology and industrial cooperation.
Li's visit comes amid rising rhetoric from some Western countries about "de-risking" from China.
While meeting on Monday with leaders of the German business community, including executives from Siemens, Volkswagen, Mercedes-Benz, Schaeffler and BASF, Li rejected the rhetoric of "de-risking" and "reducing dependence" on China, and urged adopting a balanced approach to the issue.
Economic globalization meant that the world economy was becoming more intertwined, but this does not necessarily mean insecurity. Li said all parties have security concerns, but it is essential to have a reasonable definition of risks and prevention. Improper handling of security issues could, instead, increase risks and create more significant problems, he said.
Risk prevention and cooperation are not opposites, Li said, adding that rejecting cooperation is the most significant risk, while lack of development is the most significant security issue.
All parties can use negotiation and cooperation to prevent risks from arising, he said.
Scholz assured Li on Tuesday that Germany fully welcomes China's achievements in development and prosperity, which contribute to world peace and stability.
Germany opposes any form of "decoupling", he said, emphasizing that "de-risking" does not mean "decoupling" from China.
Scholz said that Germany remains committed to developing stable relations with China, and it is willing to further strengthen exchanges and deepen mutually beneficial cooperation with China.
Germany supports two-way investment and will provide a sound business environment for Chinese companies to invest in the country, he added.
Representatives of German companies also told Li that businesses eagerly look forward to continued and in-depth cooperation with China.
The German business community is confident in China's economic development prospects and believes that China will continue to open up, they said in their meeting with Li on Monday. They said they are willing to increase investment in China, expand their presence in the Chinese market and further deepen Sino-German cooperation in responding to climate change, enhancing research and development capabilities, and promoting digital transformation.
They also said that maintaining international cooperation is the right way to mitigate risks and "decoupling" from China is not a solution.
China is the biggest trading partner of Germany with bilateral trade volume reaching around 300 billion euros ($327 billion) in 2022. Germany is also Europe's largest investor in China.
Speaking at a joint news conference with the German chancellor on Tuesday, Li said the two countries agreed to set up a mechanism on dialogue and cooperation on climate change and green transformation.
Both countries also agreed to hold a third high-level economic and financial dialogue as well as an environment forum and health forum, Li said.
Against the backdrop of the complex changes in the international situation, rising de-globalization and the slow world economic recovery, China and Germany should cooperate to make greater contributions to world peace and development, he added.