Big overseas potential for China's EV makers
By LI FUSHENG | CHINA DAILY | Updated: 2023-07-03 06:52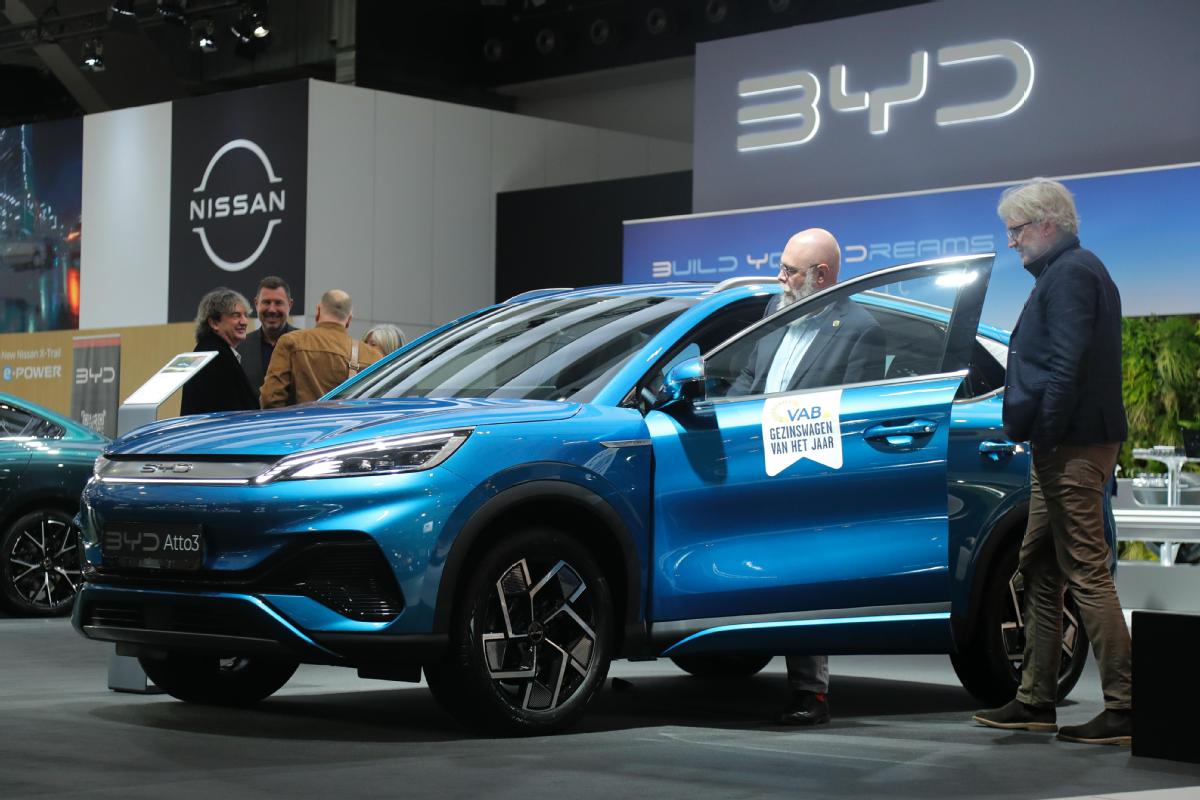 Institute leveraging its advantages to bolster international collaboration opportunities
Chinese carmakers are speeding up their efforts to explore overseas markets with their advantage in the new energy vehicle sector, which will help the country's vehicle exports to hit a record this year.
China started to see its exports soar from 2021, and the figure is expected to reach 4.5 million units this year, of which NEVs are likely to total 1 million units, said Liu Anmin, a board member of the China Automotive Engineering Research Institute.
Liu gave the estimate at an event organized by the CAERI and the China World National Culture Promotion Society last week in Beijing.
The estimate would mark a surge in China's vehicle exports from 2022.
In 2022, China's NEV exports stood at 679,000 units, up 120 percent year-on-year, according to the China Association of Automobile Manufacturers.
They pushed the total number of vehicle exports to 3.11 million units in the year, up 54.4 percent year-on-year.
"The growing number of NEV models will help Chinese carmakers further explore overseas markets, especially developed ones," said Liu.
"Their exports will shift from products to the whole industrial chain, and their overseas networks of sales and aftersales will improve accordingly," said Liu.
At the event, the CAERI extended invitations to diplomats from several countries to visit NEV companies in major car-producing cities from Chongqing to Shanghai.
Chao Peipei, a director of the CAERI, said the diplomats will visit factories, learn about their developments, test drive the latest vehicles and hold talks with such companies to explore potential collaboration opportunities.
Dino Kusnadi, minister of the Indonesian embassy in China, said that Indonesia has abundant opportunities for market development in the NEV sector.
He expressed his eagerness to collaborate with Chinese automotive companies in boosting the NEV sector's development in Indonesia.
The CAERI has also established a working group to facilitate Chinese carmakers' go-global efforts.
It will provide a range of services, including testing and certification, local policy consultation, as well as overseas resource coordination, said the institute.
Chinese carmakers are speeding up their efforts to go global. Last week, China's largest NEV maker BYD partnered with Jamaica's ATL Automotive to offer its vehicles in 10 Caribbean countries.
According to their deal signed on Monday, ATL Automotive will take direct control of the sales and aftersales of BYD in Jamaica, Trinidad and Tobago, Cayman, Curacao, Barbados, Aruba, Antigua, Saint Lucia, Guyana and Suriname.
"In the coming year, together with ATL, we will complete the construction of 10 showrooms and offer better user experiences, promoting sustainable mobility in the region," said Neva Zhang, BYD's manager of Caribbean and Central American countries.
ATL Automotive's Executive Chairman Adam Stewart said the company's discussions with BYD have been ongoing for the better part of a year and a half, so ATL is thrilled to finally sign on the dotted line.
"BYD is a simply incredible company with a history much like ours in the sense that it started humbly with one salesman knocking on the doors of phone companies trying to sell them batteries, much like my father in the very early days of Appliance Traders.
"It has since transformed into one of the world's leading car companies that represents an exciting future for the global industry," said Stewart.
Also last week, Aion, the NEV arm of State-owned GAC, signed a memorandum of understanding for business cooperation with Thai distributor Gold Integrate.
This marked Aion's first effort to explore the overseas market.
The agreement covers the establishment of an Aion subsidiary in Thailand, which will work closely with the country's top automobile distributor to explore the Thai market.
Thailand is the largest automobile manufacturer and exporter in Southeast Asia.
It is also the region's largest electric vehicle market, with the EV industry supported by positive government policies, such as tax and fee reductions, consumer cash subsidies, and investment support.
Aion said it will bring its cutting-edge technology to Thai consumers, introducing a steady supply of models that have proven highly popular among Chinese and international buyers.
Some other carmakers are producing their models in overseas markets.
Last week, Russian automobile manufacturer Avtotor said it will begin to manufacture Chinese carmaker's BAIC BJ40 off-roader at its Kaliningrad plant in July.
Preparations for production have already started, according to Russian news agency Tass.
It said that the company has already produced several off-roaders in a test, with preparations for the launch of serial production nearing completion.
Avtotor started to assemble cars from BAIC in April 2023.
Its BAIC X35 and BAIC U5 Plus were the first models assembled at the plant. The company plans to produce seven models of the brand by the end of 2023, said Tass.