Trade lifts Sino-Kazakh cooperation to new high
By Yerkin Tukumov | chinadaily.com.cn | Updated: 2023-07-05 11:15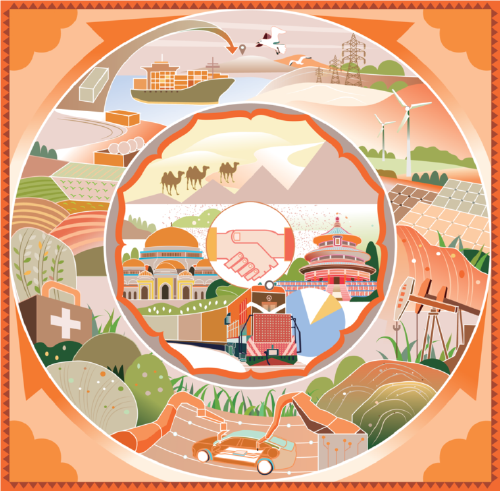 Years of cooperation have elevated Kazakhstan-China relations to the level of a permanent comprehensive strategic partnership. That the Kazakhstan-China relationship continues to strengthen was evident during President Xi Jinping's visit to Astana, capital of Kazakhstan, in 2022 when the two heads of state signed new agreements to further deepen cooperation.
Even in the difficult year of 2022, when many bilateral relations at the regional and global levels collapsed, the volume of trade between Kazakhstan and China grew by almost one-third to reach $24 billion according to Kazakh official data. While the exports of Kazakh products to China grew by more than 33 percent to exceed $13 billion, imports increased by 33.5 percent to $11 billion.
China today is an economic powerhouse that has the technologies and expertise to implement major projects. One has to only look at the number of Chinese companies that have become game changers in the international market by solving even the toughest problems in fields as varied as e-commerce, artificial intelligence and massive infrastructure construction.
Kazakhstan therefore should expand trade with China, as well as set up joint ventures in fields such as advanced technology, innovation-oriented projects, the digital economy and tourism. Kazakhstan should also promote cooperation with China under the framework of the Belt and Road Initiative, which is aimed at improving connectivity among countries across the world.
In fact, Kazakhstan attaches great importance to improving the performance of the "Middle Corridor", which in the future will contribute to the transformation of Central Asia from a transit zone to a logistics hub.
Besides, the introduction of a visa-free regime between the two countries can increase people-to-people exchanges. Kazakhstan introduced a 72-hour visa-free regime for Chinese nationals in 2017, and seeing the positive effects of the policy, in particular the improvement in the business climate, it introduced a 14-day visa-free regime for Chinese citizens in 2022.
Yet the two sides should also take measures to help more and more Kazakh and Chinese nationals to visit each other's country without immigration hassles, for visa restrictions between border-sharing, friendly countries are not conducive to bilateral trade.
China is the most important economic partner of Kazakhstan, with many sectors of its economy connected to the Chinese economy. This should encourage more Kazakh enterprises, especially small and medium-sized enterprises, to cash in on the opportunities offered by China.
The Kazakh-Chinese border has been an active zone for economic cooperation for the rest of Central Asia since the independence of Kazakhstan. For example, the Khorgos Land Port has facilitated economic development in the region, and Sino-Kazakh cooperation has benefited hundreds of thousands of Kazakhs and boosted international trade.
It is also worth noting that Sinophobia is exaggerated in the Western media, including social media. The vast majority of Kazakhs are friendly people nurtured in the tradition of hospitality. Many surveys show the Kazakhs people are friendly toward people from all over the world, including guests from China.
Kazakhstan and China are neighbors that have managed to take advantage of the geographical factor for developing relations in all areas. Sino-Kazakh relations have their own detailed agenda, in which the external geopolitical factor may have some influence, but is far from fundamental.
The main condition for the transformation of Kazakhstan-China relations is internal development. Development gives Kazakhstan the opportunity to accept and implement increasingly more complex projects, with the development of China pushing it to invest in promising markets, including Kazakhstan.
For example, the Chinese auto industry's market was confined within the country not too long ago, but today the sales of Chinese-made cars are the second-highest in the world. This has deepened cooperation between China and Kazakhstan in the automotive sector. As such, some Chinese auto giants have invested in large automobile plants in Almaty.
Friendly relations with neighboring countries are the key to economic well-being. In this sense, Kazakhstan is lucky to be neighboring the world's second-largest economy, which wishes to deepen relations with Kazakhstan on a strategic level with a huge credit of trust.
China is a country with the greatest scientific and investment potential, and most importantly, it also understands that win-win cooperation with neighbors will boost both sides' economic growth.
In addition, China is Kazakhstan's gateway to South, East and Southeast Asia. In this regard, the China-Kazakhstan International Logistics Base in Lianyungang, Jiangsu province, has created opportunities for Kazakh goods (for example, wheat and oil) to enter the markets of the Republic of Korea, Japan, Malaysia, Singapore and other countries in the shortest possible time and, therefore, at the lowest cost.
In short, the strategic partnership between Kazakhstan and China has had a positive impact on not only Central Asia but also South, East and Southeast Asia.
The author is director of the Kazakhstan Institute for Strategic Studies under the President of Kazakhstan. The views don't necessarily reflect those of China Daily.

If you have a specific expertise, or would like to share your thought about our stories, then send us your writings at opinion@chinadaily.com.cn, and comment@chinadaily.com.cn.