Record high temperatures scorch globe
By MAY ZHOU in Houston | China Daily Global | Updated: 2023-07-06 10:58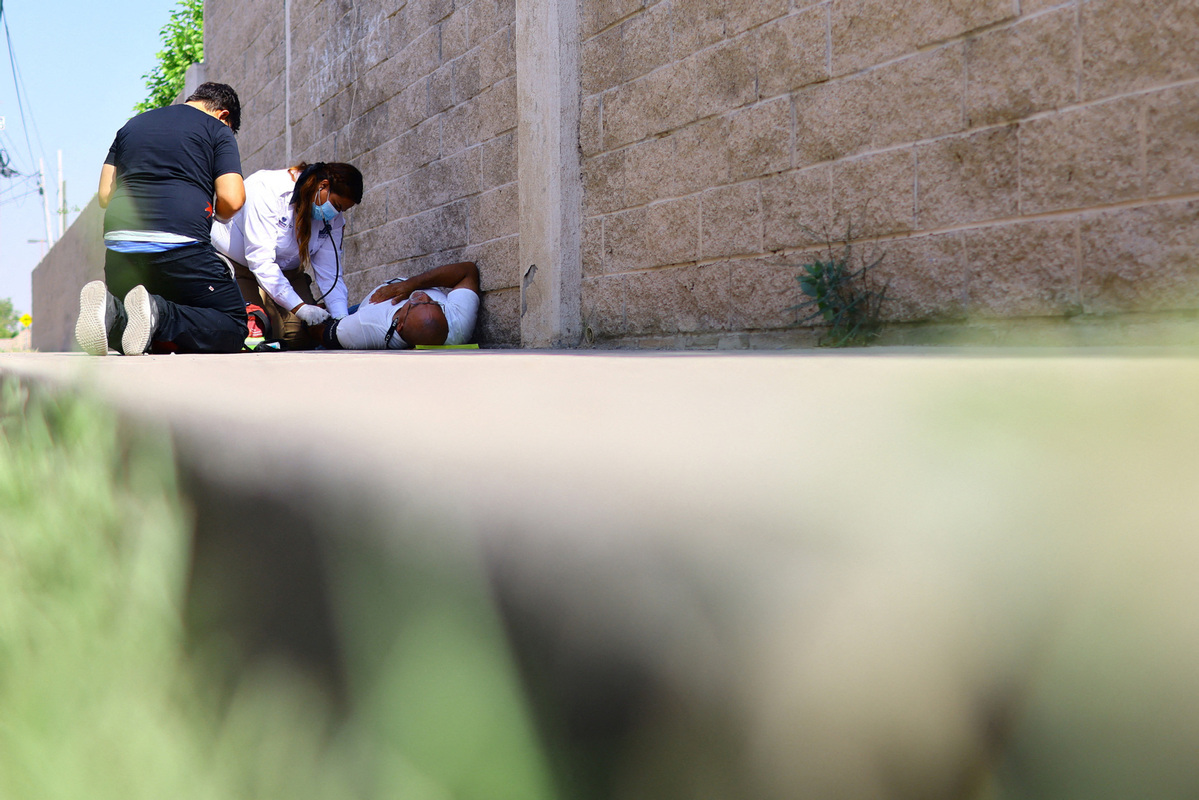 The Earth soared to the unofficial hottest temperature in human record-keeping on July 3, became even hotter the next day, and Wednesday could be the third straight day that the planet notches a record high, scientists said.
On Tuesday, the globe's average temperature reached 17.18 C (62.9 F), breaking a record that lasted only 24 hours, according to the University of Maine's Climate Reanalyzer, a common tool based on satellite data and computer simulations and used by climate scientists for a glimpse of the world's condition.
The previous record of 16.92 C was set in August 2016. The University of Maine climate calculator forecast a similar temperature for Wednesday.
And June 2023 may have been the hottest June going back to the late 1800s, according to preliminary global data from the National Oceanic and Atmospheric Administration (NOAA).
The global greenhouse effect coupled with the weather phenomenon of El Nino — a warming effect, in contrast with the cool weather effect of La Nina, which lasted three years before this year — are believed to be the primary reasons for record high temperatures, and it's possible more record high temperatures will be seen before the summer is over.
Across the world, the high temperatures are killing people, exacerbating heart and lung disease, worsening air pollution and making it impossible to work or exercise outdoors.
According to the Met Office, the national meteorological service for the UK, June has been confirmed as the hottest on record for the country, with an average mean of 15.8 C recorded, the highest since 1884 when the temperatures were first tracked. It represents a 0.9 C jump over the previous record set in 1976.
In Mexico, at least 112 people have died because of "natural extreme temperatures" from March through June, according to the country's health secretariat. At least another 1,559 people received medical treatment for temperature-related conditions. In some locations, temperatures have topped 45 C (113 F).
Next to Mexico in Texas, a heat wave — with the temperature hovering around 100 F in late June — has resulted in the death of a postal worker, a hiker and several prison inmates.
In China, the highest number of hot days over six months was recorded since record-keeping started in 1961, as numerous parts of the country encountered record-breaking temperatures, according to the country's National Climate Center.
As of June 30, China saw 4.1 national average high temperature days (with the high temperature exceeding 35°C (95 F), almost double its normal average of 2.2 days. Northern China has been particularly hard hit. Shijiazhuang, the capital of Hebei province, has seen 17 high temperature days, followed by Beijing's 13 days.
China's heat wave came about 16 days earlier than a typical year, and the country has already experienced four regional heat waves, the National Climate Center said.
In June, more than 300 weather stations in China registered extremely high temperatures, with more than 100 stations recording above 40 C (104 F). The center predicts that heat waves will continue across various regions of the country.
In India, at least 44 people have died from heat-related illness across the state of Uttar Pradesh in recent weeks. Temperatures in some areas soared to 47 C (116 F) in late June in that part of India. The number of heat-related deaths could be much higher, as authorities struggle to get a more accurate count.
A study published in April by the University of Cambridge said heatwaves in India are putting "unprecedented burdens" on India's agriculture, economy and public health systems, challenging the country's ability to reach its development goals.
"Long-term projections indicate that Indian heatwaves could cross the survivability limit for a healthy human resting in the shade by 2050," the study said. "They will impact the labor productivity, economic growth, and quality of life of around 310-480 million people. Estimates show a 15 percent decrease in outdoor working capacity during daylight hours due to extreme heat by 2050."
Such loss of outdoor working capacity will certainly be felt by all areas experiencing heat waves.
Paul Davies, UK Met Office chief meteorologist said: "Alongside natural variability, the background warming of the Earth's atmosphere due to human-induced climate change has driven up the possibility of reaching record high temperatures."
Davies also said that the frequency of such extremes will depend on the emissions scenario in the future. "By the 2050s, the chance of surpassing the previous record of 14.9 C could be as high as around 50 percent," he said.
Agencies contributed to this story.