RCEP will help SMEs to 'go global'
By Eddy Chan | chinadaily.com.cn | Updated: 2023-07-07 14:27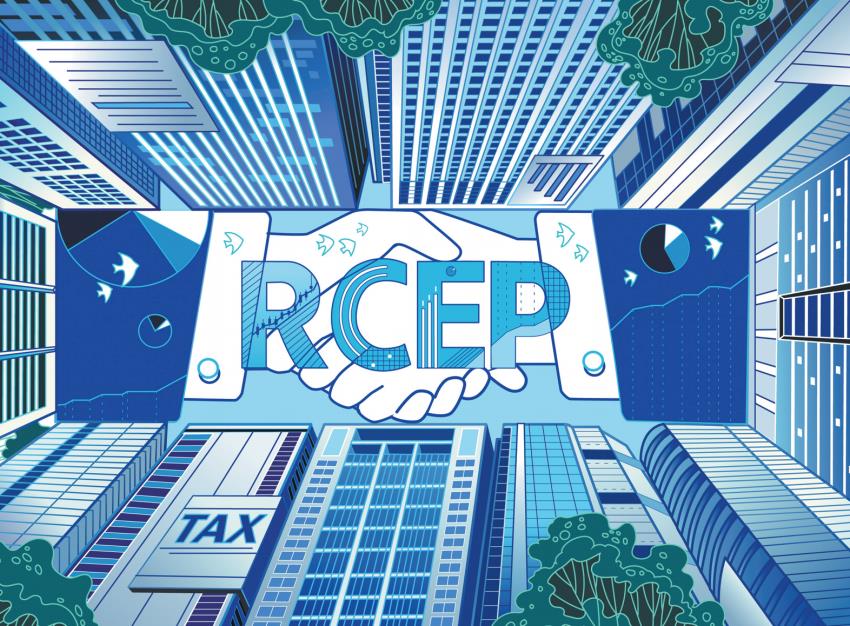 The Regional Comprehensive Economic Partnership came into effect for all 15 member states on June 2. Since being signed in early 2022, the RCEP has been promoting intra-regional trade and economic development, and China, as an RCEP member, has seen steady growth in its imports and exports. In 2022, China's total imports and exports of goods surged to 42.07 trillion yuan ($5.80 trillion), hitting a new record. In the first five months of this year, its foreign trade volume climbed further by 4.7 percent year-on-year to 16.77 trillion yuan.
Thanks to its pandemic prevention and control measures and economic incentives, China's foreign trade will boost its economic development and "dual circulation" development paradigm, and play a bigger role in the world economy. In this context, the comprehensive implementation of the RCEP, the world's largest free trade deal, indicates greater generation of momentum.
The RCEP is a free trade agreement covering the largest population with the most diversified membership structure and the greatest development potential. It covers about 30 percent of the world's population, economic volume and total trade. As the RECP member states gradually fulfill their commitment to lower tariffs, open markets and reduced barriers to trade, the economic and trade relations in the region will become stronger, and the market potential of most member countries will continue to be unleashed, shoring up regional trade in Asia.
As the largest economy in Asia, China has played a prominent role in promoting trade in the RCEP region. In 2022, China's imports and exports to the other 14 RECP member states added up to 12.95 trillion yuan, up 7.5 percent year-on-year, accounting for 30.8 percent of its total imports and exports. And in the first five months of this year, this figure reached 5.11 trillion yuan, up 4.3 percent year-on-year, representing 30.5 percent of its total imports and exports for the same period. It is therefore clear that the RCEP will play an increasingly important role in China's foreign trade, and effectively drives trade growth in the region by reinforcing business ties between China and other regional markets.
How can small and medium-sized enterprises take advantage of the opportunities offered by the RCEP?
The SMEs that make up 99 percent of China's enterprises are an essential part of the country's foreign trade. Benefiting from simpler customs procedures, better trade facilitation and lower traffic that come with the RCEP, these SMEs will get a broader space for development in the international market, and in turn create new opportunities for the robust growth of foreign trade.
The RCEP values SMEs' contribution to economic growth, and has created a favorable business environment for them. Through measures including pre-shipment inspection, pre-arrival processing and advance rulings, the RCEP streamlines customs procedures and speeds up customs clearance, enabling the SMEs to participate in the regional supply and value chains more efficiently.
The tariff concessions in the RCEP region will help SMEs reduce their import and export costs, because the RCEP will ultimately eliminate tariffs on more than 90 percent of goods trading among its signatory parties immediately or within 10 years, which will incentivize SMEs to "go global". Survey results show that since the RCEP entered into force, China has seen growth in both the number of small and medium-sized foreign trade enterprises exporting to the region and the income they have earned.
Lower tariffs also means making more affordable imported goods available to consumers, which will improve their ability to buy and enable the SMEs to open up a larger consumer market. This, by the way, will be accompanied by the high requirement for delivery speed and challenges for cross-border delivery of goods. As such, the SMEs urgently need a professional and reliable cross-border logistics partner to help them seize the enormous opportunities created by growth of regional trade.
FedEx has been providing professional cross-border logistics services in the Asia-Pacific region for nearly 40 years. Based on an extensive international transportation network and its own aircraft fleet, the company has connected the FedEx Asia Pacific Hub in Guangzhou, the FedEx Shanghai International Express and Cargo Hub, and other hubs in the Asia-Pacific to provide efficient customs clearance services and reliable cross-border logistics services for customers in China as well as the rest of the region.
Therefore, the RCEP will not only help boost the development of the SMEs and the regional economy, but also facilitate closer ties between China and the other RCEP members in a wide range of industries. And as an advocate and facilitator of global trade, FedEx will continue to promote regional economic cooperation.
The author is senior vice-president of FedEx Express and president of FedEx China. The views don't necessarily reflect those of China Daily.
If you have a specific expertise, or would like to share your thought about our stories, then send us your writings at opinion@chinadaily.com.cn, and comment@chinadaily.com.cn.