AI sets new musical boundaries
By Chen Nan | China Daily | Updated: 2023-07-11 11:10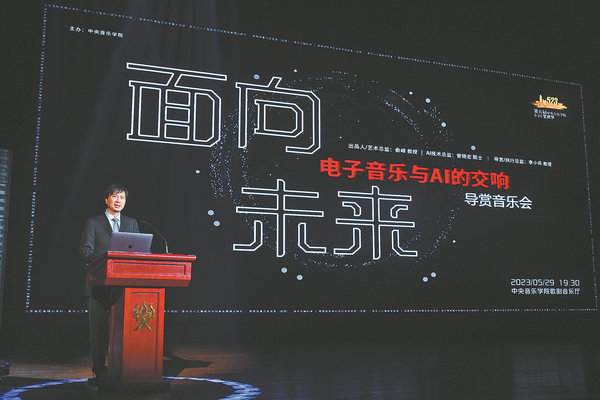 Technology detects emotional changes among audiences
Before erhu player Wang Chuting started to perform an original piece of music titled Over the Rainbow, Zhang Yuan, who composed the work, stepped onto the stage and sat next to Wang.
They both donned brainwave-reading headsets, signaling that the performance had officially started. The headsets detect signals from the brains of the performer and composer, transforming them into music to allow real-time improvisation.
In addition to the erhu, Wang played guitar in the piece, which is not related to the eponymous song featured in the movie The Wizard of Oz.
Zhang, who graduated from the Central Conservatory of Music in Beijing with a bachelor's degree and a master's in composition, said, "The interactive element highlighted the dynamic connection between the musicians, the audience and the AI (artificial intelligence) technology, blurring the lines between human expression and machine capabilities."
The composer holds a doctorate in electronic music composition from the Conservatory's music AI and information technology department.
"Traditionally, performers play onstage and the audience listens. The communication is silent most of the time. However, music is now listening to us for a change. Performers can see emotional changes in the listeners, which affect performances and the way in which musicians play," Zhang said.
He added that brainwave-reading headsets are often used in medical treatment.
Zhang's work was staged recently at a groundbreaking Central Conservatory of Music concert that combined AI technology and human musicians, redefining the traditional concert experience.
Before entering the concert hall, the audience was given a taste of the futuristic elements of music through a compositional system generated by AI technology. By scanning a code, and texting the lyrics, rhythm and vocal timbre, the audience could obtain a song totally created by AI within 23 seconds.
Li Xiaobing, executive director of the concert and head of the music AI and information technology department at the Conservatory, said: "AI is everywhere and is radically changing our daily lives, for example, in shopping, commuting and banking. In music, AI is fundamentally changing not just how we listen to it, but how music is created and even how the music industry operates.
"There is a big question for musicians: is AI going to assist them, or is it going to be a musician? This concert, with the theme 'music from the future', might offer a clue.
"With AI's assistance, music creators can analyze real-time performance data and empower human performers to make adjustments based on audience feedback, ultimately enhancing the overall concert experience."
Li added that the music AI and information technology department was founded at the Conservatory in 2019. The department comprises an AI music center, an electronic music composition center and music therapy center. The recent concert was the first time the department had showcased its doctorate holders' musical works to the public.