NATO lie of 'China threat' slammed
By CHEN WEIHUA in Strasbourg, France | China Daily Global | Updated: 2023-07-13 07:13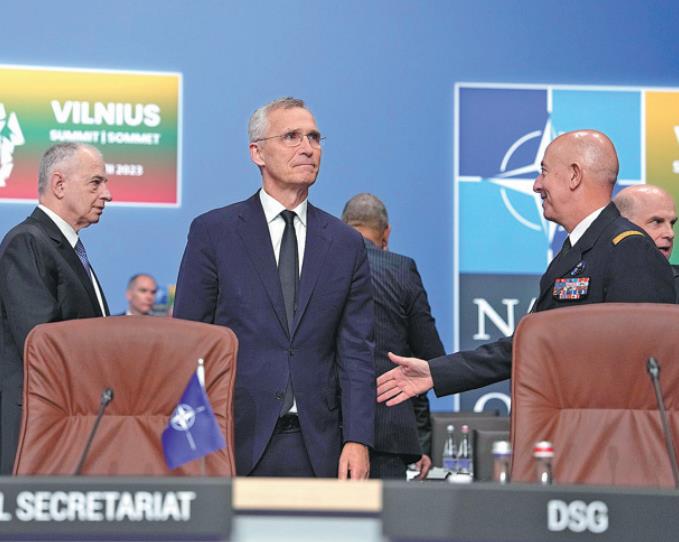 China blasted NATO on Tuesday for fabricating the "China threat" and for trying to expand the North Atlantic military alliance's footprint into the Asia-Pacific region.
The NATO summit on Tuesday and Wednesday in Vilnius, Lithuania, issued a communique on Tuesday, saying that "China's stated ambitions and coercive policies challenge our interests, security and values".
In response, Foreign Ministry spokesman Wang Wenbin urged NATO on Wednesday to stop its groundless accusations and provocative remarks against the country.
"We urge NATO to immediately stop smearing China, abandon the Cold War mentality and the outdated zero-sum game concept, give up relying solely on military force and the mistaken belief of absolute security, and refrain from seeking excuses for its own expansion," Wang said.
On Tuesday, the Chinese Mission to the European Union said the NATO communique relating to China is dominated by Cold War mentality and ideological prejudice.
"The China-related content disregards basic facts, wantonly distorts China's position and policies and deliberately discredits China," a mission spokesperson said.
The spokesperson expressed China's deep concern that NATO as a regional military alliance and a Cold War legacy was interfering in extraterritorial affairs and creating confrontations.
The spokesperson urged NATO to listen to the international community's just call for peace, development and cooperation and play a constructive role toward ensuring world peace and stability.
"China will firmly safeguard its sovereignty, security and development interests and resolutely oppose NATO's eastward movement into the Asia-Pacific region," the spokesperson said.
"Any action threatening China's legitimate rights will be met with a resolute response," the spokesperson added.
NATO's eastward expansion into Asia has invoked grave concerns. French President Emmanuel Macron is reportedly blocking NATO's plans, first discussed after NATO Secretary General Jens Stoltenberg's visit to Japan earlier this year, to open a liaison office in Tokyo, which is perceived as targeting China.
Paul Keating, former Australian prime minister from 1991 to 1996, praised Macron for "doing the world a service by putting a spike into (Jens) Stoltenberg's wheel".
"Exporting that malicious poison to Asia would be akin to Asia welcoming the plague upon itself," he wrote in an opinion piece published on Monday in Pearls and Irritations, an Australian platform.
He called Stoltenberg the "supreme fool" of "all the people on the international stage".
"Stoltenberg, in his jaundiced view, overlooks the fact that China represents 20 percent of humanity… and has no record of attacking other states, unlike the United States, whose bidding Stoltenberg is happy to do," Keating wrote.
Keating said that Stoltenberg "conducts himself as an American agent more than he performs as a leader and spokesperson for European security".
Peter Cronau, an investigative journalist in Australia and a producer at the Australia Broadcasting Corp, said in a tweet on Tuesday that "Keating is only saying what the majority of Australians are thinking: A US war against China, no thanks".
NATO's expansion eastward into Europe since the 1990s is viewed by many as a trigger for the current Russia-Ukraine conflict.
In an opinion piece titled "The Indo-Pacific is no place for NATO", Yelena Biberman, an associate professor of political science at Skidmore College in Saratoga Springs, New York, cited William Burns, current director of the Central Intelligence Agency as saying during his previous stint as US ambassador to Russia that "Ukrainian entry into NATO is the brightest of all redlines for the Russia elite".
Jan Oberg, director of the Transnational Foundation for Peace and Future Research, a Sweden-based think tank, told Xinhua News Agency in a recent interview, "I consider it of paramount importance that NATO's policies are one gross violation of its own charter and international law."
He said that NATO's 1949 Treaty, with Article 5 about mutual defense among its European members, was "distinctly defensive in nature", but the bloc is violating its own treaty "daily" and is expanding globally.