US bakes under coast-to-coast heat dome
By MINGMEI LI in New York | China Daily Global | Updated: 2023-07-14 10:30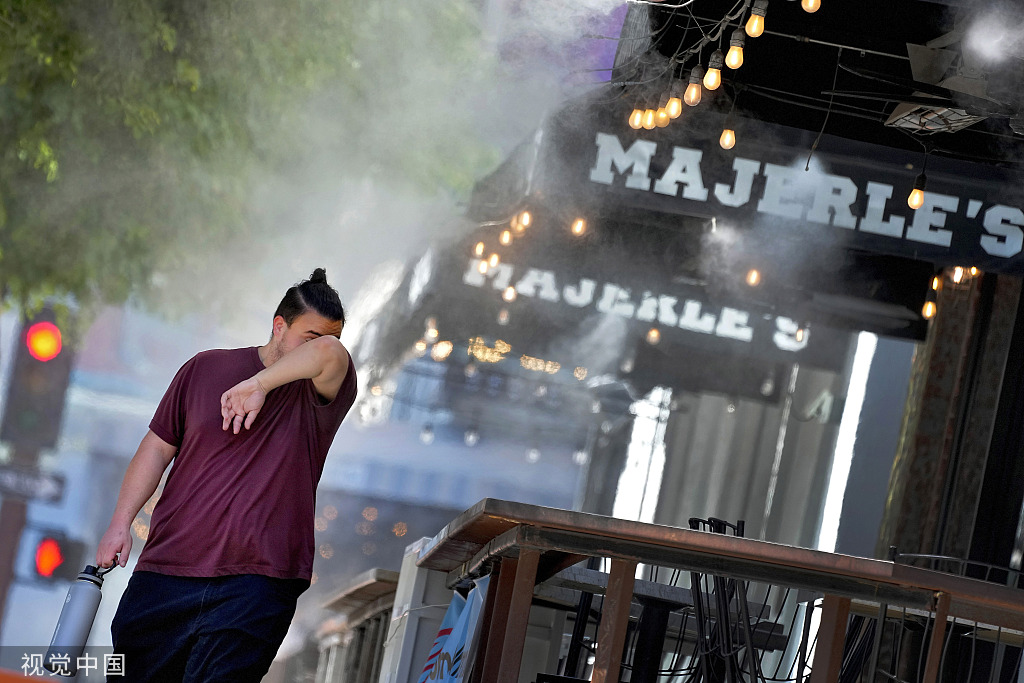 A heat dome with temperatures exceeding 100 degrees Fahrenheit is stretching across the country, affecting more than 100 million people in 15 states and is expected to intensify throughout the weekend.
At Death Valley National Park, which straddles the California-Nevada border and is known as one of the hottest places on Earth, and its highest temperature recently surpassed 130 degrees (around 54 C.) Nighttime low temperatures in Death Valley are forecast to exceed 100 F.
"Dangerous heat will result in a major to extreme risk for heat-related illnesses for much of the population, especially those who are heat sensitive and those without effective cooling and/or adequate hydration," said the National Weather Service in Hanford, California.
In South Florida, temperatures are expected to exceed 105 F, according to the National Weather Service. Unlike the West region, the Sunshine State is more humid.
The ocean temperature near the Florida Keys has surged beyond 90 F, according to the National Oceanic and Atmospheric Administration (NOAA).
Such warm water temperatures "would be impressive any time of year, but they're occurring when the water would already be rather warm, bringing it up to bona fide bathtub conditions that we rarely see," Brian McNoldy, senior research associate at the University of Miami and a hurricane expert for Capital Weather Gang, told The Washington Post.
"Definitely don't need a wetsuit for this [water] temperature," said Deng Lin, a scuba diving instructor at Coral Diving Club in Dania Beach. He said the underwater temperature in mid-July would be warm but not as high as this year.
Jiawen Zhou, a scuba instructor who dived Thursday morning at a popular site, Spiegel Grove in Key Largo, said his scuba diving watch recorded the highest water temperature of 91.4 F (32 C) at a depth of 82 feet (25 meters) .
Such high temperatures threaten coral reefs and other marine life.
The heat wave is causing coral bleaching, which can leave coral vulnerable to deadly diseases. When sea temperatures rise too high, coral bleaches, expelling the algae it needs for sustenance. If waters don't cool quickly enough, or if bleaching events happen in close succession, the coral dies. Now the world's coral reefs are half the size they were in 1950, according to the NOAA.
The NOAA Coral Watch has recorded an "Alert Level 1" off the coast of South Florida, which is the second-highest level, indicating "significant bleaching likely".
Coral reefs in southeast Florida have an asset value of $8.5 billion, generating $4.4 billion in local sales, $2 billion in local income, and 70,400 full and part-time jobs, according to NOAA.
Stretching approximately 350 miles from St. Lucie to the Keys, Florida's coral reef system is a vibrant ecosystem that attracts an array of marine life like sea turtles, manta rays, flounder and lobsters. Generally, marine life needs more oxygen when the water temperature climbs. If water temperatures continue to rise, marine life habitats also will be threatened.
Agencies contributed to this story.