Time to unlock growth potential of 'virtual idol' sector
By SUN LEI and SUN JIASHAN | China Daily | Updated: 2023-07-22 10:07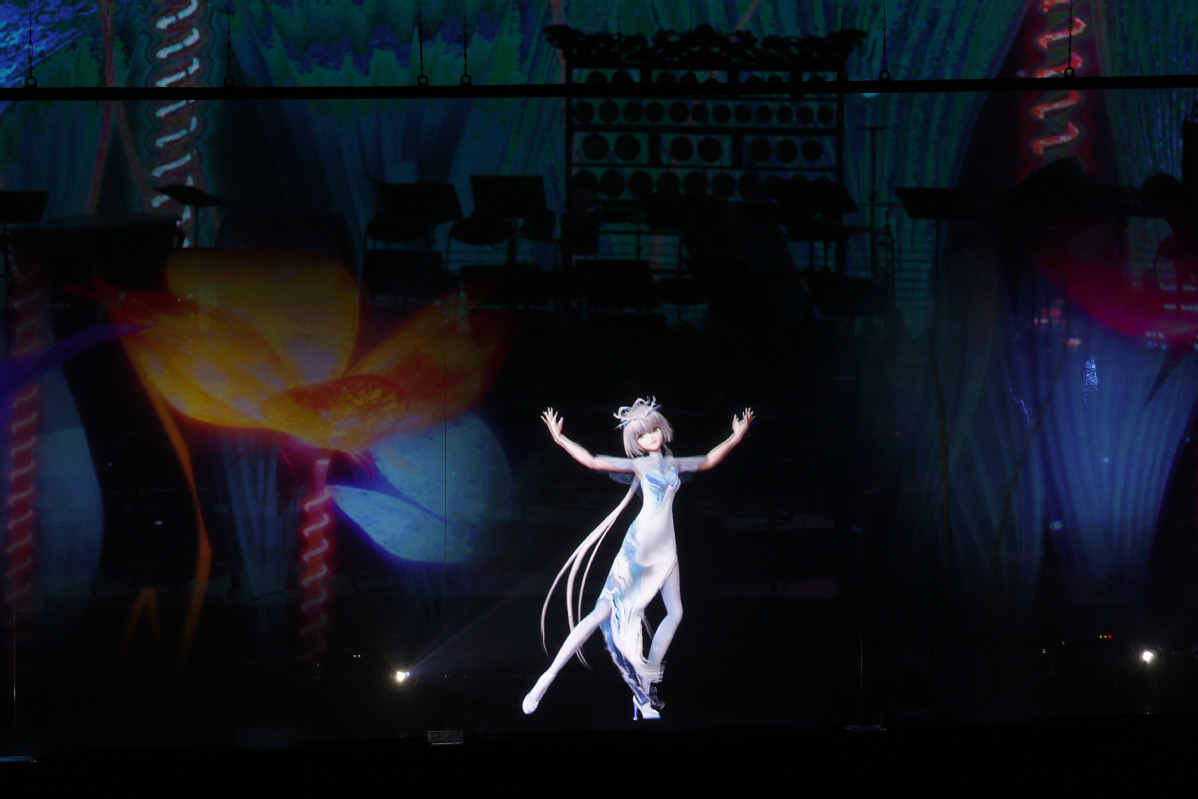 That people born after 1995 comprise a major part of consumers of cultural products and services is not surprising. With China's rapid economic growth, this group has gained strong purchasing power and is willing to spend on not only consumer and cultural products but also luxuries.
China's rapid economic development has been accompanied by the growth of the internet, which in turn has given rise to ACG (anime, comics and games) culture. Fans of ACG often develop what experts call "2-D complex", or nijikon in Japanese. Youths who have "two-dimensional complex" develop a strong attachment to 2-D characters of Japanese manga and anime, or other comics and games. This attachment often leads to the point of infatuation, with the fans becoming so enamored, in some cases, with their fictional love interests that they disassociate or begin to dissociate from reality. Such people often engage in cosplay — dressing up like fictional characters that generally embody innocence and childishness.
Youths that have 2-D complex — or have become part of "2-D culture" — are an integral part of the current cultural market. The rise of the interactive entertainment industry, characterized by virtual idols, virtual streamers, virtual humans and digital personalities, has given rise to a new form of cultural industry worldwide.
According to the China Virtual Goods and Services Market Report for 2022, the total output value of the country's virtual idol industry has reached nearly 1.3 billion yuan ($181.13 million), with the number of consumers skyrocketing in two stages, from 2011 to 2015, and from 2016 to 2019. However, since 2020, the increase in the number of users has somewhat slowed, indicating the ACG sector has not developed much in the past three years, perhaps because of the COVID-19 pandemic, and hence the potential for new user growth is limited.
Although more users are willing to pay today compared with 2018, the overall payment range remains in the 501-1,000 yuan per capita range, indicating lower consumption capacity. This suggests the fans of virtual idols primarily consist of students and young white-collar workers with relatively low disposable incomes. The consumer group with an average age of 25, per capita expenditure of more than 5,000 yuan and some savings still does not constitute the main force driving the virtual idol industry.
However, with the continuing growth of livestreaming, short videos, online games and other platforms, China's virtual idol industry seems set to "go global" and has the potential to become a new growth driver.
The countries with the largest user bases for virtual idols are the United States, Japan, Indonesia and China. But China's "virtual idol industry" faces different types of risks and challenges in expanding its market to those countries.
For example, China faces language and copyright barriers when it comes to extending its "virtual idol industry" to Japan, not least because Japan is the birthplace of virtual idol and the largest virtual idol market. Take for instance Hololive, a Japanese virtual idol management company. In 2020, the company was involved in a copyright incident after it emerged that its virtual streamers had livestreamed Nintendo games without obtaining proper copyright permission. After being warned by Nintendo, which is also a Japanese company, Hololive chose to settle the issue amicably and resumed livestreaming Nintendo games only after obtaining the license and permission to do so.
Also, Japan is the only country to have registered legal cases involving the "rights" of virtual personalities. Although the Japanese Supreme Court doesn't seem to have a positive view on virtual personalities enjoying individual rights, there have been legal cases that indicate a tilt toward affirming the rights of "virtual idols".
North America is the second-largest consumer market for "virtual idols". But due to the influence of Japanese anime and games which Japanese companies such as Nintendo provide, virtual idol fans in North America are more prone to accepting anime-style and Western-style virtual idols.
In addition, like Japan, North American countries attach special importance to copyright, including software copyright and virtual character design copyright. Plus, popular illustration software, Live2D, used in games comes in different price categories based on buyers' intended usage. For instance, if a person intends to use it for livestreaming or other commercial purposes, he/or she has to buy a higher-level license.
And Indonesia, the world's fourth most populous country, was one of the first countries outside of Japan where virtual streaming became popular. In Hololive's fan base, Indonesia ranks fourth globally with a 9 percent representation. No wonder Hololive has established a subsidiary in that country.
Although Indonesian users are young, enthusiastic and willing to make frequent small payments, there are still obstacles to exporting China's virtual idol products and services to Indonesia. The first barrier is that of language. Second, while virtual idol fans in Indonesia are willing to pay to use software, their overall disposable income is low. And the third barrier is the religious beliefs and taboos. This means strict caution and monitoring will be required while making or livestreaming products so as not to violate religious norms or hurt religious sentiments.
But since the overseas expansion of the interactive entertainment industry will allow China to more easily showcase China's image and Chinese culture to the world, it should continue making efforts to find innovative ways to do so. After all, virtual idols combine both human and 2-D elements, allowing for more direct interaction with foreign teenagers. And like livestreaming, short videos and online games, the global expansion of China's interactive entertainment industry, led by virtual idols, could become a new growth driver for cultural exports.
Sun Lei is a partner at the Yuanhe & Twelve Tables, a law firm in Beijing; and Sun Jiashan is an associate researcher at the Chinese National Academy of Arts.
The views don't necessarily represent those of China Daily.