Japanese automakers feel growing EV squeeze
By LI FUSHENG | China Daily | Updated: 2023-07-24 09:23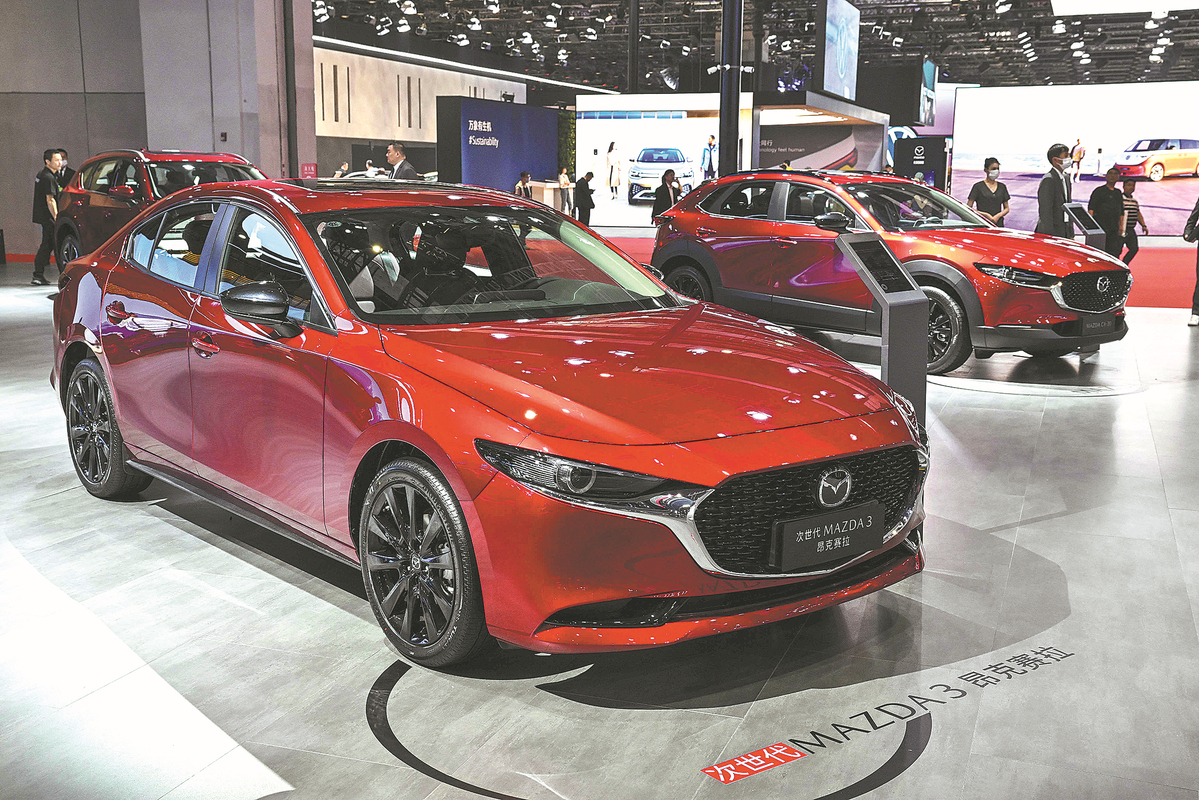 Mazda and Honda look to make up ground in rapidly changing Chinese market
Japanese carmakers, which have been reluctant in their switch to electrification, are coming to terms that they need to roll out electric vehicles in China if they would like to resurrect their former glory in the world's largest vehicle market.
Masahiro Moro, CEO of Japan's Mazda Motor, told reporters that it needs to overhaul its product strategy in China. It faces increasingly tough competition from local carmakers as electric vehicles are emerging as serious choices in the country.
Sales of EVs and plug-in hybrids, which are classified as new energy vehicles in China, totaled 3.75 million units in the first half of this year. This is up 44.1 percent year-on-year and accounts for 28.3 percent of all new vehicle sales, according to the China Association of Automobile Manufacturers.
The association estimates that total NEV sales this year could hit 9 million units, up from 6.89 million units in 2022.
Mazda, a niche player in China, has eight models available in the market and only one is an EV.
The brand's sales in China in 2022 were down 41 percent from 2021 to just over 108,000 vehicles, according to company data. Its sales in China peaked in 2016 at more than 316,000 vehicles.
Moro said business conditions for Mazda in China, where it has a joint venture with local State-owned carmakers Changan and FAW, would become increasingly tough over the coming 12 to 18 months.
He said he discussed efforts with the joint venture's management to catch up with the high-speed electrification in China during a visit to the country in June.
"The important thing is to turn the tide and introduce electric vehicles one by one," said Moro.
Mazda is expected to launch an EV-dedicated platform around 2027.Moro said such a platform was planned to be unveiled in 2026 but it seems to be taking more time than expected.
Honda is moving faster than Mazda. Its joint venture, Dongfeng Honda, said it will not introduce new gasoline models from 2027. By 2030, it will have at least 10 electric models in the market.
It now has two plug-in hybrids and one electric model in the Chinese market, but the sales performance has been lackluster.
Industry data shows that the electric model, the e: NS1, saw sales total 2,546 units in the first four months of this year.
Dongfeng Honda, headquartered in Wuhan, Hubei province, is celebrating its 20th anniversary this year.
It used to be one of the best-selling carmakers in China. The CR-V SUV and Civic hatchback were once among the most popular models in the market.
In 2017, when the carmaker sold 727,000 units, up 22 percent year-on-year, it set a goal to sell 1 million vehicles in 2023. Yet in 2022, its sales were 652,046 units, down 17.76 percent year-on-year.
Dongfeng Honda did not release its sales figures in the first half of this year, but Honda's total sales in China from January to June stood at 529,691 units, down 22 percent year-on-year.
The declining popularity of those brands are the result of sales surges by Chinese marques.
China saw about 2.24 million passenger vehicles sold in June, of which 1.2 million were from domestic brands. They accounted for 53.7 percent of the domestic market, according to the China Passenger Car Association.
BYD, China's largest NEV maker, saw its sales of passenger vehicles soar to 251,685 units in June, up 88.2 percent year-on-year. Its sales in the first half totaled 1.25 million units, which is equal to two-thirds of its total deliveries in 2022.
Li Auto, the Nasdaq-listed Chinese startup, sold 32,725 vehicles in June, up 150 percent year-on-year. It was also the first time monthly deliveries exceeded 30,000 units since its establishment in 2015.
"The rise of Chinese domestic car brands indicates the high-quality development of China's automobile industry, particularly more competitive new energy vehicles," said Cui Dongshu, secretary-general of the CPCA.
Liu Kexin, senior researcher with the China Automotive Technology and Research Center, said a growing number of younger Chinese consumers now prefer domestic brands because of their speed to launch models with new onboard features.
Among international brands, those which have popularity in China, such as Volkswagen and BMW, have been more agile than others, although they lag behind local carmakers.
Volkswagen's ID. series are among the most popular EVs from international carmakers in the Chinese market, according to the CPCA.
The car group is scheduled to have at least 30 electric models bearing its marques, from Porsche to Audi, by 2030. It expects to export China-made EVs to the European market as well.
BMW sold 44,864 EVs in China from January to June, up 283 percent year-on-year. It ranks as the best-selling non-Chinese premium brand in the market.
The Munich-based carmaker is revving up its efforts to enrich its portfolio of electric offerings in China. The iX1 compact SUV and i5 sedan will be soon locally produced at its joint venture BMW Brilliance in Northeast China's Liaoning province, it said.