Study tours should offer more 'learning' experience
By Jiang Yiyi and Gao Ziyi | China Daily | Updated: 2023-07-25 07:38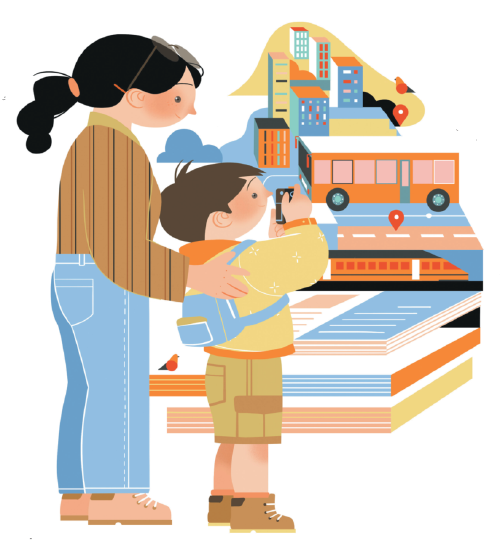 "Ink on paper can only convey so much, true understanding requires putting knowledge into action." The popularity of study tours continues increasing during the summer vacation. Many parents are arranging for their children to go on educational trips, in order to break the relative monotony of classroom education. By providing them immersive real-life experiences, parents are seeking to broaden their children's horizons, enhance their knowledge, and help them integrate learning with exploration and enjoyment.
According to the summer travel data forecast from several online travel platforms, this summer is expected to witness a huge surge in demand, surpassing that of the same period in 2019. Among the emerging trends, "study tours" are new for the tourism industry, contributing significantly to its gradual recovery and improvement.
In 2021 the Ministry of Culture and Tourism released the"14th Five-Year Plan for the Development of Cultural Industries", which laid stress on the vigorous development of study tours. The plan is aimed at creating innovative study tour products that integrate cultural experiences, technological innovation, knowledge dissemination, entertainment, leisure and interactive parent-child activities.
According to available data, the number of participants in study tours reached 4.94 million in 2021, far exceeding the pre-pandemic figures. In 2022, the number crossed 6 million, an all-time high.
The concept of "combining learning with travel" has become a new consumer trend, with study tours becoming an emerging tourism model. Study tours promote the integration of "culture, tourism and education", a novel way to experience cultural tourism and engage in practical education by studying people's daily lives. Study tours also combine family education, school education and community education.
Compared to developed countries in Europe and the Americas, China's study tour market started relatively late, with a lower overall market penetration rate, indicating that there is still considerable untapped potential to expand the market.
According to the "China Study Tour Development Report 2022-23" published by the China Tourism Academy, since the joint release of the "Opinions on Promoting Study Tours for Primary and Secondary School Students" by the Ministry of Education and 11 other departments in 2016, people's understanding of study tours has increased. The study tour demographic now includes preschool children, primary, middle and high school students, as well as adults and senior citizens, representing a broader developmental space.
With the combined impetus of favorable policies and the demand for quality education, the study tour market has grown rapidly in recent years. This year, study tourism has experienced even more robust growth, with more than 5,000 "study camps" and related enterprises across the country. To better develop study tours and avoid superficial experiences, tourism destinations can focus on the following aspects:
To begin with, it is essential to clearly define the positioning of the study tour market and expand the supply chains of study tour products. To establish a distinct identity and highlight the core values of "research" and "learning", study tours should not only focus on providing immersive experiences but also prioritize educational aspects, integrating them through products and services. This approach will ensure study tours offer high-quality educational resources for students.
It is also crucial to continuously optimize the study tour product chains. This can be achieved by incorporating the latest educational concepts and technological advancements to create a complete industry chain encompassing base construction, itinerary design, qualified instructors, curriculum development, safety assurance and other essential elements. This comprehensive approach will drive high-quality development in the study tour sector.
Furthermore, there is a need to capitalize on the diverse resources of each region and cultivate study tours as a branded intellectual property. Local authorities should engage in comprehensive planning, and consider study tours to be a significant vehicle for cultural and educational enrichment.
They can delve deep into local intangible cultural heritage, the country's revolutionary culture, ethnic minority culture, and traditional Chinese culture, among other distinctive cultural traits, to promote unique study tours.
For instance, in June 2023, the Guizhou provincial cultural and tourism authorities announced six study tour routes centered on intangible cultural heritage. Leveraging Guizhou's abundant intangible cultural heritage resources and tourist attractions, the province developed high-quality specialized courses to attract more young students to go on study tours in Guizhou.
This initiative aims to facilitate the effective transformation of intangible cultural heritage resources into cultural and tourism intellectual property, ultimately developing the "Study in Guizhou" study tour brand and driving the high-quality development of the tourism industry in the province.
Finally, to enhance the quality of study tour products and promote innovation among students, it is important to prioritize content innovation in study tours. So, local authorities should tailor the development of prominent educational study tour activities with strong regional characteristics. They should introduce innovative elements, such as incorporating technology education, implementing interdisciplinary projects, and creating a series of exemplary study tour bases. Additionally, they can design influential and high-quality study tour itineraries.
Like Guizhou, other provinces and regions can also leverage local events such as Guizhou's "Chinese Rural Football Super League" or "Village Super", which has become a rage across the country, "Village Basketball" and the Five-hundred-meter Aperture Spherical Telescope installed in Guizhou, to showcase their unique natural resources and cater to the demands of study tour travelers.
Jiang Yiyi is the deputy head of the School of Leisure Sports and Tourism at Beijing Sport University; and Gao Ziyi is a postgraduate student at the same university.
The views don't necessarily reflect those of China Daily.