Yunnan's wild fungi win fans, produce profits
China Daily | Updated: 2023-07-25 08:58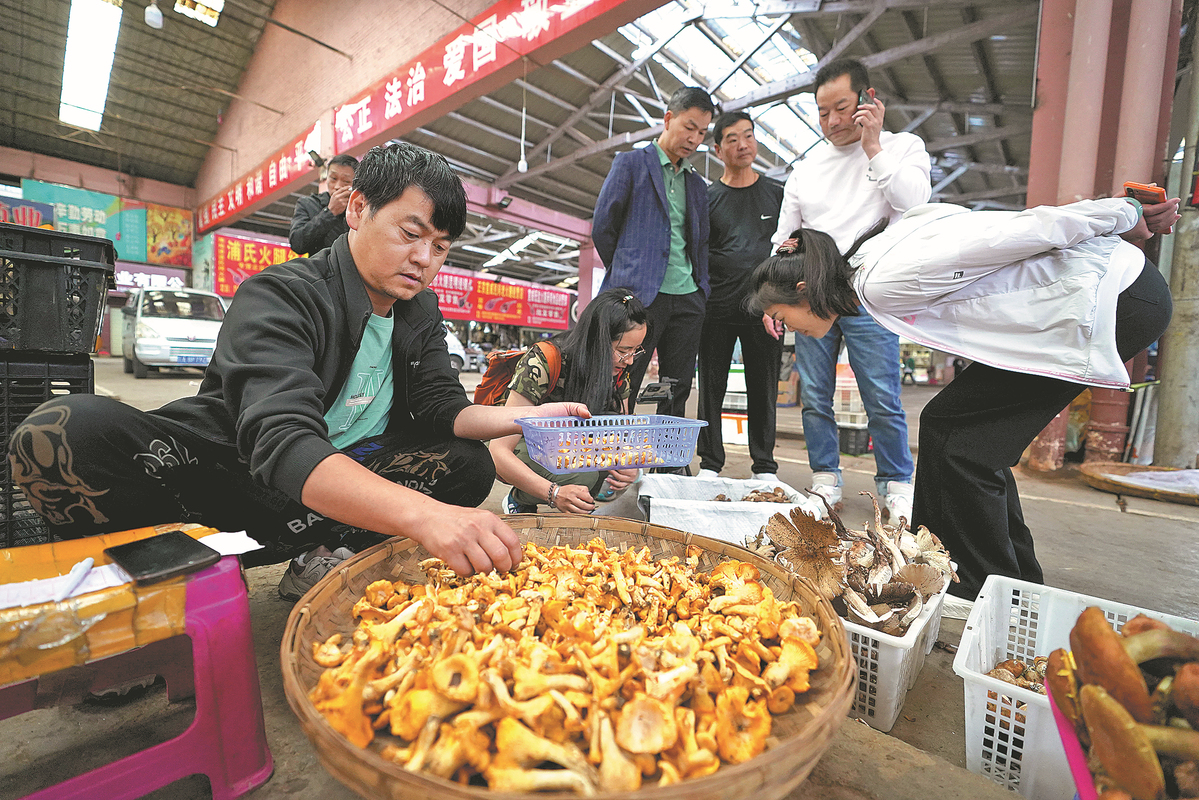 KUNMING — In the lyrics and melody of an old popular song about wild fungi, a cautionary tale unfolds: "eating red caps, then white stems, fate's dirge begins to flow; a dance with danger, a tongue tip adventure, consequences in tow".
The song depicts the perils of eating poisonous wild mushrooms in Yunnan province, which is known in Chin as the "kingdom of wild fungi". This danger becomes especially prevalent when wild fungi hit the market each year, as many diners come to Yunnan to savor mushrooms or purchase them online for their own culinary endeavors.
In the past, there have been incidents of individuals being hospitalized after consuming poisonous wild mushrooms. Authorities have issued warnings, and even provided guidelines indicating the risks associated with toxic wild fungi.
"Eating suillellus luridus, commonly known as the lurid bolete, is an example. It is a conditionally edible fungi but consuming the mushroom raw or not fully cooked can lead to hallucinations or gastrointestinal reactions," said Sun Dafeng, director of the Kunming Institute of Edible Fungi, All China Federation of Supply and Marketing Cooperatives.
Despite these concerns, the increasing spread of scientific knowledge, coupled with fresh flavors have turned Yunnan's wild fungi into a new culinary trend, leading to a rise in prices.
According to the provincial upgrading and development office of the edible fungi industry, the amount of wild edible fungi sold in 2021 soared to 280,400 metric tons worth over 21 billion yuan ($2.9 billion). There was further growth the following year, with the sale of 316,100 tons of wild edible fungi worth 25 billion yuan. "Yunnan has gained a well-deserved reputation as the 'kingdom of wild fungi'," Sun said, adding that with over 2,500 known edible fungi species worldwide, there are around 1,000 in China, 900 of which are found in Yunnan.
Wild mushrooms play a crucial role in Yunnan's economy. The Yunnan Mushuihua Wild Mushroom Trading Center, a specialized market for trading the valuable resource, welcomes around 20,000 people a day, and trades in approximately 200 tons, according to Zhai Zhanshi, the head of the center's marketing department.
Various social media platforms have boosted the popularity of wild mushrooms in Yunnan, while continuous improvements to China's logistics system ensure timely delivery and preserve their freshness during transportation.
The city of Shangri-La, in the Diqing Tibetan autonomous prefecture, stands out as the primary region for matsutake mushrooms, accounting for over 65 percent of the province's total matsutake mushroom output. The Shangri-La Matsutake Mushroom Trading Market, the only wild mushroom trading market in China named after the variety, trades over 2,000 tons of it a year.
In the past, matsutake mushrooms from Shangri-La were mostly exported but there has been a notable increase in Chinese consumption in recent years.
To ensure the matsutake remain fresh, the prefecture has worked with Chinese delivery giant SF Express since 2021, introducing a dedicated cargo plane for transporting the mushrooms, said Li Qingpei, deputy governor of the prefecture, adding that the arrangement allows for the swift airlifting of matsutake to over 60 cities in China within 24 hours, and to more than 200 within 48 hours.
"The promising development of the mushroom industry both stems from and also contributes to the improving natural environment," Sun said. "The people of Yunnan appreciate that wild mushrooms are a precious gift from nature. They approach picking with a conscious effort to protect the environment for sustainable development."
Xinhua