Home set for French-born panda
By Yan Dongjie | China Daily | Updated: 2023-07-25 09:35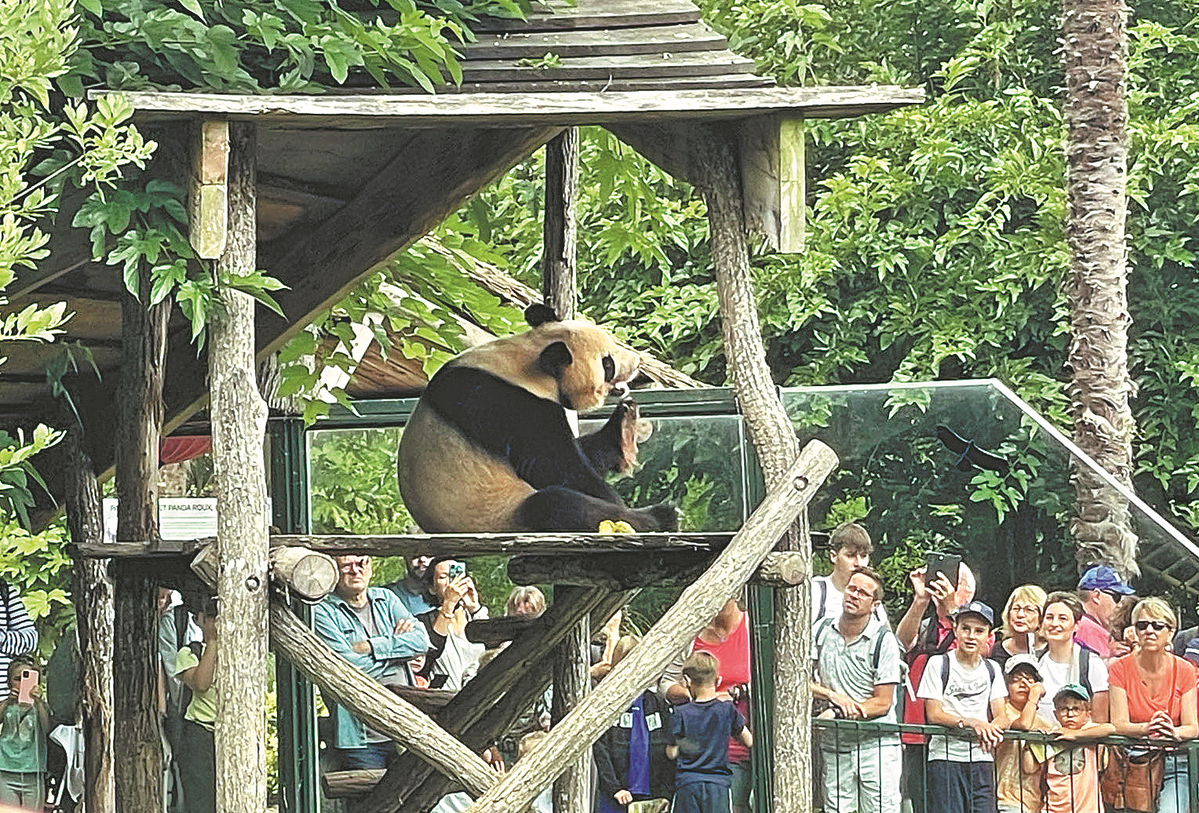 Bear credited with strengthening ties between two peoples
Yuan Meng, a 6-year-old male giant panda born in France, is scheduled to arrive at the Chengdu Research Base of Giant Panda Breeding in Sichuan province on Tuesday, his first trip to the motherland. China and France will work together to ensure the panda's safe journey.
According to the international giant panda cooperation agreement, pandas born overseas should be sent to China between ages 2 and 4, before they become sexually mature between ages 4 and 6. It is believed that sending them to China, where the species is native, will provide them with optimal conditions to give birth to a new generation of cubs.
Yuan Meng was meant to come to China earlier, but his trip was delayed due to the COVID-19 pandemic.
Yuan Meng was born in France on Aug 4, 2017. He was the first giant panda to be born in the country. His name, which means "dreams come true", was jointly selected by China and France and represents the wishes for an enduring friendship between the two nations.
His parents are Yuan Zai and Huan Huan, who were sent to the Beauval Zoo in France from China in 2012. Yuan Meng also has twin sisters named Huan Lili and Yuan Dudu, who were born in 2021.
Giant pandas have gained the love of millions of French people. Upon learning that Yuan Meng would leave France, many French people expressed hopes that his stay would be extended.
Brigitte Macron, the first lady of France, is the patron of Sino-French panda cooperation. During the naming ceremony, she expressed her gratitude for China's willingness to entrust the precious animals to France. This kind of cooperation is an effective form of people-to-people dialogue, and Yuan Meng's birth has helped strengthen ties between the two countries.
On May 17, she visited the zoo to bid farewell to Yuan Meng and took the opportunity to emphasize the importance of protecting endangered species.
For over 150 years, France and China have been studying the giant panda together. In 1869, French naturalist and missionary Armand David introduced the unique species, which has been living in China for 8 million years, to the West. Since then, the giant panda has been winning hearts all over the world.
According to statistics by the National Forestry and Grassland Administration, from 1957 to 1982, China gifted 24 giant pandas to nine countries. These pandas were welcomed by the people of those nations with great enthusiasm.
In 1982, due to the deteriorating ecological environment and the drastic reduction in its giant panda population, China stopped gifting pandas to foreign countries in accordance with the spirit of the Convention on International Trade in Endangered Species of Wild Fauna and Flora. Instead, it has engaged in cooperation and research on giant pandas with other countries.
As of June 2023, China has established scientific cooperation relationships with 22 zoos in 19 countries, with a total of 64 pandas and their offspring residing overseas.
In 2012, the Chinese Association of Zoological Gardens and the Beauval Zoo launched a 10-year international giant panda cooperation and research project, opening a new chapter in Sino-French giant panda cooperation. The agreement was later extended to 2027.