Sports not just games, but also power of growth
By Franco Ascani | chinadaily.com.cn | Updated: 2023-07-26 15:59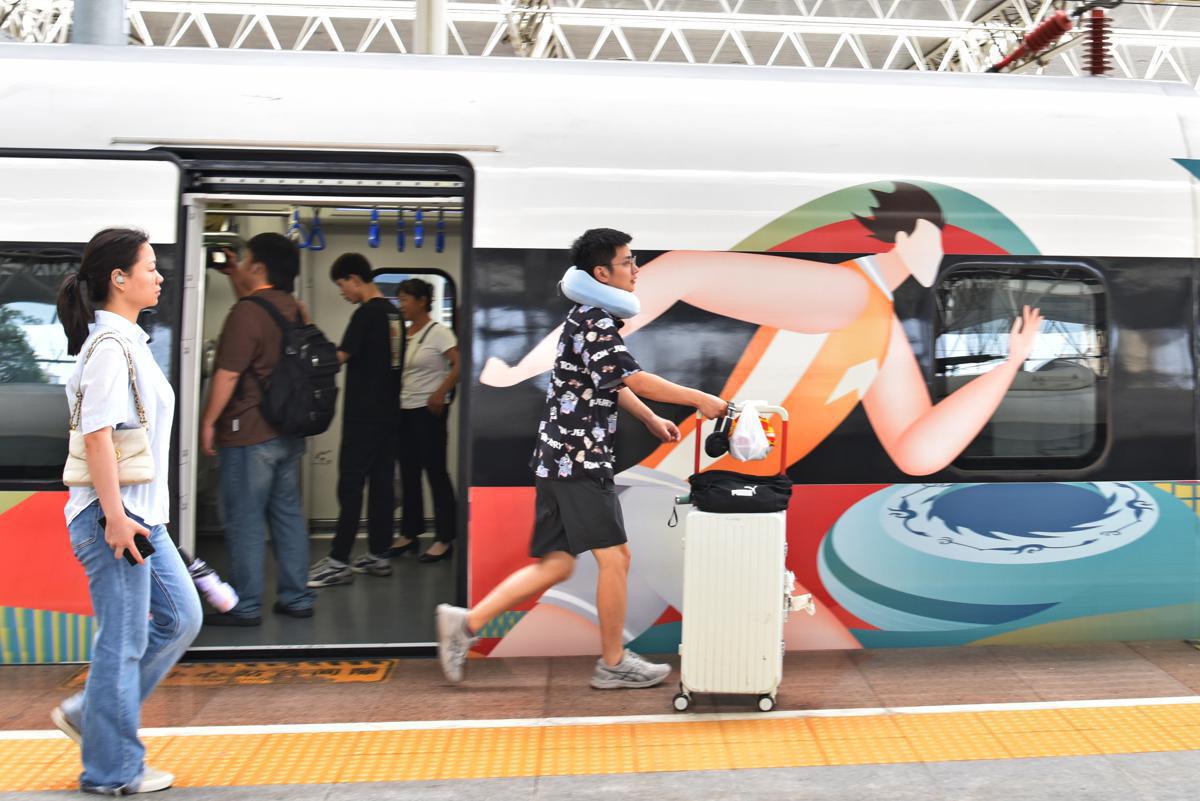 China has become a sports superpower thanks to the successes of its athletes in international competitions and the Chinese government's policy of encouraging the country's entrepreneurs and enterprises to promote sports through direct investments and advertising. China has hosted several international events, from the 2008 Summer Olympic Games and the 2022 Winter Olympic Games in Beijing, the first city to host both editions, two FIFA Women's World Championships in 1991 and 2007, to the World Athletics Championship in 2015, and three Asian Games (Beijing in 1990, Guangzhou in 2010, and Hangzhou will host the 2022 Asian Games from Sept 23 to Oct 8 this year) and the Chengdu FISU World University Games from July 28 to Aug 8.
To host a major global event such as the Olympics, a country needs to establish national and supranational bodies at different levels. The Olympic Games and the FIFA World Cup attract millions of visitors, such as 1.6 million for Qatar 2022 World Cup, and generate high revenues ($6.5 billion for Qatar).
Major sporting events require huge economic resources. In general, sporting events bring great media exposure and have a huge economic impact on so-called core revenues including TV rights, sponsors, ticketing, licensing, insurance reimbursements and tourism. They also bring direct value from tourism, as well as investments in structural assets (such as sports facilities and other infrastructure) with medium- and long-term value.
Every major sporting event is an opportunity for a country to make investments in permanent assets, which can also be used for later events.
China has become a hub for large-scale sporting events. Several sponsors work hand in hand with the Chinese government, Chinese banks, and enterprises such as the BAIC Group and internet giant Tencent to promote sports and sporting events. The Alibaba Sports Group, the "get into snow sports" campaign with the International Ski Federation and other enterprises and campaigns made great efforts to attract 300 million Chinese people to snow sports ahead of the Beijing 2022 Winter Olympics. And Tencent and Alibaba have played a crucial role in promoting sports through investments and advertising campaigns.
Reports say that by 2025, the Chinese sports industry would be worth almost $700 billion, including the sale of products, investments from foreign countries, construction of new infrastructure and sponsor and TV rights for sporting events. In the 14th Five-Year Plan (2021-25), China has pledged to become a leading sports power and make the sports industry one of the pillars of the economy.
The Chinese government has set some important benchmarks to be achieved in the various segments of the sports industry. And infrastructure investment is expected rapidly rise in water sports, extreme sports, and mountain and outdoor sports.
Besides, local sports brands have been benefiting from the renewed "patriotism" of Chinese consumers. For example, Anta has become a leader in winter sports equipment and the global sports apparel industry is growing fast, and is expected to reach about $248 billion by 2026.
The Olympic Games, in general, serve the purpose to improving not only the economic profile of the host country, but also the attractiveness of its soft power. In the case of China, over the years there has been a strong correlation between GDP growth and a higher number of medals won at the Olympic Games. Consequently, considering its exponential economic growth in the last four decades, strengthening its soft power has become one of China's national objectives.
The Winter Olympic and Paralympic Games that Milan and Cortina (Italy) will host in 2026 (geographically the largest ever over a total area of 22,000 square kilometres), will increase resources in the sports sector, while benefiting other sectors.
The FICTS — Fédération Internationale Cinéma Télévision Sportifs (with 130 member countries), chaired by this author, who is also a member of the International Olympic Committee's Culture and Olympic Heritage Commission, is the only federation in the field of cinema and television recognized by the IOC. The FICTS carries out the IOC's ethical, cultural and artistic functions through the effective use of the power of sports footages with TV, cinema and new media, and organizes annual sporting events in the sector.
The "Sports Movies and TV — Milano International FICTS Festival" is the world final of 20 festivals (on five continents) of the "World FICTS Challenge" scheduled for Nov 7-11 in Milan (www.sportmoviestv.com). It is an event that will be articulated through projections (including world and European premieres, and Olympic footages), meetings, exhibitions and award ceremony for 42,000 students who participated in the "Trofei di Milano 2023 — Education, Culture and Sport for Young People" organized in collaboration with the Milano Cortina 2026 Foundation.
The FICTS, like China, is thus dedicated to promoting sports in all its forms.
The author is the president of the Federation Internationale Cinema Television Sportifs, an organization recognized by the IOC. The views don't necessarily reflect those of China Daily.
If you have a specific expertise, or would like to share your thought about our stories, then send us your writings at opinion@chinadaily.com.cn, and comment@chinadaily.com.cn.