Special bullet train for Asian Games unveiled
By Ma Zhenhuan in Hangzhou | China Daily | Updated: 2023-07-27 09:15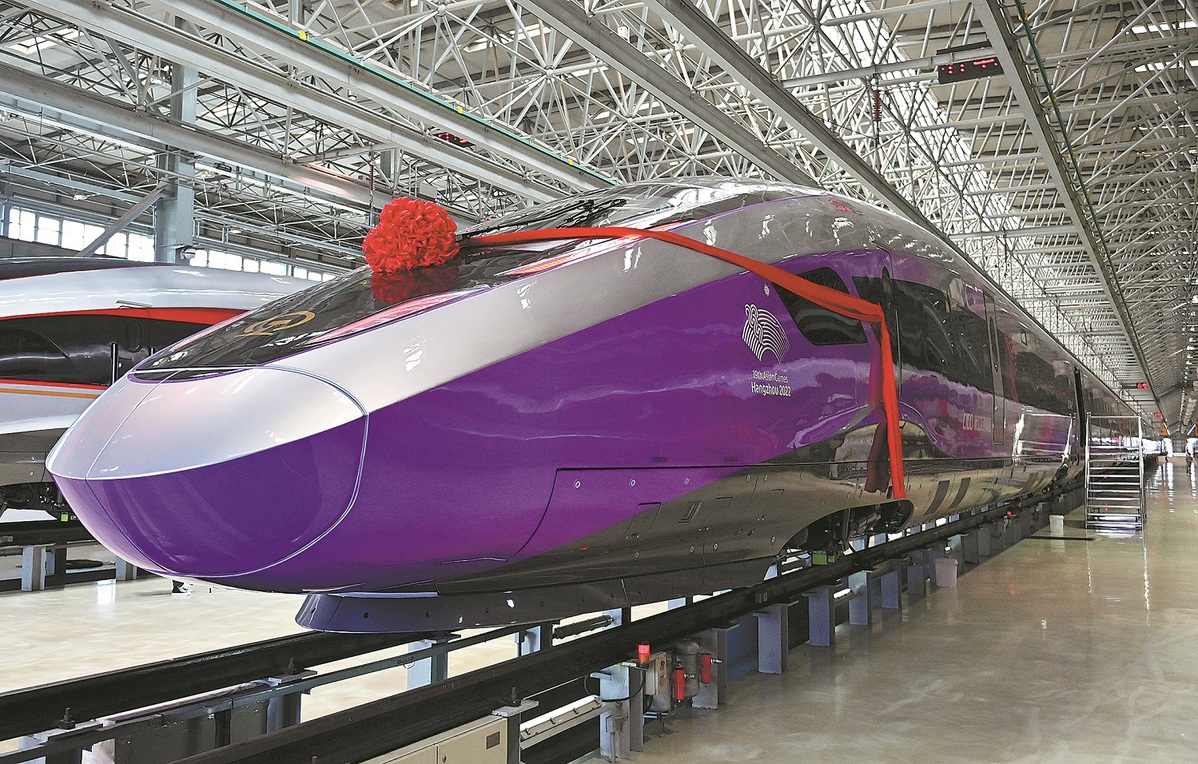 An intelligent bullet train, part of the Fuxing series, rolled off the production line on Friday in Changchun, Jilin province, and will soon go on trial runs on tracks across Zhejiang province.
The train, specially designed for the upcoming Asian Games, will provide intercity transportation between Hangzhou, the main host city of the games, and the five co-host cities of Ningbo, Wenzhou, Jinhua, Shaoxing and Huzhou in Zhejiang during the 19th Asian Games and Asian Para Games in September and October.
The eight-carriage train can carry up to 578 passengers and travel at a maximum speed of 350 kilometers per hour.
Wi-Fi and 5G network coverage will be offered on the train, and some carriages have intelligent interactive terminals that will provide travel information for passengers, wireless screen projection and various forms of entertainment such as music. Furthermore, the addition of Ethernet technology means the speed of data transmission on the train will be over 60 times the transmission speed on other trains.
The train also features other intelligent facilities that can provide convenience to passengers with special needs, such as barrier-free carriages with 90-centimeter-wide doors, barrier-free toilets, wheelchair storage areas and signs with Braille.
Such signs have been put at selected places such as seats, wheelchair storage areas and toilets to aid visually impaired passengers.
In addition, the train features technology and equipment aimed to help passengers cope with different environmental conditions.
For example, an automatic air pressure system has been equipped to effectively relieve the discomfort of tinnitus — ringing in the ear — caused by changes in air pressure while traveling through a tunnel. The air conditioning system will also provide more efficient temperature regulation.
Meanwhile, environmentally friendly and energy-saving technologies have been adopted as Zhejiang endeavors to deliver a green Asian Games. It is expected that train operators will be able to save as much as 1.8 million kilowatt-hours of electricity annually.
The train's locomotive has a bionic design, which will reduce air resistance and energy consumption by about 10 percent, according to its manufacturer.
It has been decorated with the color and core graphics of the games, including Rainbow Purple, the dominant color of the games' emblem "Tides Surging".
The 19th Asian Games Hangzhou will be held from Sept 23 to Oct 8, and the Para Games from Oct 22 to 28.
Fang Xiaoying contributed to this story.