Investing more in food system transformations to feed the world
By Guoqi Wu | chinadaily.com.cn | Updated: 2023-07-27 13:56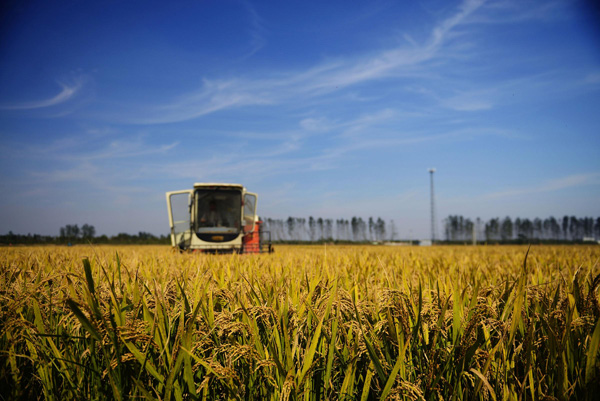 The State of Food Security and Nutrition in the World 2023 report shows we are far off track to achieve Sustainable Development Goal 2 (SDG 2), which is about creating a world free of hunger by 2030. The report estimates that in 2022, up to 783 million people — or one in nine people — were hungry, an increase of more than 122 million from before the COVID-19 pandemic. By 2030, nearly 600 million people will be chronically hungry.
Why are we faring so poorly? While the world was starting to slowly recover from a global pandemic, the war in Ukraine led to rising food and energy prices. Such shocks serve to show us how ill-prepared we are for other, even more daunting challenges – namely climate change and growing inequality. Moreover, the complex interconnections between poverty, food insecurity, climate change and inequality often mutually reinforce each other, leading to a vicious cycle that is difficult to break.
While it is disheartening to see how far we are from achieving zero hunger by 2030, we should not disregard the positive impact we can make when we join forces and invest resources appropriately. The recently released annual report of my institution, the International Fund for Agricultural Development (IFAD), highlights inspiring stories and an alternative narrative - shedding light on what we need to do more of, given the context of multiple crises.
For example, through the Rural Poor Stimulus Facility launched in 2020, IFAD has been building the resilience of rural people, and helping 75 percent of beneficiaries maintain or increase their levels of production and income, despite the impacts of the pandemic. IFAD's Crisis Response Initiative is supporting countries affected by the food crisis resulting from the war in Ukraine. In Bangladesh, IFAD is partnering with the private sector to support small-scale farmers to cultivate mung beans, a high-value crop that will help increase their income and tap into international markets. Likewise, in China, through the IFAD-supported project Sustaining Poverty Reduction through Agribusiness Development in South Shaanxi, young farmers are using new ways of rearing pigs to reduce the environmental impact.
How can we bring such impact to scale? Back in 2021, the United Nations Food Systems Summit committed to accelerate and deepen the transformative power of food systems for achieving the SDGs. Once again, at the Food Systems Summit +2 Stocktaking Moment concluded this week, the global community came together to speak about the urgency of transforming food systems globally, for people, planet and prosperity.
A common global vision that emerged is to create a new food financial architecture involving governments, the private sector and development partners, whereby the chronic underinvestment in food systems will be reversed to make meaningful progress in sustainably feeding the world into the future. As a relevant study reveals, we need an additional $400 billion a year until 2030 to build more equitable, healthy and sustainable food systems. This may sound like a lot but the fact is that inaction will be much more expensive: it may cost us as much as $12 trillion a year in environmental, social and economic damages to families, communities and livelihoods.
The UN Food System Summit Stocktaking event was a unique opportunity to build on the strong momentum from 2021, and bring multilateral collaboration to a higher level. Much can be learnt from IFAD's experience as the only multilateral financial institution exclusively focused on rural areas and uniquely placed to ensure that small-scale farmers and rural communities are part of the solution.
As part of IFAD's 2025-2027 replenishment cycle, with strong support from its 177 member states, IFAD is committing to invest in building sustainable, inclusive, and resilient local food systems and transforming rural livelihoods, with a focus on addressing drivers and impacts of fragility, mobilizing more climate finance and strengthening engagement with the private sector to crowd-in greater investments in rural areas.
Innovatively leveraging more finance for food systems transformation is not an option but a necessity if we are to provide everyone with equitable access to safe, affordable and nutritious food, while at the same time reducing the damage that current food systems do to the environment. Now, more than ever before, is the time for the global community to translate advocacy and political will into concrete action and tangible impact.
The author is associate vice-president of the International Fund for Agricultural Development.
The opinions expressed here are those of the writer and do not necessarily represent the views of China Daily and China Daily website.
If you have a specific expertise, or would like to share your thought about our stories, then send us your writings at opinion@chinadaily.com.cn, and comment@chinadaily.com.cn.