Olympics relocation angers Paris booksellers
By EARLE GALE in London | China Daily Global | Updated: 2023-07-31 09:19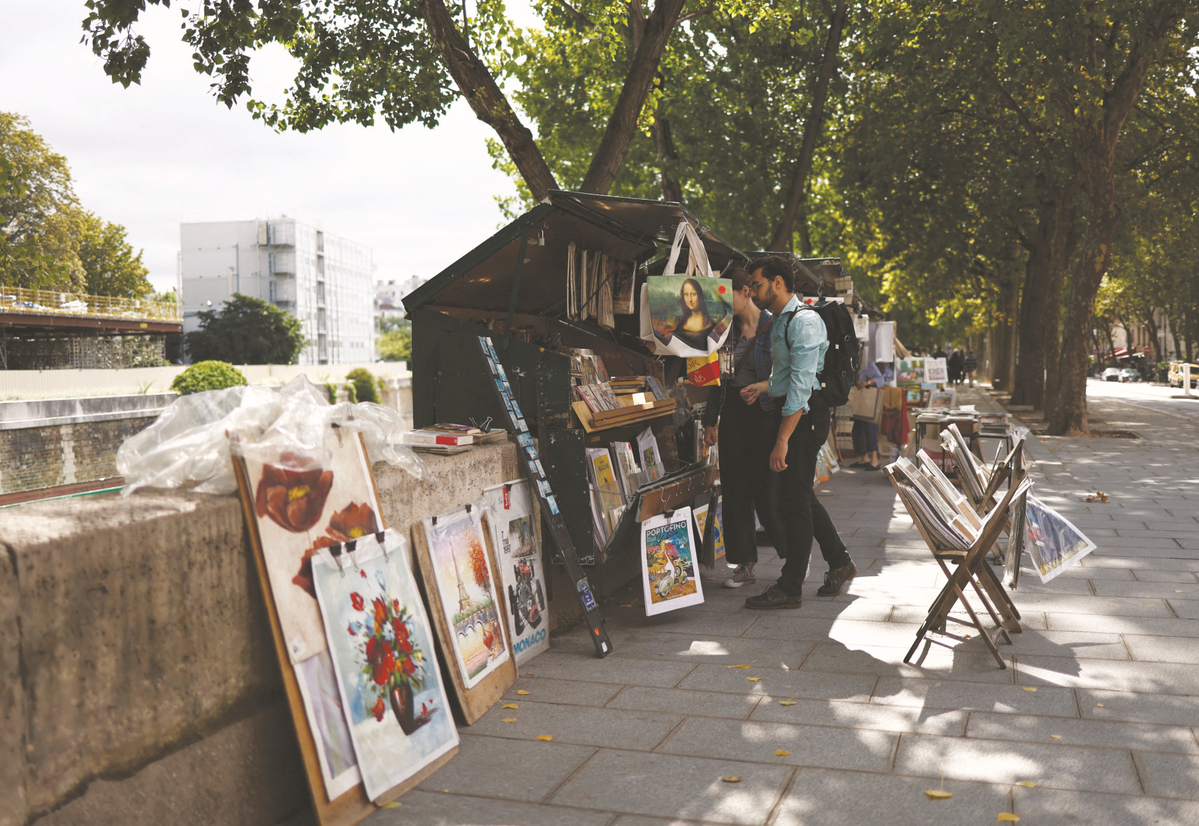 Vendors at Europe's largest open-air book market have lashed out at the Paris government's plans to temporarily relocate the 400-year-old tourist attraction during next year's Olympic Games.
The plan to dramatically scale back the market during the 2024 Paris Summer Olympics, which run from July 26 to Aug 11, over alleged security fears has angered the sellers.
They say it feels like the authorities want to hide them and their stalls next to the River Seine when hundreds of thousands of visitors are expected in the city.
Jerome Callais, president of the Paris booksellers association, told the Reuters news agency: "People come to see us, like they come to see the Eiffel Tower and Notre Dame, (but the government wants) to hide us during a ceremony that is supposed to represent Paris."
Callais said police officers wrote to vendors telling them 570 of the stalls, around 60 percent, must be dismantled and removed ahead of the July 26 opening ceremony, when around 600,000 people will view processions on the River Seine. The stalls will not be allowed to return before the end of the two-week event.
Several vendors have said they fear their stalls will not withstand being disassembled, removed, and reassembled later. They also have not been given a firm date for their return and fear it may never happen.
Stallholder Albert Abid told The Guardian newspaper his 100-year-old wooden stall would be unlikely to survive the upheaval.
"They are very fragile," he said. "Our stalls will not be able to withstand this operation, nor will the morale of the booksellers."
The city government has said the displaced vendors will be able to set up shop in a "bookseller village" during the Olympics.
German news agency Deutsche Welle said the government insists it will pay the vendors' costs in removing their stalls, and for any repairs.
The city has also said it supports the market, and hopes it will ultimately be recognized by the United Nations Educational, Scientific and Cultural Organization (UNESCO) as an intangible cultural heritage.
Police and organizers of the Olympics are understood to be under immense pressure over the event and especially the opening ceremony, which will be held outside in a public area for the first time ever, against the backdrop of a heightened risk of terrorism.
The French government has said it will protect people attending the opening ceremony by deploying 35,000 police officers and other security professionals.
The book stalls under threat line the banks of the River Seine for around 3 kilometers, with vendors required to sell their wares from green wooden boxes chained to iron railings alongside the river. The riverbank itself has already been declared a UNESCO World Heritage site, having been granted that honor in 1991.