Nation's automakers revving up pursuit for globalization
By LI FUSHENG | China Daily | Updated: 2023-07-31 09:35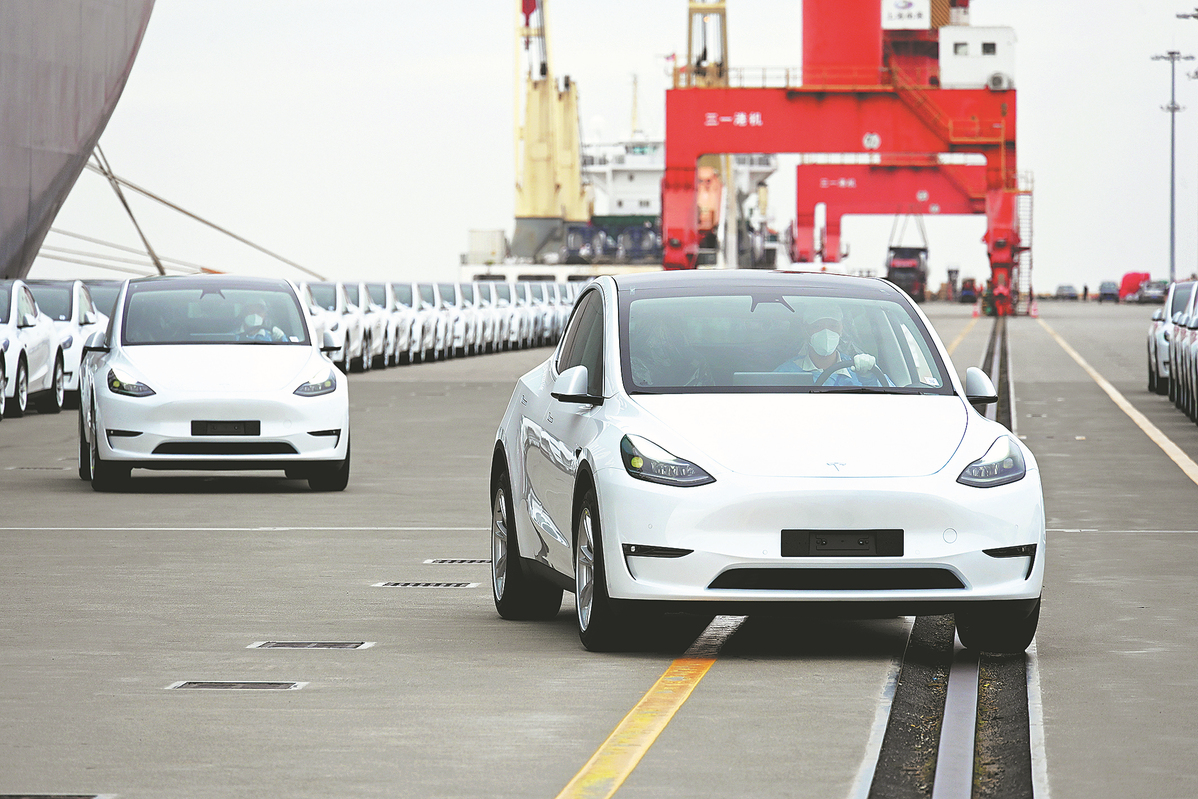 Carmakers look to overseas markets to boost exports and investments
China is rising as a major vehicle exporter, as both local carmakers and international brands are increasing their shipments from the world's largest vehicle market to overseas destinations.
In early July, Tesla began exporting its Shanghai-made Model Ys to South Korea, marking the first time Tesla vehicles made in China entered the market.
Previously, Tesla vehicles sold in South Korea were produced in its Fremont factory in the United States.
The Shanghai plant recorded a global delivery volume of 476,500 vehicles in the first half of this year, which is equivalent to about two-thirds of its total delivery volume in 2022.
Thailand was another country that began to appear on the list of destinations for Tesla models made at its Shanghai factory this year.
The Model 3s and Model Ys have been delivered to Thailand since February, according to the company.
Volkswagen has plans to export electric vehicles from its plant in Hefei, Anhui province, back to Europe. It has not yet given specific details.
Chinese carmakers are revving up efforts to explore overseas markets.
Last week, Geely Holding Group E-Pickup saw its first batch of pickups for overseas markets roll off the assembly line of its smart plant in Zibo, Shandong province.
The shipment of these overseas-edition RD6 pickups, with Central Asia as its destination, kicked off the first step of the company's globalization efforts, said CEO Ling Shiquan.
He added that the RD6 is China's first electric pickup model to hit overseas markets.
Ling said the company will work together with local partners to rapidly explore the markets and strengthen its overseas brand awareness.
The marque will establish an integrated service system and charging infrastructure in overseas markets to meet user demands in different countries and regions, he said.
Zeekr, a premium Chinese EV brand, said in early July that it will start presales of two models in Israel in the fourth quarter of this year.
The announcement of the foray into the Middle Eastern market came days after its announcement to enter Europe, with deliveries to start in Sweden and the Netherlands later this year.
Zeekr said it will launch its vehicles in other European markets, including Denmark, Germany, France and Norway in 2024.
Besides exporting their vehicles, some Chinese carmakers are planning to build plants overseas.
Changan, a State-owned automaker, said last week that it will enter Europe in 2024. It added that it is investing 4 billion yuan ($559.4 million) to build a plant in Thailand.
The plant, with an initial capacity of 100,000 vehicles a year, will serve as Changan's hub for its right-hand drive vehicles.
The plant is scheduled to start production in 2024 and its capacity can be scaled up to 200,000 units a year.
"By 2030, our overseas investment will exceed $10 billion, our annual sales in overseas markets will exceed 1.2 million units and our overseas employees will total 10,000," said the carmaker.
Aion, one of China's most popular new energy vehicle makers, started globalization efforts in late June by inking a deal with Thai distributor Gold Integrate.
It is also planning to build a subsidiary in Thailand later this year, which will be in charge of its business in Southeast Asia.
Thailand is the largest automobile manufacturer and exporter in Southeast Asia, with its EV industry supported by favorable policies, including tax reductions and cash subsidies, said Aion.
SAIC Motor, China's largest vehicle maker by sales, said it is looking for a location in Europe for a vehicle manufacturing plant.
Europe is expected to become the company's first overseas market, where annual sales will exceed 200,000 units, said Yu De, managing director of SAIC's international business department.
China has seen auto exports rise over the past years, with NEVs as one of the driving forces. Last year, the country overtook Germany as the world's second-largest vehicle exporter.
A total of 2.14 million vehicles were shipped overseas in the first half of 2023, of which 1.78 million units were passenger vehicles, up 88.4 percent from the same period last year, according to the China Association of Automobile Manufacturers.
Shipments of NEVs, which include electric vehicles and plug-in hybrids, soared 160 percent year-on-year to hit 534,000 units between January and June, the data showed.
Russia, Mexico and Belgium were among the top three destinations for China's vehicle exports, while Belgium, the United Kingdom and Thailand were popular destinations for NEVs from China, said the General Administration of Customs based on exports in the first five months of this year.