Village Super League inspires passion for life
China Daily | Updated: 2023-07-31 10:36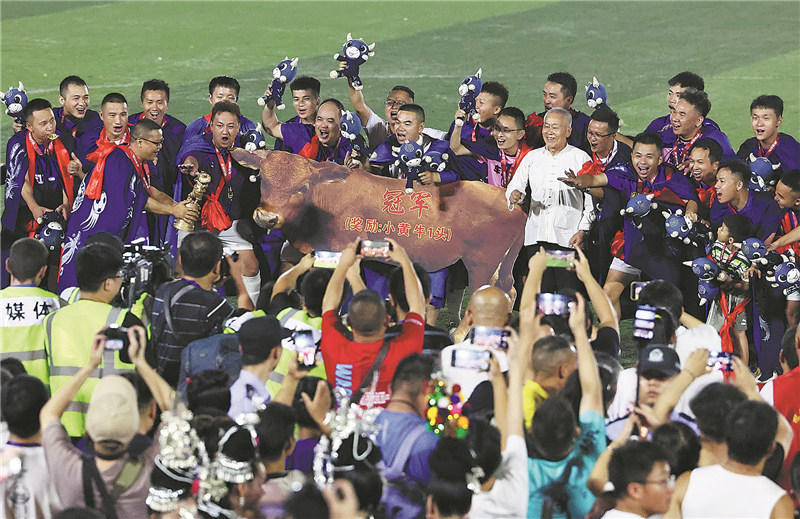 GUIYANG — It was a soccer match with no red carpet, no stars and no professional players, but at least 50,000 spectators watched it on-site and millions of others online.
At the Village Super League finals in Rongjiang county, Guizhou province, Saturday night, very few people were concerned about the final score. It was the passion and sportsmanship of these amateur players and the cheerful, warm and relaxing atmosphere on the field that inspired the crowd.
"The match itself is more important than its result," said Dong Yongheng, whose team is named after his village, Zhongcheng, the Chinese word for loyalty. "By running, fighting and giving my all on the field, I am reminded that I still have a deep passion for life and soccer."
It was a close match, and Dong's team was defeated by Chejiang First Village team in a penalty shootout. "It was a great experience, and I'm happy to have taken part in it," he said.
Dong runs a snack bar in the village but has loved soccer since he was very young. In this Village Super League season, which began on May 13, he scored multiple goals, making him popular among the spectators who closely followed the matches.
All the players in the Village Super League come from different walks of life. Some are students, while others are butchers, vendors, construction workers, excavator drivers or businesspeople. Among the referees are schoolteachers, government workers and villagers. But all are united in their passion for soccer.
That passion is boosted by a prevailing soccer culture and adequate infrastructure. Rongjiang County, with fewer than 400,000 permanent residents, has 14 standard soccer fields and nearly 40 amateur teams with more than 1,200 players.
"It's truly a soccer match of the people," said Wang Lina, a tourist from the Inner Mongolia autonomous region. "The players and spectators are all immersed in the simple joy of the sport."
In the fully packed stadium, avid fans waved flags, shouted and beat drums, gongs and even pans to raise the players' morale.
"This passionate crowd and the beautiful landscape of Rongjiang are my best memories of this summer," said Zhang Shunfu, 60, as he tried to cool himself with a fan.
Rongjiang is a community where more than 80 percent of the residents are members of ethnic groups, like the Miao, Dong, Shui or Yao.
At halftime, an ethnic Dong chorus captivated the audience with their a cappella rendition of folk songs. "I didn't understand any of the lyrics, but I was deeply moved by their beautiful voices, and I can feel their love for life," said Wang Jia, a tourist hailing from Xi'an, in Shaanxi province.
For spectators who have traveled from across the country to witness one of China's most popular sports events this year, the Village Super League is more than a midsummer soccer fest. It is also a successful campaign presenting everything unique about Rongjiang county, including its culture, landscape, folklore and food.
The awards for the winners are also local specialties, like beef for the champion, pork for the runner-up, a lamb for the third-place winner and goose for the fourth.
The matches were watched by at least 1 million people at the field and more than 50 million online. Videos and live broadcasts of the event have gone viral, having received more than 30 billion clicks so far.
The phenomenal event has boosted local economic growth. The county has received more than 2.5 million visitors since the matches started in May. Tourism revenue has exceeded 2.8 billion yuan ($392 million), at least twice that of the same period last year, according to local authorities.
From July 1 to 16, the county received 921,200 visitors and earned over 1.07 billion yuan in tourism revenue.
Xinhua