BRI, as global public good, fosters South-South cooperation
By Liang Haoguang and Qin Qinghua | China Daily | Updated: 2023-08-01 07:20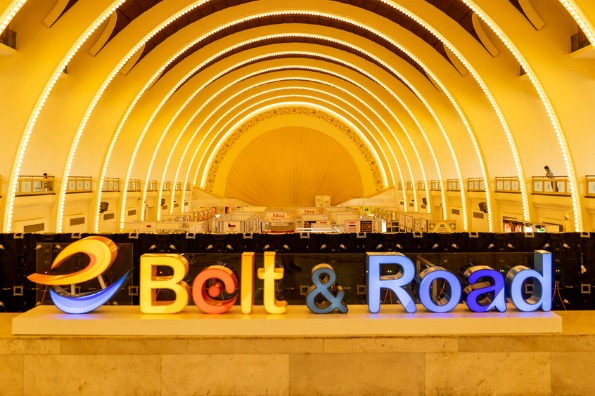 Developing countries, prompted by their security concerns, are increasingly seeking the "South-South cooperation "model to find new development paths amid the rapidly changing global landscape. In the face of shocks such as the COVID-19 pandemic, the Russia-Ukraine conflict and Western sanctions, emerging economies are according priority to securing their industry and supply chains while searching for ways to clear their developmental bottlenecks. This trend, in turn, has been promoting cooperation under the Belt and Road Initiative's framework.
The Belt and Road Initiative, proposed in 2013, has helped develop various mechanisms and deepened cooperation, providing policy support for practical cooperation and major projects through enhanced political trust, strategic coordination and people-to-people exchanges.
China has signed more than 200 cooperation agreements with more than 150 countries and 30 international organizations in fields such as investment, trade, finance, technology and culture.
The Belt and Road Initiative has also helped boost infrastructure development, improve connectivity and facilitate trade and investment among participating economies, while the "six corridors and six routes" connectivity framework has played a significant role in establishing interconnectivity partnerships among countries and ensuring the smooth flow of the goods and services in the Eurasian market.
For instance, the Belt and Road's flagship projects such as the China-Laos Railway, the Jakarta-Bandung High-Speed Railway and the China-Thailand Railway have achieved substantial results, and the China-Europe freight train network has expanded to 180 cities in 23 European countries with an annual cargo value of $74.9 billion, accounting for 8 percent of China-Europe trade.
The initiative has also facilitated trade and reduced trade barriers. From 2013 to 2022, the total import and export volume between China and the Belt and Road countries increased from $1.04 trillion to $2.07 trillion, with an average annual growth rate of about 8 percent.
Bilateral investment and cooperation, too, have grown, with China's non-financial direct investment in Belt and Road countries reaching about $182.2 billion from 2013 to 2022, accounting for about 20 percent of the country's total overseas investment.
Besides, the establishment of the Asian Infrastructure Investment Bank has strengthened financial cooperation among Belt and Road countries. That the AIIB has played a very important role in promoting inclusive development is evident from the fact that it has provided $38.8 billion in financing for the 202 projects it has approved, mobilizing nearly $130 billion in capital. These projects cover various sectors, including sustainable infrastructure construction, green energy, transportation, water treatment and supply, telecommunications, education and public health. No wonder the AIIB has become the second-largest international development institution, surpassing all but the World Bank.
The Belt and Road has also promoted cultural exchanges and educational cooperation among countries. For example, China has signed agreements on mutual recognition of higher education diplomas with 24 Belt and Road countries, while Chinese universities have opened campuses in 23 countries. And China's cooperation on science and technology with 84 Belt and Road countries has helped initiate joint research projects and establish joint laboratories in various fields. Moreover, China has provided significant assistance to poverty reduction and poverty alleviation programs for some Belt and Road countries.
The Belt and Road Initiative has enhanced regional cooperation, too, and contributed to global development and regional integration. The initiative also has fostered collaboration, strengthened partnerships and promoted common prosperity among participating countries, paving the way for a more interconnected and interdependent world.
The initiative, guided by the principles of consultation, joint contribution and shared benefits, aligns with regional governance mechanisms, and embodies true "South-South cooperation". Through an open and inclusive cooperative mechanism, the Belt and Road Initiative has been deepening engagement with countries along the two routes.
More important, the initiative doesn't impose China's development model and standards on other countries; instead, the initiative is based on mutual respect, and aimed at finding common ground and engaging in extensive consultation to formulate mutually accepted standards.
According to a World Bank study, if fully implemented, the Belt and Road transportation infrastructure projects are projected to generate annual benefits of $1.6 trillion by 2030, with most benefits going to partner countries, especially low- and middle-income nations.
The Belt and Road Initiative is an international public good that caters to the practical needs of many countries in the Global South. It upholds the principles of equality, mutual benefit, openness and sharing without forming exclusive cliques. And by promoting connectivity, financial institutions, common development and global governance, the initiative complements the existing global governance system.
Liang Haoguang is the executive director of the China Center for Modernization Research, Chinese Academy of Sciences; and Qin Qinghua is a PhD candidate at the School of Economics and Management, University of Chinese Academy of Sciences.
The views don't necessarily represent those of China Daily.