What is the Beijing Central Axis?
China Daily | Updated: 2023-08-02 12:06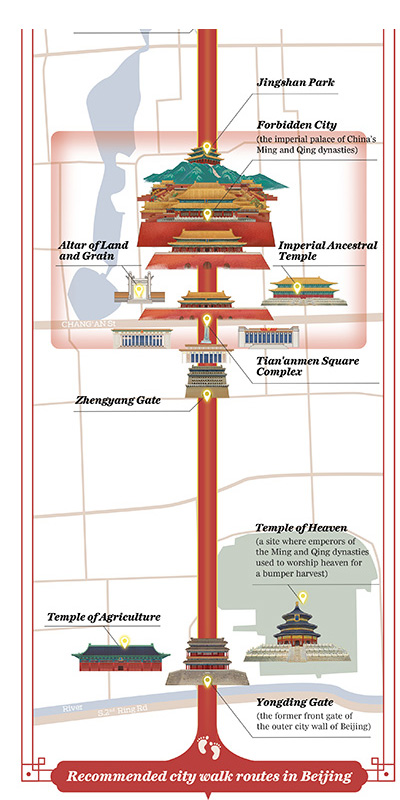 The Beijing Central Axis, which is adorned with numerous cultural relics and historic buildings in a straight north-south line, is considered the backbone of China's capital.
Stretching over a distance of 7.8 kilometers, the Central Axis has witnessed the rich history of China since the 13th century. This remarkable axis extends from the Bell Tower and Drum Tower in the north to the Yongding Gate in the south. Many landmarks, including the Forbidden City, Tian'anmen Square and the Temple of Heaven, are located on or alongside the axis.
Shan Jixiang
Besides important landmarks like the Palace Museum and the Temple of Heaven, I also strongly recommend paying a visit to a lesser-known site named Wanning Bridge, a single-arch white marble bridge and a part of the Beijing-Hangzhou Grand Canal.
Lyu Zhou
I like the Bell and Drum towers. Once responsible for the city's timekeeping, the towers now witness the daily cultural activities of local people in this historical area of Beijing.
He Jibing
I'd say Jingshan Park. Once the highest point at the heart of the old city, it provides a panoramic view of the capital, where you can see the perfect symmetry of the city. It remains a popular destination for sightseeing and photography.