China leads company count on Fortune Global 500 list again
By Cheng Yu | chinadaily.com.cn | Updated: 2023-08-03 00:01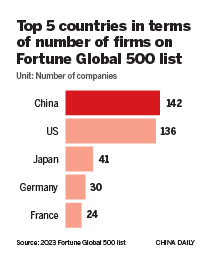 Chinese companies have overtaken their United States counterparts in terms of number on this year's Fortune Global 500 list, which was unveiled on Wednesday and tracks the world's richest enterprises in terms of revenue.
Industry experts said the list shows China's growing prowess in emerging sectors, such as new energy, on the global stage.
A total of 142 Chinese companies, including those in Taiwan, made it to the annual list, marking the fifth consecutive year that Chinese companies topped the list in terms of number. The US and Japan followed with 136 and 41 enterprises, respectively.
China's Contemporary Amperex Technology Co Ltd — the world's largest electric vehicle battery maker — debuted on the list this year and ranked 292nd.
Another Chinese company, new energy vehicle manufacturer BYD, jumped 12 spots compared with last year to rank 212th.
In total, nine Chinese vehicle manufacturers have made it to the list, with most of them gaining ground with new energy vehicle technologies.
Wang Peng, a senior researcher at the Beijing Academy of Social Sciences, said this collective performance of Chinese companies demonstrated China's increasing international influence on the new energy sector. "China has gained momentum in NEV-related technologies and products in recent years," he said.
Many Chinese NEV companies have taken the lead globally with their technological breakthroughs in the new energy sector, according to Wang. He said that given the country's huge market, "Chinese companies in the new energy sector are expected to have more presence on the global stage in the coming years".
China sold about 6.89 million NEVs last year, an increase of more than 93 percent year-on-year, according to the China Association of Automobile Manufacturers.
A report released by market consultancy SNE Research last year showed that Chinese companies accounted for six of the top 10 NEV battery makers globally in terms of installation.
However, Wang Zhile, a former senior researcher at the Chinese Academy of International Trade and Economic Cooperation, said in a note that the ranks of many leading Chinese companies have declined this year, and the gap between their average profit and that of the other Fortune Global 500 companies has widened.
The average profit of companies from the Chinese mainland and Hong Kong on the list is $3.9 billion, lower than the global average of $5.8 billion and US firms' $8 billion.
The COVID-19 pandemic and conflicts around the world have changed the global economy, and the global industrial chain has started to restructure, he said.
"These external factors have affected the development of Chinese companies to some extent. Big Chinese names still face some challenges in their high-quality development," he added.