Timeless appeal of kung fu attracts many
By CHANG JUN in San Mateo, California | China Daily | Updated: 2023-08-05 08:09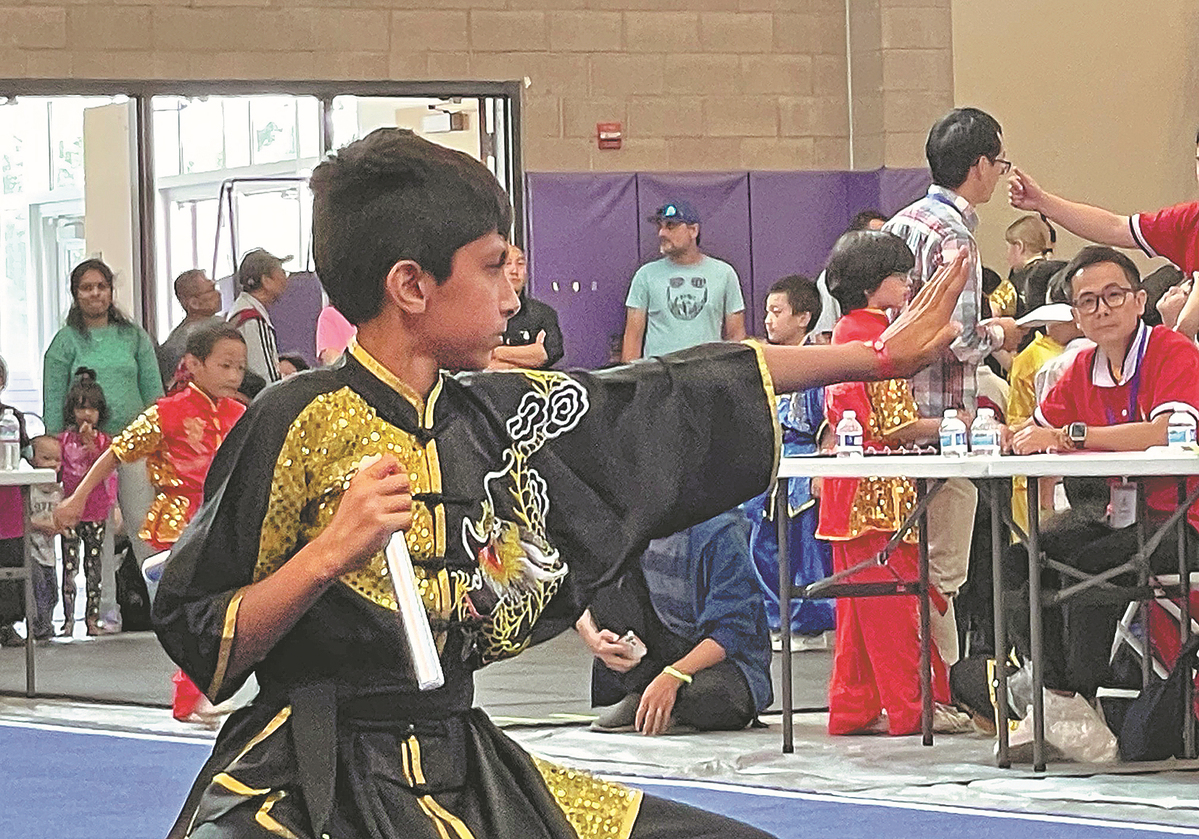 Tournament seen as convergence of different backgrounds and cultures
Stepping nimbly with a clenched fist in the air, Carmine Lee yelled a crisp "ah" each time he moved, as if he were fighting an invisible villain.
In a packed gym at Sequoia High School on July 29, the audience burst into laughter and heartily clapped for Lee, who along with some 500 other participants displayed their skills at an international kung fu tournament.
The 7-year-old ended up scoring 4.7 out of 5 in the young children's group, which also consisted of a barehanded boxing category.
"Pretty decent," said Lee's father Nathan, who left home at 6:30 am to drive his son from Concord, a city about 90 kilometers away, to participate in the tournament.
"I'm so proud of him, especially (because) this is his first time. Carmine has delivered the best self and spirit."
Ben Zhang, one of the organizers of the event, said it took his team three months to prepare for the tournament.
"We want kung fu lovers, learners, coaches and referees, anyone in this field, to come together so we can mingle and communicate with each other and leave with a better understanding of kung fu," said Zhang, who is a kung fu practitioner of more than 30 years and a veteran referee for international competitions.
More than 4,000 years ago, Chinese martial arts originated out of the need for self-defense, hunting skills and military training. Over the centuries, kung fu has evolved and developed and is now generally classified based on its origin or school among other classifications.
The tournament is really about exchanges, an appreciation of diversity and Chinese martial arts, Zhang said.
Carol Dutra-Vernaci, mayor of Union City in Alameda County, who attended the opening ceremony, said the tournament is a convergence of different backgrounds, races and cultures.
"What a beautiful diversity," she said, referring to the contestants, coaches and the audience.
Zhang said he wishes the senior masters can share their invaluable experience with the young students and coaches.
"Our eldest generation of coaches, or masters, as practitioners would call them, are turning 80. I feel it's a race for me against the ticking clock to collect experiences of our masters, retain and preserve them so as to pass on to the younger generation," Zhang said.
Chinese values
Kung fu master Liu Lili, 80, specializes in Eagle Claw, a style of Chinese martial arts that features gripping techniques, takedowns, joint locks and pressure point strikes.
Claiming that she has firsthand experience in witnessing how kung fu gained international fame and popularity, Liu said the number of disciples is uncountable. "They are in Asia, the United States, Canada, South America, every corner of this world, just too many," she said.
"It's noteworthy. The majority of my students are non-Chinese. You just don't want to underestimate how zealous a Caucasian or black kung fu fan can be."
In her kung fu schools in the San Francisco Bay Area, Liu asks her non-Chinese students to learn martial arts as well as Chinese culture and values.
"For example, they have to use chopsticks, no knives nor forks, when dining with me," she said. "The first lesson I would teach is about why we Chinese bow, the fist-and-palm salute, to greet."
The nuanced transmission of cultural beliefs, like spring drizzles, "moisturize everything in silence during nights (and) will gradually instill the otherwise absurd and profound Chinese philosophical essence into the young souls and help shape their minds". "To me, this is the ultimate meaning as a kung fu master," Liu said.
Young Carmine is a beneficiary of immersive kung fu instruction. "He started to learn this three years ago when the COVID-19 pandemic hit," his father said.
"All his usual extracurricular activities (were) terminated. We found this martial arts school that offered online courses and it turned out to be an excitement for our family."
When the kung fu school resumed in-person training, Lee went four times a week, one hour per session. "His change is so obvious — my son grew into a confident, respectful and controlled little man. He now is physically and mentally stronger and a star player on his soccer team," his father said.
"My kung fu master always told me to focus on what I'm good at doing, but not the obstacles. When I'm not scared any more on the field, I become unstoppable," Carmine Lee said.
Fulfilling job
Troy Dunwood, a 60-year-old African American man, has taught kung fu for more than 40 years. He operates a chain of Chinese martial arts schools in Oakland, San Francisco and Atlanta and one in Germany remotely. "It's a fulfilling job," he said.
Dunwood first encountered kung fu by chance.
"When I was 6, my father's colleague in Oakland, who immigrated from China, taught my brother and I kung fu," Dunwood said. He became a fervent student and was never tired of the intense drills.
"I went to China several times to learn authentic, more advanced skills from the local masters there," Dunwood said, adding that he started his own business in the US in 1979, a time when kung fu instruction was dominated by Chinese and Caucasian males.
But his genuine skills and expertise brought Dunwood an influx of students, thrusting him into a larger audience and stage. Now, as an internationally recognized martial arts master, Dunwood sends his apprentices all over the country.
"I taught my students to respect seniors and your opponents as well as restraining confrontations and loving peace," he said.
Chen Pengfei, a Chinese immigrant and kung fu master, emphasizes equality and the importance of inclusion among his students.
"I'm considered to (be representing) the young generation of masters," he said. "So, many times I ask myself what I can do to help Chinese martial arts adapt and better fit in the current changing social environment."
As a boy, Chen was heavily influenced by martial arts film star Jackie Chan. Chen's parents decided to let him practice martial arts for physical strength. With hard work and talent, Chen won several national kung fu competition championships in China in 2004 and 2007.
He was then selected to join the shaolin monks performance troupe, a renowned group of kung fu masters, for a global tour in the early 2000s.
"Wherever we went — Asia, Europe, Australia, Americas — we were overwhelmed by cheers and applause," Chen said. "One day I thought to myself, maybe I should start teaching kung fu."
Chen has since been a master to hundreds of students in the Bay Area for 10 years, establishing friendships with several adult learners of different races.
Kung fu has transformed many people in many ways, as Liu puts it.
"Kung fu is part of me now. It influences the way I look at everything," Liu said. "Kung fu is never about fist fighting; it is way more than that."