Difficult for US to rebuild rare earth supply chain
By Wang Jun and Ye Linwei | China Daily | Updated: 2023-08-09 06:59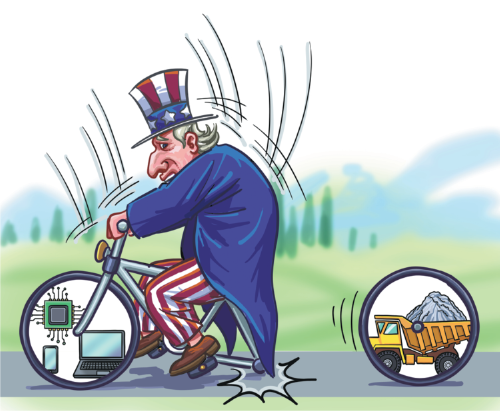 In an effort to accelerate the reconstruction of its rare earth magnet supply chain and reduce dependence on China for the supply of rare earths, the US Congress recently introduced the "Rare Earth Magnet Manufacturing Production Tax Credit Act of 2023". The bill aims to encourage localized production of rare earths and further the US' industrial "decoupling" efforts from China.
Rare earth elements are scarce strategic resources that are extensively used in emerging technologies such as renewable energy, as well as in the defense industry.
However, it is difficult for the United States to build a comprehensive rare earth magnet supply chain.
The US faces many challenges in mining rare earths, including high infrastructure development costs and lower ore grades. While China has about 33.8 percent of the world's total rare earth reserves, with an estimated stockpile of 44 million tons, the US only has an estimated 1.8 million tons of rare earth reserves. The limited reserve, coupled with a lack of returns on previous investments in rare earth mining, makes it especially challenging for the US to achieve profitable production levels.
According to Goldman Sachs' estimates, to reach China's rare earth annual production level, the West will require an investment of at least $25 billion. The high costs involved in mining and refining rare earth elements mean a relatively low profit margin.
Besides, the Mountain Pass mine is the only rare earth mine with operational capability in the US. But despite being a major source of rare earths for the world, it was closed in 2002 due to operational difficulties. And although MP Materials resumed rare earth mining operations at Mountain Pass in 2017, the initial infrastructure development costs were massive, with about $1 billion needed for mining construction and other factors. After suffering setbacks, however, the project is still not yet operational.
Rare earths are generally classified into heavy and light rare earths, with heavy rare earths having the highest quality and used as critical raw materials in the military equipment industry. While the US does have some reserves of heavy rare earths, they are generally of low quality, mainly consisting of minerals such as euxenite and gadolinite, which are difficult to mine. On the other hand, China is the only country in the world that possesses all the 17 rare earth metals, with heavy rare earth metals accounting for more than 40 percent of its reserves. This makes it even more difficult for the US to "decouple" from China.
In June 2023, China's imports of rare earth metal ores, which were not raw materials but needed further processing, reached 7,167.8 tons, up 5.6 percent year-on-year. Among these imports, 7,117.5 tons were from the US.
China imports rare earth metal ores from the US mainly for smelting and separation before re-exporting them. It can import rare earth metal ores and re-export them because it has the most advanced rare earth refining technology globally, with purity levels reaching as high as 99 percent. In fact, China accounts for more than 80 percent of the global rare earth processing market share.
Statistics show that in 2022, rare earth-related patents in China reached a staggering 6,829, exceeding the combined total of all other countries. That's why the US administration has been providing substantial subsidies for rare earth purification technology, including a total of $45 million aid package from Pentagon to MP Materials to improve the rare earth metal purification and separation process and develop advanced rare earth refining techniques.
Moreover, the US has formed supply chain alliances with Australia and the European Union to improve rare earth separation technology. In 2019, the US-based Blue Line Corporation reached a strategic partnership agreement with Lynas Corporation, Australia's largest rare earth producer, to jointly establish a rare earth separation facility in Texas. In 2021, Energy Fuels and Neo Performance Materials announced plans to build a US-EU rare earth supply chain, with the US providing rare earth raw materials and the EU handling the rare earth separation operations.
However, the rare earth refining technologies used by Australia and the EU still lag far behind China's, and their lack of a complete industry chain, from mining and separation to refining, makes it difficult to purify rare earths on a large scale. For example, Australia's rare earth separation facilities can meet only 30 percent of Japan's domestic demand, and Japan still mainly relies on China with the remaining.
Therefore, the US is forming alliances to build a rare earth magnet supply chain. However, it cannot succeed in its efforts because without China's help, the US and its allies cannot refine and purify all the rare earths they need to run their industries, including the military industry.
Furthermore, reconstructing the rare earth civilian manufacturing system is difficult for the US. About 7 percent of global rare earth resources are used in the defense and military industries, and the rest in consumer electronics, new energy vehicles, medical devices and other civilian sectors. In recent years, the US has attempted to reduce China's influence in the international division of labor by resorting to "reshoring" and "ally-shoring" to help build countries such as Mexico as new global manufacturing hubs and achieve self-sufficiency in the rare earth supply chains.
Tesla, for example, plans to build a megafactory in Mexico so it can use US rare earth permanent magnet in its new energy vehicles (EVs), and MP Materials is willing to supply General Motors with magnetic materials for 500,000 pure EV motors.
However, the US industrial sector is no longer an integrated whole, and even with the implementation of strategies such as "reshoring" and "ally-shoring" it cannot establish a complete manufacturing system any time soon. Take new EVs for example. China's EV exports reached 310,000 in 2021, surging to 679,000 in 2022.
China's production capacity in consumer electronics, automotive components and other products is huge, thanks to its well-established manufacturing system. And it is evident that the US lacks a comprehensive manufacturing system, which will make it difficult for it to reconstruct the rare earth magnet supply chain.
Wang Jun is a professor at, and the dean of, the Institute of International Economic and Trade Research, Guangdong University of Foreign Studies; and Ye Linwei is a PhD candidate at the same institute.
The views don't necessarily represent those of China Daily.
If you have a specific expertise, or would like to share your thought about our stories, then send us your writings at opinion@chinadaily.com.cn, and comment@chinadaily.com.cn.