German chain reflects climate cost in its prices
By JONATHAN POWELL in London | China Daily Global | Updated: 2023-08-09 08:53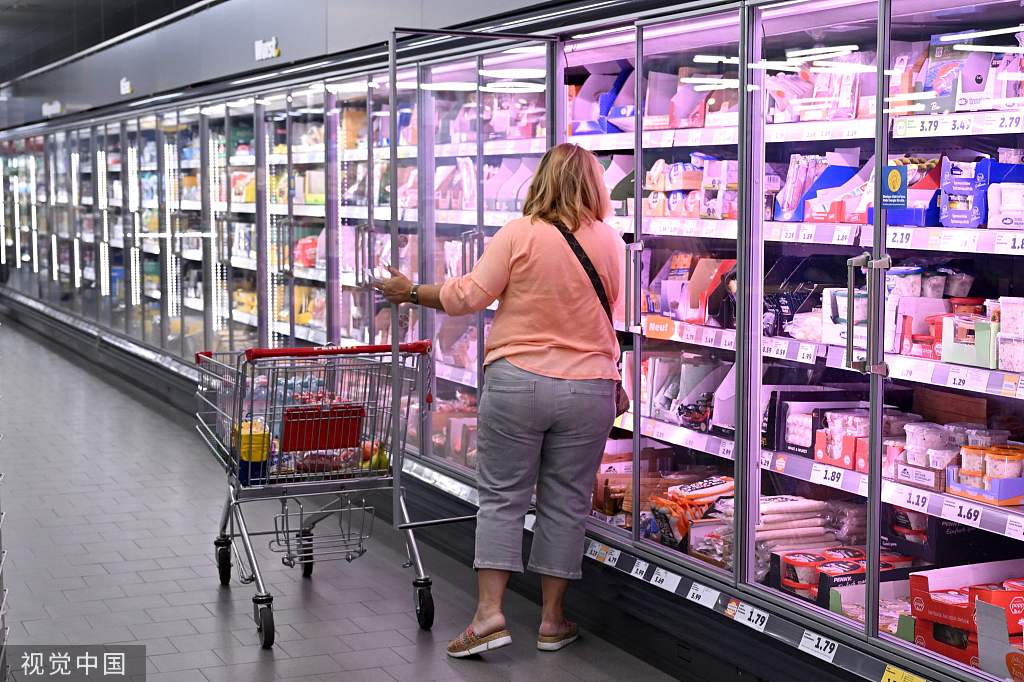 German discount supermarket Penny has drawn a mixed reaction from critics after temporarily increasing the prices of some of its products to incorporate hidden climate costs.
The trial price rise last week was part of a campaign that sought to raise awareness of the environmental cost of producing food, though the move has brought accusations of greenwashing.
A range of nine products, primarily dairy and meat, were priced based on what experts from two universities deemed was their true cost in all 2,150 branches of the Penny chain.
The weeklong experiment was aimed at reflecting their impact on soil, climate, water use, and health, reported The Guardian newspaper.
The supermarket's price for wiener sausages rose from 3.19 euros ($3.50) to 6.01 euros ($6.59), mozzarella increased by 74 percent to 1.55 euros, and fruit yoghurt experienced a 31-percent rise, going from 1.19 euros to 1.56 euros.
Supported by academics from the Nuremberg Institute of Technology and the University of Greifswald, the awareness promotion week was launched after consumer research found that current supermarket price tags did not reflect the true environmental or long-term health costs of food production and retailing.
"We need to put out the uncomfortable message that the prices of our foodstuff s, which are accrued along the supply chain, in no way reflect the environmental on-costs," Penny's chief operating officer, Stefan Gorges, told Reuters news agency.
The company said researchers will study consumer reactions to the price changes and said it plans to donate any extra income from the trial to a sustainable farming project.
In commentary pieces, German and Austrian media said the initiative was a good start, but would not affect underlying problems, reported the Eurotopics news roundup website.
Frankfurter Rundschau, a German daily newspaper, said instead of punishing customers, "it's production processes that need to change, and ideally the relations of production".
"This is a political matter: regulation and price capping are what is called for. Then a lot more people would be able to afford more environmentally friendly products."
Kleine Zeitung, an Austrian newspaper, noted that food prices in general are far too low and the environmental damage caused by production is not factored in.
It said: "To demand higher 'environmental prices' at the till is no solution. It only puts more financial strain on end consumers, many of whom are already struggling. The important thing is to make changes higher up the food chain, for example by strengthening regional markets by reducing transport routes."
German weekly business news magazine Wirtschaftswoche said the experiment only "confirmed a cliche".
It said the trial entrenches the conclusion "that companies like Penny have their hands tied: as long as the Germans remain stingy, they cannot save the world".
The German Farmers' Association dismissed the campaign as a "greenwashing project", and consumer protection watchdog Foodwatch described it as a PR stunt.