General Stilwell fondly remembered
By LIA ZHU and CHANG JUN in San Francisco | China Daily | Updated: 2023-08-09 09:14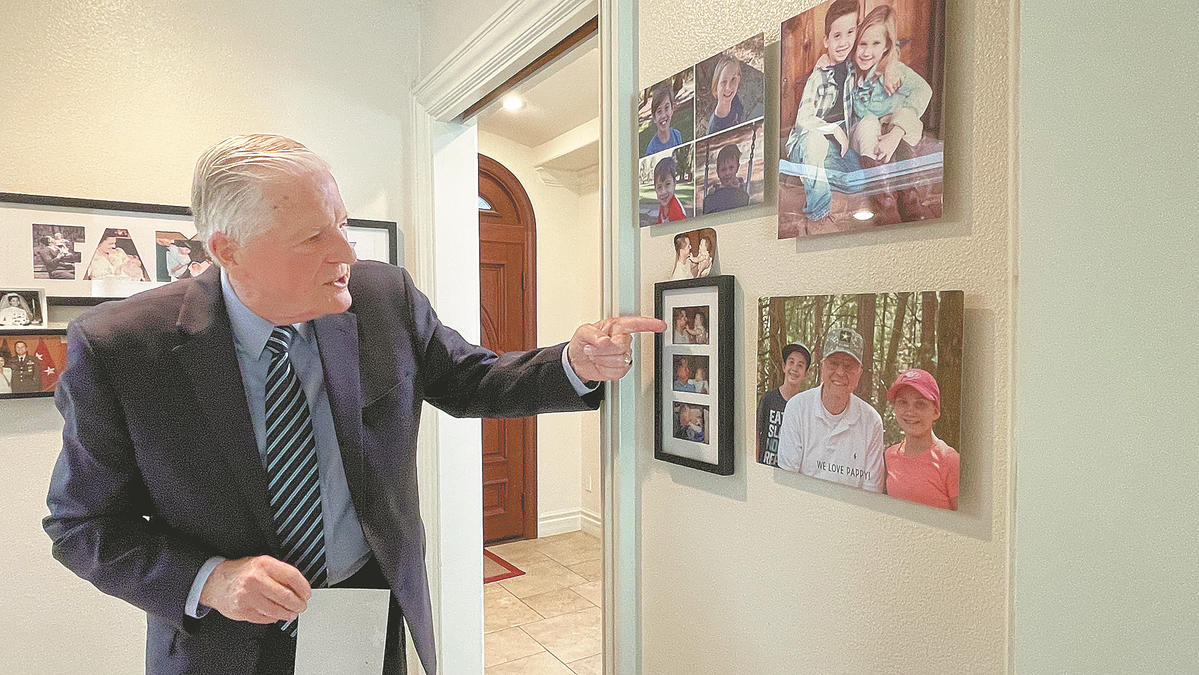 A wonderful family man, a four-star United States Army general, and a great friend of the Chinese people — all aptly describe the late Joseph Stilwell in the eyes of his grandson John Easterbrook.
"Modest, courteous, humanitarian, linguist, teacher, patriot, poet "was how Easterbrook, an 82-year-old retired Army colonel, further described the other, perhaps lesser known, side of the courageous, acerbic Stilwell, whose nickname was "Vinegar Joe".
Easterbrook said he hoped more people could emulate his grandfather's better qualities and draw inspiration from his legacy.
"I think that it would behoove everybody to know what kind of man Stilwell was, and particularly his friendship with the Chinese people," Easterbrook said during an interview with China Daily at his home in the San Francisco Bay Area.
Stilwell served as commander of US forces in the China-Burma-India Theater from 1942 to 1944. He is fondly remembered as a hero who fought side by side with the Chinese people against the Japanese invasion. He is the only US military leader with a museum dedicated to him in China.
"He had great respect and admiration for the Chinese people, and in return, the Chinese people have a very high regard for him locked in their hearts," said Easterbrook.
The mutual affection is evident in photos, one of which shows Stilwell doffing his hat and speaking to Chinese veterans. Another shows Chinese welcoming the first convoy on "Stilwell Road", an overland connection between India and China that was built to aid the war effort against Japan and later named after him as a token of gratitude.
Stilwell's admiration for the Chinese was not just for "the top-echelon people" but for the laobaixing, said Easterbrook, using the Chinese expression for ordinary people.
"In 1921, he was chief engineer responsible for constructing a famine relief road in Shaanxi province, and he rubbed elbows on a daily basis with the workers and the supervisors. He lived as they did, stayed in Chinese inns, traveled the way they did," said Easterbrook.
Qualities valued
Referring to the qualities of the Chinese, Easterbrook quoted from the writings of his grandfather, who described them as "honest, frugal, industrious, cheerful, independent, tolerant, friendly and courteous".
Stilwell was a military attache to the US legation in Beijing, then known as Peking, from 1935 to 1939 during the beginning of the Chinese People's War of Resistance Against Japanese Aggression (1931-45).
"He would go out into the field and try and observe the activities of the Japanese and the Chinese forces, so he got to know the Chinese and he was fluent in Chinese," said Easterbrook.
When Stilwell commanded two Chinese divisions in the northern Burma campaign in late 1943 and 1944 in what is known today as Myanmar, he made some changes, providing the soldiers with better food as well as improved medical care, equipment and training.
Stilwell won the respect and loyalty of Chinese soldiers to lead the campaign that brought Japan's occupation of China to an end in 1945.
Stilwell died in San Francisco in 1946 at the age of 63.
His residence in Chongqing, the wartime capital of China, was converted into a museum and opened to the public in 1991. After renovations and expansion, the museum reopened in 2003 for the 120th anniversary of Stilwell's birth.
The Stilwell Museum in Chongqing has served as a window for Westerners to learn about this overlooked chapter of history.
Among reviews posted on TripAdvisor, a visitor from Cincinnati, Ohio, wrote that "few in our party had heard of General Stilwell or the events depicted in this museum" and considered the visit "a learning experience".
A visitor from Adelaide, Australia, wrote, "Good to be reminded of a time when USA and China worked and sacrificed together for the greater good, something which the Chongqing locals have not forgotten."