Milestones and momentum: China's NEV sector surges ahead
Xinhua | Updated: 2023-08-11 16:51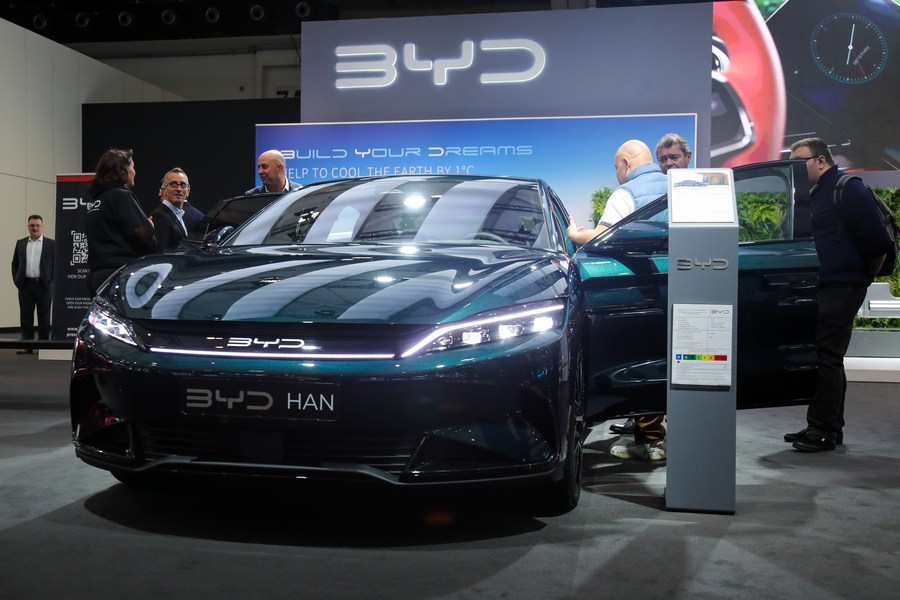 SHENZHEN - In a testament to China's rapidly evolving automotive landscape, the country's new energy vehicle (NEV) industry has surged forward, reaching significant milestones and showcasing huge potential.
China's leading NEV manufacturer BYD recently produced its five millionth NEV, marking another development milestone in China's automobile industry. Wang Chuanfu, chairman of the company, said that ever since it started producing cars, BYD has had to prove that Chinese automobile makers can do it.
The trend of accelerated growth extends beyond BYD, encompassing China's NEV industry as a whole. Public data highlights that it took 14 years for China's NEV production to reach 10 million units, yet merely one year and five months to achieve the next 10 million.
Since the start of July, both major players like BYD and Great Wall Motors, and emerging companies such as XPeng, Li Auto, and NIO, have all experienced steady growth in NEV production and sales, with some even exceeding market expectations.
This momentum is evidenced further by recent automobile export data. According to the China Association of Automobile Manufacturers, in the first half of 2023, China's total automobile exports reached 2.14 million units, marking a robust 75.7 percent increase year-on-year. Among these, exports of NEVs surged 160 percent from the same period last year, reaching 534,000 units.
This robust growth is reshaping perceptions of Chinese automakers. Once viewed as lagging in the traditional automotive era, China's NEV companies are now forging ahead, with many emerging as industry leaders.
Cui Dongshu, secretary general of the China Passenger Car Association, said that in 2022, China's new-energy passenger cars accounted for 63 percent of the world's new-energy passenger car market share.
He Rongliang, a researcher at the China Center for Information Industry Development, noted that a key feature of automotive intelligence is autonomous driving, a field in which many Chinese companies have an advantage.
"Chinese car manufacturers have made significant strides in crucial technology domains such as LiDAR, high-performance onboard chips, high-precision mapping, algorithms, computing platforms, and assistance systems," He said, adding that Chinese companies are leading a shift from traditional mechanical hardware to electronic devices and software in the NEV sector.
Amid fierce global competition and a burgeoning market, foreign automotive giants are strategically investing and expanding operations in China's NEV industry.
For example, Volkswagen recently invested $700 million to acquire a 4.99 percent stake in the Chinese automaker XPeng to jointly develop electric vehicle models. Toyota has teamed up with Chinese autonomous vehicle tech firm Pony.ai to establish an autonomous taxi joint venture with a projected investment totaling over 1 billion yuan ($140 million).
The NEV wave is further fueled by consumers' preference for intelligent vehicles.
A recent report from American data analytics company J.D. Power highlighted that in their 2023 study of new car purchase intentions, the weight of intelligent experience in consumers' vehicle choices increased from 12 percent to 14 percent.
This shift indicates that, as the automotive market transforms and upgrades, vehicles equipped with advanced technology and intelligence can provide significant competitive advantages for car manufacturers, the report said.
BYD chairman Wang Chuanfu noted that an increasing number of NEV consumers, both domestic and international, are choosing Chinese brands.
"As long as Chinese automakers persist in technological innovation, seize the opportunities presented by electrification, intelligence, and connectivity, and strive to meet market demands, we can accelerate the journey towards becoming a powerhouse in the NEV industry," Wang added.