SE Asia a hot spot for Chinese EV makers
By LI FUSHENG | China Daily | Updated: 2023-08-14 07:48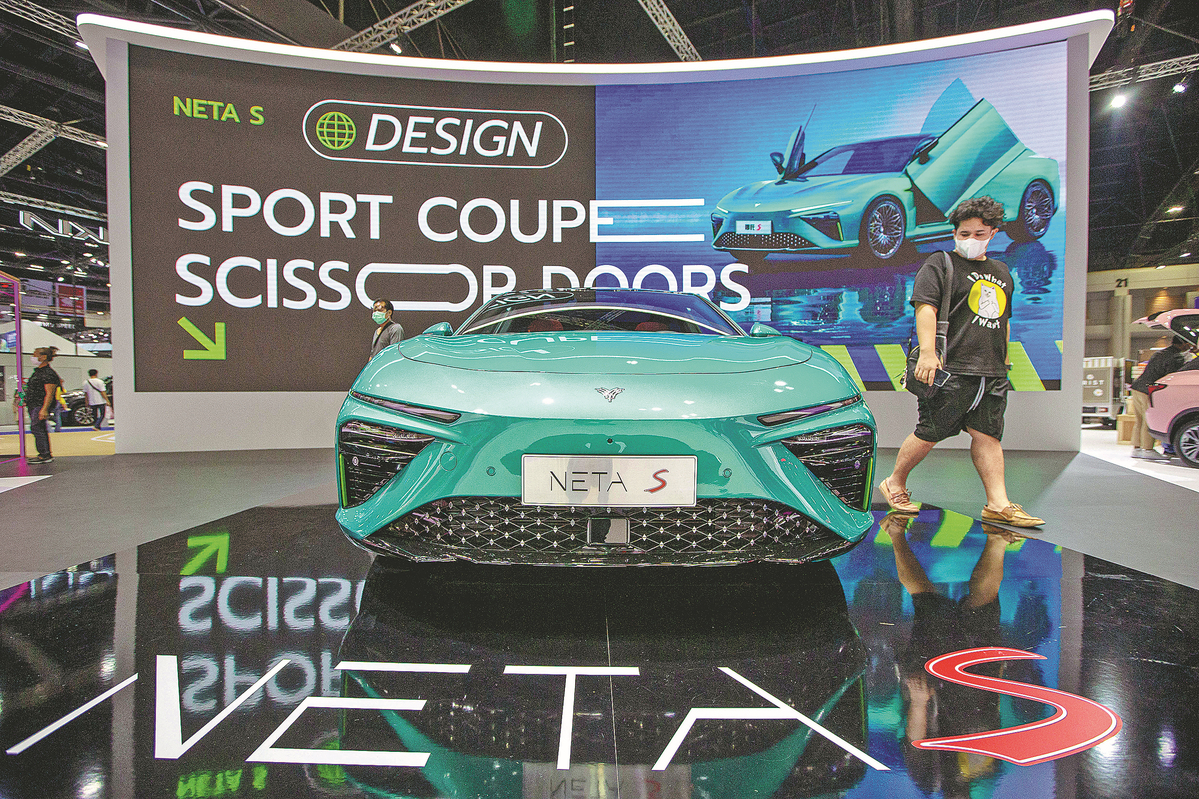 Nation's manufacturers on the lookout for overseas markets where sales can excel
Chinese NEV makers and battery manufacturers are eying overseas production to better explore markets, and Southeast Asia sits atop the list of destinations.
Analysts said localized production will enable companies to launch products faster and to come up with products that better meet local demands.
Hozon said it is planning to produce its Neta-branded vehicles in Indonesia from 2024.
The Chinese EV startup partnered with PT Handal Indonesia Motor in late July. The two will start to assemble complete cars starting from the second quarter of 2024.
Hozon is showcasing three of its Neta-branded models at the Gaikindo Indonesia International Auto Show from August 10 to 20.
Hozon said it would like to introduce China-made smart vehicles into the Indonesian market, which has a population of more than 200 million people.
"We believe that Indonesia has great potential to accept electric cars as vehicles to support daily mobility activities because they are proven to be effective and environmentally friendly," said Wang Chengjie, assistant president of Neta Auto and vice-president of Neta Overseas.
The carmaker started to explore overseas markets in 2022. Now its models are available in a number of countries, mainly Southeast Asia, including Malaysia and Thailand.
Hozon has kicked off construction of a plant in Thailand, which has a designated annual production capacity of 20,000 vehicles and is due to start operating in early 2024.
The carmaker's Neta-branded electric vehicles are popular in the country. Statistics show that Neta was the best-selling EV brand in Thailand in June, seizing a 28.9 percent share of the market.
Also in Thailand, China's largest carmaker SAIC began construction of a new energy industrial park in May, which is expected to focus on localized production of key auto parts for the company's new energy vehicles.
The Phase I construction of the park is estimated to be completed this year. Complete construction of the park will be finished in 2025, said the carmaker.
The new energy park, located in Chon Buri province, will cover 120,000 square meters and include standard workshops, a container yard, a logistics warehouse as well as drainage systems and a parking lot.
Several upstream NEV and component enterprises have expressed their intention to settle in the industrial park in the future, said SAIC.
China's largest NEV maker BYD is expected to produce vehicles in Thailand from 2024, which will be sold in the country and exported to markets in Southeast Asia.
Its wholly-owned plant, designed with an annual capacity of 150,000 vehicles, will be the company's first passenger vehicle manufacturing facility.
Liu Xueliang, general manager of BYD Asia-Pacific Auto Sales Division, said: "Thailand has a solid base in the automotive industry with first-class manufacturing capabilities so we chose to build a factory here after careful deliberation."
EVE Energy, a China-based lithium battery manufacturer, held a groundbreaking ceremony last week for its manufacturing facility in Malaysia with an initial investment of $422 million.
The company said the new manufacturing facility will focus on the production of cylindrical lithium-ion batteries to support power tools and electric two-wheelers manufactured in the country and across Southeast Asia.
Joe Chen, a director at EVE Energy Malaysia, said by relying on EVE's domestic advantages and operational experience the firm will build a cylindrical battery production base in the country.
"This is an important milestone for EVE to expand our global businesses, enhance our comprehensive competitiveness and to further grow our global market share. And most importantly, to let us contribute to the development of the electrical power ecosystem in Malaysia," he said.
Meanwhile, Lim Bee Vian, deputy chief executive officer of the Malaysian Investment Development Agency, said that the investment marks a crucial milestone that not only benefits EVE but paves the way for more companies to invest in Malaysia in the electric vehicle industry and its ecosystems.
"By collaborating with industry leaders like EVE, we can foster an environment of innovation and technological advancement," she said.
She also said this project aligns perfectly with Malaysia's National Automotive Policy 2020 as the country is committed to achieving net-zero greenhouse gas emissions by 2050.
She also said Malaysia's robust ecosystem, supported by strong research and development and a thriving components subsector, positions the country to cater to the entire EV value chain.