VW, Xpeng deal underscores country's edge in auto software
China Daily | Updated: 2023-08-14 09:36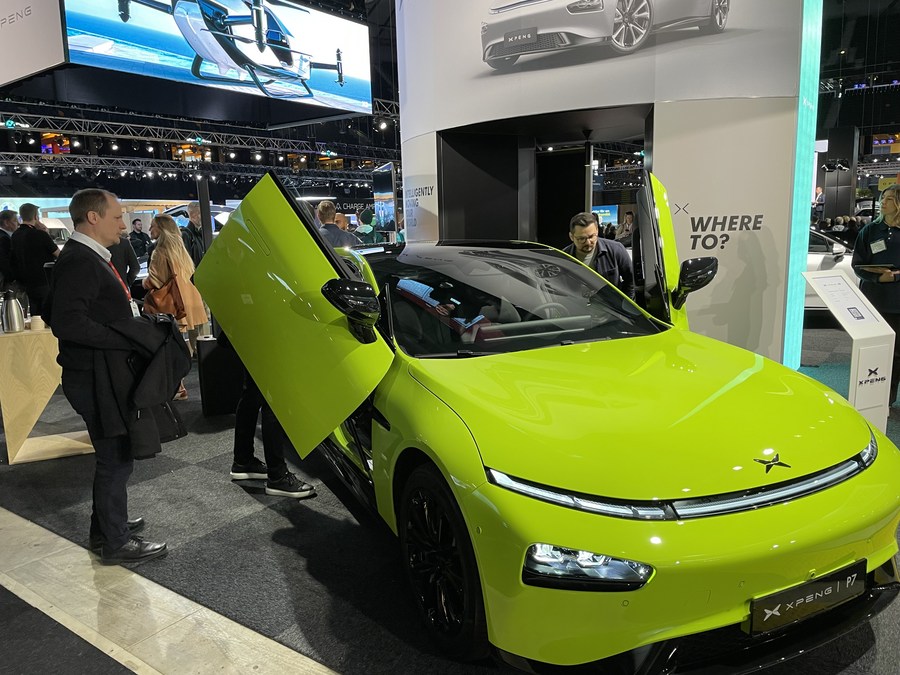 GUANGZHOU — The landmark cooperation with German car group Volkswagen has testified to the willingness of China's auto industry to share technologies with the world, said Xpeng CEO He Xiaopeng.
In late July, Volkswagen reached an agreement with Xpeng to buy a 4.99 percent stake in the Chinese electric vehicle startup Xpeng and codevelop two EV models for the Chinese market.
The deal attracted much attention as it gave Volkswagen access to Xpeng's technologies, including an advanced driving assistance system, as the German carmaker revs up its efforts to tap into China's fast-growing EV market.
In an exclusive interview with Xinhua News Agency, Xpeng's He said Chinese auto companies have started to sell cutting-edge technologies to foreign counterparts, breaking the mold of one-way technological transfer from foreign auto firms to Chinese ones.
"We have cooperation in terms of both stocks and technologies, which is of great significance," He said, adding that it also marks the first instance of a Chinese carmaker profiting from selling their own software.
Against global headwinds stemming from rising protectionism and anti-globalization sentiment, Xpeng's deal with Volkswagen sent out positive signals that "closer cooperation brings a win-win situation," the CEO said.
"The strategic cooperation once again proves that China's automobile industry continues to embrace the world and is willing to share technologies and seek common development," he said.
Founded in 2015, Xpeng is a rising star in China's new energy vehicle sector. The Guangzhou-based company is known for its focus on technological innovation, with 40 percent of staff being R&D personnel and R&D expenses reaching 5.21 billion yuan ($723.7 million) in 2022.
He said the decision for Volkswagen to team up with Xpeng was based on thorough research on enterprises and technologies in China and a recognition of Xpeng's edge in smart technologies.
For Volkswagen, the cooperation will greatly shorten the time needed for matching hardware with software, and for getting new products ready for production, while Xpeng will improve its brand image, technological strength and commercial value, said He.
"China has become something of a fitness center for us. We have to 'work out' harder and faster to keep up with the dynamics of the market," said Ralf Brandstaetter, chairman and CEO of Volkswagen Group China, at an industry forum earlier this month. " (We need to) make even better use of local innovative strength and respond more quickly to the needs of Chinese customers," he said.
The deal is a "smart" move for Volkswagen, said Li Xiao, a Beijing-based independent auto analyst.
"China is ahead of Europe and the United States in terms of the NEV industry. If international brands would like to regain their glory seen in the age of gasoline vehicles, they have to use local expertise by hiring Chinese engineers or partnering with Chinese companies," Li said.
Besides Xpeng, Volkswagen inked a 2.4 billion euros ($2.64 billion) deal in 2022 with Horizon Robotics to develop driving-assist functions for its electric vehicles.
Beijing-based Horizon is one of the country's leading providers of computing solutions for smart vehicles, specializing in software, algorithms and chip design.
Its solutions for driving-assist and smart cabin functions have been used in a number of models by carmakers including local startup Li Auto.
Volkswagen said the deal with Horizon was its largest single investment in the country. "It (the investment) clearly demonstrates the commitment to the future of our business here (in China)," said Brandstaetter. "We are here to stay. We are here to stay strong."