Getting prepared when natural disasters strike
By Majid Khan and Song Dazhao | chinadaily.com.cn | Updated: 2023-08-14 10:10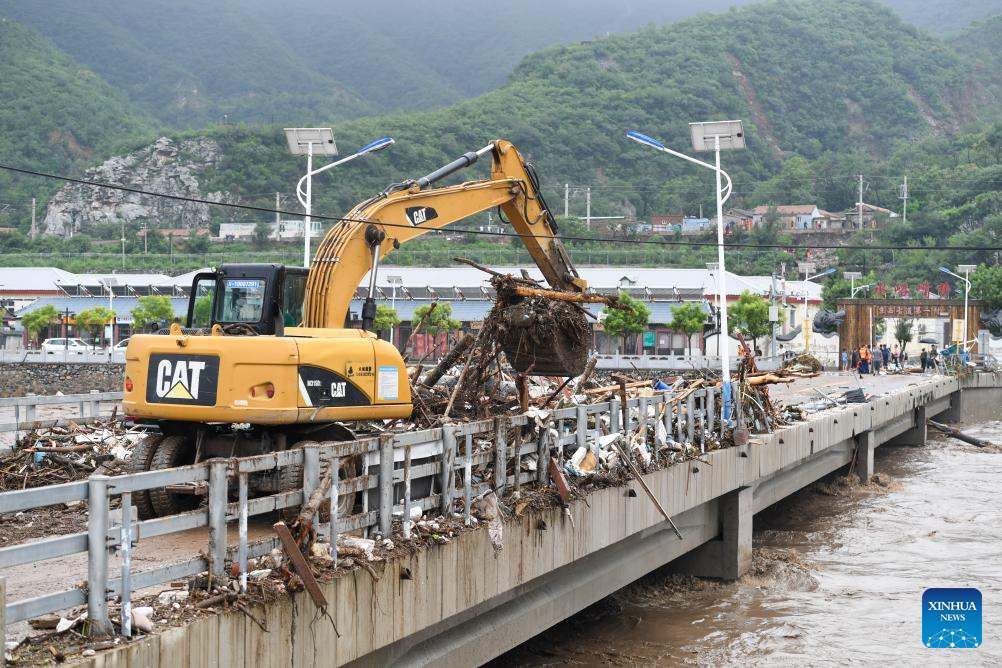 Recent weeks have witnessed a tumultuous interplay of nature's forces in China as Beijing and Dezhou, Shandong, grappled with the impacts of a severe flood and a notable earthquake. These events, occurring in August, have prompted a closer examination of disaster preparedness, response strategies and resilience of local communities.
In the nation's capital on August 04, 2023, the flood unfolded as torrential rains inundated the city resulting in approximately 33 deaths, and 18 others missing while 59,000 homes collapsed and damage was caused to almost 150,000 others, covering an area of 15,000 hectares. Streets transformed into rivers and urban areas experienced waterlogged chaos. The relentless downpours challenged the city's drainage systems and prompted authorities to issue emergency alerts, urging citizens to remain vigilant and prioritize safety. The local government authorities swiftly implemented a series of immediate measures to manage the crisis and ensure the safety of residents.
The coordinated and prompt implementation of these immediate measures highlighted the effectiveness of disaster preparedness and response strategies in managing the flood crisis. These efforts not only minimized the impact on residents but also underscored the importance of collaboration between local authorities, emergency services and communities during times of crisis. Neighbors came together to assist one another, sharing resources and providing support to those affected by the flooding. This display of community solidarity showcased the strength and unity of the city's populace in times of adversity.
The recent flood in Beijing serves as a reminder of the need for continuous investment in urban planning, drainage systems and disaster preparedness. It also prompts discussions on the broader implications of climate change and its potential impact on urban centers. As authorities assess the event's aftermath, the lessons learned will likely contribute to the city's ongoing efforts to enhance its resilience to natural disasters. It's worth mentioning that, when compared to the past, the North-South Diversion Project (diverting water from the Yangtze River basin to the parched north) significantly contributes to flood prevention in Beijing and the broader northern regions, and its multifaceted benefits extend to water security, economic growth and environmental sustainability. As China continues to navigate the challenges posed by rapid urbanization and climate change, the project's impact emphasizes the importance of innovative solutions to ensure the nation's water resilience and well-being.
Meanwhile, in Dezhou, Shandong province, a significant earthquake rattled the region on Saturday, August 5, 2023. With a magnitude of 5.4 at 2:33 a.m. local time with a 10 km depth at the epicenter, according to China Earthquake Administration, the tremors sent ripples of concern through the local populace. While the seismic event did not result in widespread destruction, it acted as a stark reminder of the geographical dynamics that underlie China's landscape. However, 21 people from the cities of Dezhou and Liaocheng have been reported as injured. Local authorities and emergency services swiftly responded to the seismic event. Rapid assessments were conducted to evaluate any potential damage to infrastructure and buildings. Additionally, emergency teams were mobilized to assist individuals who may have required immediate assistance due to the earthquake's effects.
China's geological landscape is marked by its position along active tectonic boundaries. The country experiences frequent seismic activity due to the interactions between the Eurasian and Pacific tectonic plates. The earthquake in Dezhou serves as a reminder of the ongoing geological processes that shape the nation's topography. In the aftermath of the earthquake, authorities and experts may conduct assessments to gather data on the event's characteristics and effects. These insights contribute to a deeper understanding of regional seismicity and inform future preparedness measures. This earthquake underscores the importance of continuous monitoring, preparedness and collaborative efforts to mitigate the impact of seismic events in earthquake-prone regions.
As we reflect on these recent natural events, there are valuable insights to be gleaned. First and foremost, the unity and resilience displayed by communities in times of adversity stand as a testament to the indomitable spirit of the Chinese people. However, these events also shine a light on the pressing need for further advancements in disaster preparedness, response systems and infrastructure resilience. Implementing a comprehensive urban planning approach that includes efficient storm water management systems and strategic land-use planning can help mitigate flood risks in Beijing.
Additionally, investing in improved infrastructure, such as enhancing drainage systems and constructing flood barriers in vulnerable areas, would contribute to minimizing the impact of heavy rainfall events.
Dr. Majid Khan is serving as full-time Foreign Faculty at University of Science and Technology Beijing. Prof. Song Dazhao is a Full Professor and Assistant Dean of School of Civil and Resources Engineering, University of Science and Technology Beijing. The views do not necessarily reflect those of China Daily.
If you have a specific expertise, or would like to share your thought about our stories, then send us your writings at opinion@chinadaily.com.cn, and comment@chinadaily.com.cn.