Chinese composers give classical concerts in Europe
By Chen Nan | chinadaily.com.cn | Updated: 2023-08-14 15:25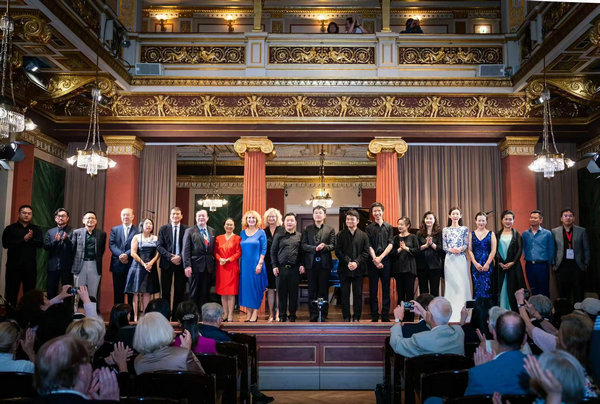 A group of Chinese musicians, led by renowned conductor and president of the Central Conservatory of Music Yu Feng, visited Vienna between Aug 8 and 10.
During their stay, they performed a concert of contemporary classical music by Chinese composers in the Brahms Hall at the Vienna Musikverein.
After the visit, the musicians also participated in the Cremona Festival in Italy and gave another concert on Aug 12.
Both concerts also featured contemporary chamber music. The first concert in Vienna, titled Musical Impressions from China, included pieces like Hyacinth by Ye Xiaogang, He Ge (Harmonious Song) by Wen Ziyang, Głos for viola solo by Yao Chen, and Irregular Perpetuum Mobile by Tang Jianping.
The second concert in Italy, titled The Sound from the East (China), included pieces like For Joy by Hao Weiya, Epic by Dai Bo, and Canon for the Pipaand String Quartet by Chen Xinruo.
The two concerts were part of the Central Conservatory of Music's visit to Europe in partnership with Universal Edition.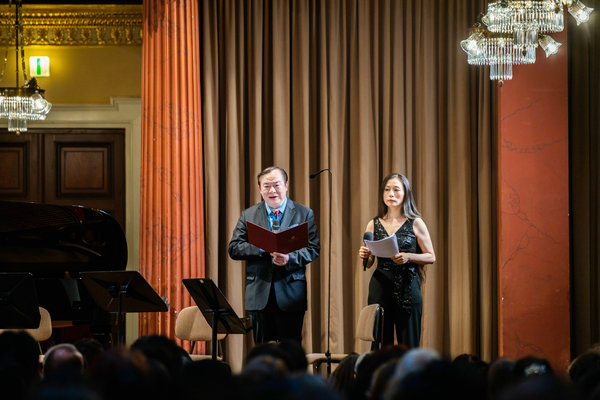 Universal Edition, a well-known international music publisher founded in 1901, and Beijing's Central Conservatory of Music launched a strategic partnership in April.
The cooperation is based on the publication of digital and printed scores to promote the exchange and dissemination of contemporary Chinese classical music compositions worldwide.
Universal Edition includes 15 composers from the Central Conservatory of Music and their compositions each year in its catalog, thus marketing them to major music institutions and ensembles worldwide.
In addition, Universal Edition profiles the composers and their work on its website, the first time that Universal Edition has set up a dedicated page for a Chinese music school.