More flights between China, US approved
By LUO WANGSHU | chinadaily.com.cn | Updated: 2023-08-14 23:46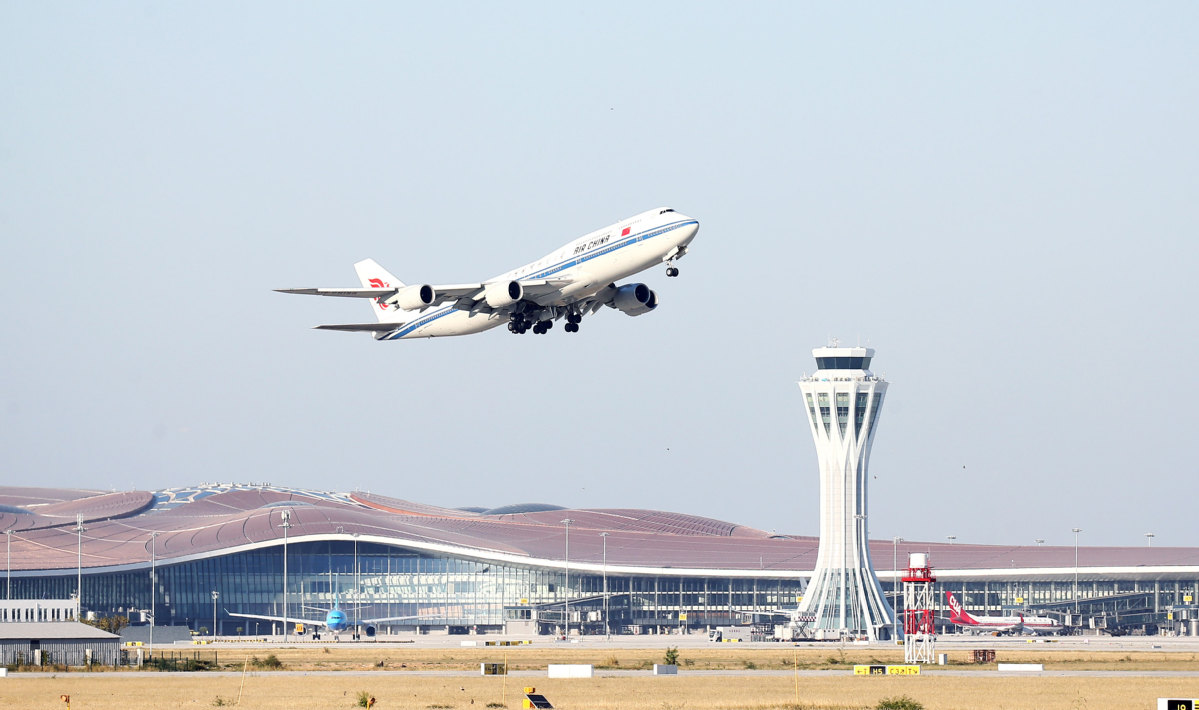 Air carriers will be allowed to increase, and eventually double, the number of international passenger flights between China and the United States, in a move to better facilitate people's movement between the two countries.
The US Department of Transportation said on Friday that Chinese airlines can increase the total number of weekly round-trip flights to the US to 18, from the current 12, and the number will rise to 24 by Oct 29.
The number will be equal to what China will allow for US airlines. In total, 36 weekly round-trip flights will be allowed to be operated by Chinese and US carriers starting on Sept 1, and 48 beginning on Oct 29.
In an application filed last week with the US department, Air China noted that it is requesting permission to add a new weekly flight between Beijing and Los Angeles. China Eastern said it seeks to add a new weekly flight between Shanghai and Los Angeles.
Currently, Air China, China Eastern, China Southern and Xiamen Airlines provide scheduled flight service to the US. Their US counterparts United Airlines, American Airlines and Delta Air Lines operate passenger flights to China.
In May, the US department announced that the number of direct flights between the two countries would rise to 12 per week — the first increase in three years — to match the number of flights operated by Chinese carriers. As a result, a total of 24 round-trip flights now operate each week.
As of the end of June, the total number of international flights to and from China was 3,368 per week, about 44 percent of the volume before the COVID-19 pandemic, according to the Civil Aviation Administration of China.
Earlier this year, the administration estimated that if the market recovers well, the number of international flights to and from China is expected to reach about 75 percent of the pre-COVID level by the end of the year.
Group tours resume
More positive signals have been seen recently. Last week, China announced the resumption of group tours to another 78 countries, including the US, the United Kingdom, Japan and Australia. Last month, a meeting of the Political Bureau of the Communist Party of China Central Committee called for increasing international flights in the second half of this year.
In June, Foreign Ministry spokeswoman Mao Ning said that China stands ready to work with the US to increase flights with flexibility and pragmatism, after US Secretary of State Antony Blinken visited Beijing.
During the visit, both sides reached a common understanding on promoting people-to-people exchanges, Mao said. China and the US agreed to encourage more people-to-people and educational exchanges, and had positive discussions on increasing passenger flights between the two countries, she added.
The number of international flights to and from China had been reduced due to disruptions caused by COVID-19. Since 2020, US carriers began to suspend scheduled passenger flights to China. In March 2020, China introduced the "circuit breaker" policy — the suspension of carriers for two weeks if five or more passengers tested positive for COVID upon landing in China, or four weeks if 10 or more passengers tested positive.
In June 2020, the US suspended all scheduled passenger flights between the two sides.
Flight service between the two countries has gradually increased since January, as China optimized its COVID response measures and promoted the resumption of international flights.
"China's international flight market has seen a positive resumption. The number of flights to some Asian countries, such as Japan and South Korea, has reached pre-pandemic levels," said Qi Qi, a senior aviation expert.
However, flight service to North America, including the US and Canada, hasn't recovered fully due to the lack of market demand, Qi said.
He added that the capability of overseas airports to ensure safety is also needed.
"Due to the low traffic for the past three years, some overseas airports lack the capability to receive sufficient flights from China," he said.
Shedding further light on why the recovery is not as good as expected, Li Xiaojin, a professor of aviation economics at Civil Aviation University in Tianjin, said, "Some countries required equal civil aviation rights, such as the US. And some countries are still recovering from the impact of COVID-19, with less demand for international travel."
A passenger surnamed Shang traveled from Beijing to San Francisco and back in May and earlier this month. Shang said she experienced two exhaustive layovers both times — one in Hong Kong and the other in Tokyo.
In May, the trip from Beijing to Hong Kong was severely delayed, and Shang missed the second flight. Though the most recent flight departed on time, it was still tiresome for her to travel 20 hours with her 6-year-old daughter.
Shang said she was glad to see that more choices will be available.
"I'm looking forward to more direct flights," she added.