Freight transport steers toward green solutions
By LIU YUKUN | China Daily | Updated: 2023-08-18 09:37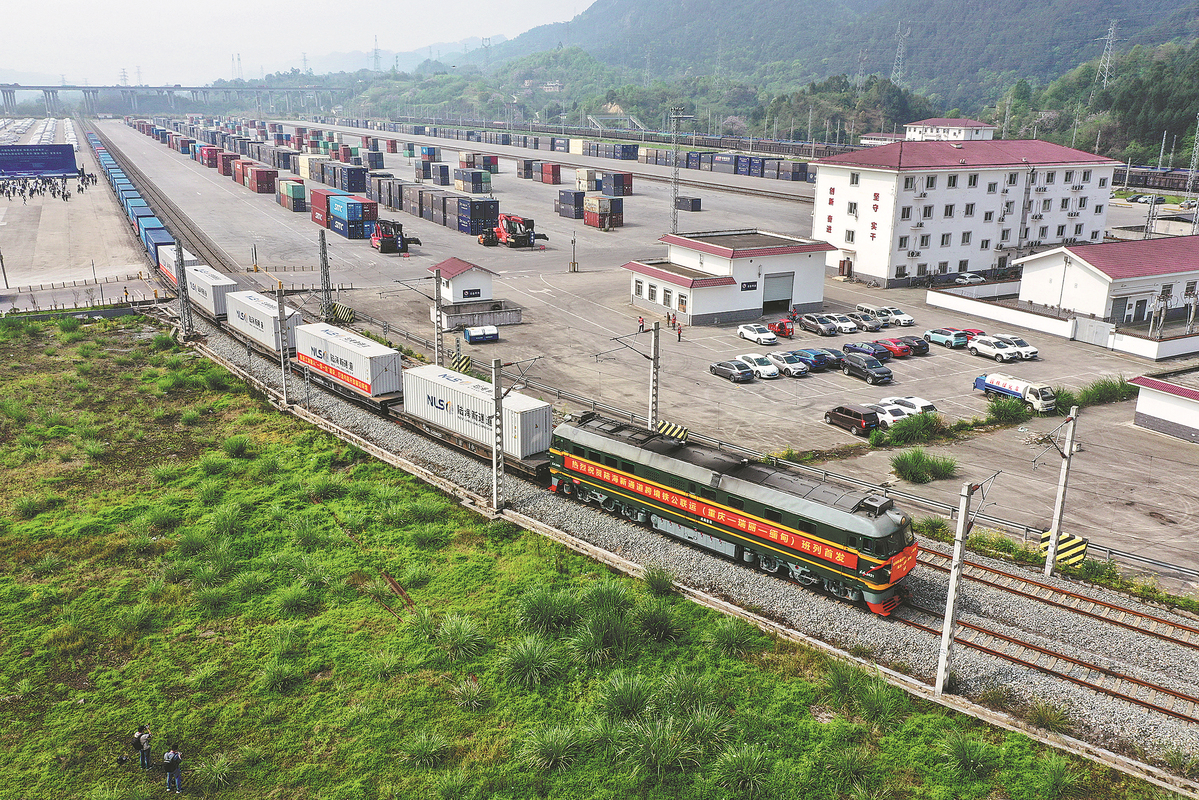 Stronger policy support, tech innovation urged to further reduce sector's emissions
In a bid to steer the energy-intensive freight transportation sector toward zero emissions, experts are urging policy support, innovative power charging solutions with higher efficiency and lower cost, and the launch of pilot projects.
Wang Pinxi, deputy director of energy conservation and emissions reduction at the Beijing Transport Institute, said that although cargo vehicles account for only 9.5 percent of the country's total vehicles in number, they are responsible for 65 percent of carbon emissions in the transportation sector. Thus, the promotion of zero-carbon emissions in freight transportation is essential to achieving energy efficiency and reducing the carbon footprint in the transportation sector.
The China Association of Automobile Manufacturers said that commercial vehicle production and sales from January to July reached 2.253 million and 2.258 million units, respectively, representing year-on-year growth of 16.9 percent and 15.9 percent. Among these, both passenger and cargo vehicles experienced double-digit growth compared to the same period last year. Notably, cargo vehicle production and sales reached 1.988 million and 1.996 million units, respectively, up 15.6 percent and 14.8 percent year-on-year.
Li Lili, researcher and deputy director of the Sichuan Energy Internet Research Institute at Tsinghua University, said that promoting electric cargo vehicles is a key approach to achieving zero emissions in freight transportation — however, challenges lie in high charging costs.
Li explained that, unlike passenger vehicles, the cost difference between diesel and electricity to fuel or power a cargo vehicle is not pronounced, as diesel is less expensive than oil, while electric cargo vehicles have additional costs such as power charging service fees, expenses that are relevant to time loss when charging and the costs of installing or changing batteries.
"These factors might result in a situation where electric vehicles have higher operational costs for long-distance cargo transportation compared to diesel vehicles, not to mention the inconvenience of finding a charging pile or a battery-swapping station," Li said.
Li said that technological innovation could improve efficiency and reduce the cost of electric cargo vehicles in the way of extending the lifespan of charging piles to reduce service costs, enhancing battery capacity to increase range and reducing battery depreciation costs.
Policy support also plays a crucial role in driving the low-carbon transformation of freight transport, experts said. In November 2020, the Ministry of Transport said that starting from 2021, the proportion of clean energy vehicles should not be less than 80 percent in newly operated buses, taxis and logistics vehicles in certain regions.
Yin Hang, deputy director of motor vehicle emissions monitoring at the Chinese Research Academy of Environmental Sciences, said that the majority of China's bulk cargo freight transportation occurs via highways, which account for about 73.3 percent. He said in response to strong emissions reduction demands, many regions are promoting electric cargo vehicles.
For instance, while Hebei province has been promoting the development of energy-intensive and carbon-intensive industries, such as steel, the provincial government said over 80 percent of bulk raw material transportation must use clean transport methods, thereby driving enterprises to procure zero-emission electric trucks through policy incentives.
Several provinces and cities are also adopting policy measures to promote the use of electric cargo vehicles. Yin said that currently in Tangshan, Hebei province, steel and iron companies are using over 3,000 electric heavy-duty trucks.
"Our research group has analyzed data from two of these companies in Tangshan, both of which have stable electric heavy-duty truck operations, particularly in transporting ore from ports to steel plants," he said.
Yin mentioned that technically, new energy heavy-duty trucks are already feasible for daily use and now require certain policy support for further promotion. He said the academy is calling for the implementation of policies for zero-emission freight transportation demonstration cities to establish green transportation patterns in certain cities.
He said the academy hopes to increase the penetration rate of medium and heavy-duty electric trucks from the current 5-6 percent to around 20 percent by 2025 and expects more support in the form of financial and tax policies that can help reduce enterprises' investment and operational costs.