NEV sales rev up as sector maintains growth trend
By MA SI | CHINA DAILY | Updated: 2023-08-21 07:05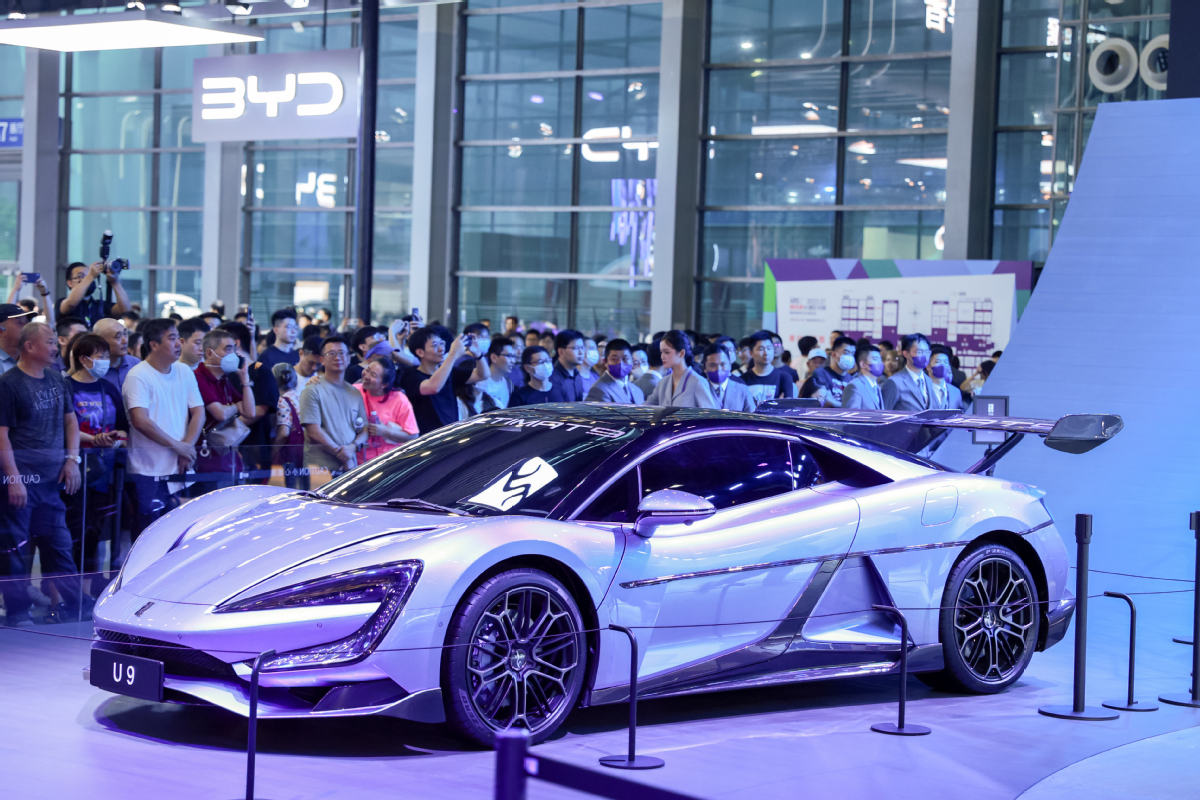 New policies stabilize consumption, making nation largest market in world
Sales of new energy vehicles are expected to hit 9 million units in China this year, experts said, adding that though this year's policy switch has brought about fluctuations in the industry, the rapid growth trend of NEVs is certain and has become an important force in stabilizing consumption.
Chen Shihua, deputy secretary-general of the China Association of Automobile Manufacturers, said in the first half, sales of NEVs maintained a relatively fast growth rate, and government policies and revived consumer demand will help the industry maintain a certain growth trend.
"Since the beginning of this year, the policies of the automotive industry have mainly focused on supporting NEVs, including encouraging the consumption of NEVs in rural areas, building more charging stations in rural areas and the extension of purchase tax reduction policies," Chen said.
He said that although NEV sales were affected in the first several months of this year compared with the same period of last year because of the withdrawal of subsidies that were first introduced in 2009, the Chinese market is chiefly driven by consumer demand.
In July, the sales of NEVs stood at 780,000 units in China, up 31.6 percent year-on-year, data from the CAAM showed.
They brought sales in the first seven months this year to 4.53 million units, up 41.7 percent year-on-year.
The popularity of NEVs helped increase the market share of Chinese marques. Last month, Chinese brands combined seized a 57.2 percent share of the country's passenger car market. For the period from January to July, the figure stood at 53.8 percent.
Wang Chuanfu, chairman and president of BYD, estimated that the share of Chinese marques in China would reach 70 percent by 2025 thanks to their edge in the NEV sector.
Hans-Paul Burkner, global chair emeritus of Boston Consulting Group, said electric cars are a typical example that China is moving up in the value chain. Chinese companies have become very competitive, not just because of costs, but also because of quality and innovation.
"When I look at some of the new cars on the streets in Beijing and Shanghai, the electric vehicles are really impressive. That is what makes Chinese companies competitive," Burkner said.
He Rongliang, a researcher at the China Center for Information Industry Development, said Chinese companies are leading a shift from traditional mechanical hardware to electronic devices and software in the NEV sector.
"Chinese car manufacturers have made significant strides in crucial technology domains such as LiDAR, high-performance onboard chips, high-precision mapping, algorithms, computing platforms and assistance systems," He said.
According to He, a key feature of automotive intelligence is autonomous driving, a field in which many Chinese companies have an advantage.
China has been the world's largest producer and market for new energy vehicles for the past eight years.
EVs accounted for a quarter of all passenger cars sold in China last year, far ahead of roughly one in seven in the US and one in eight in Europe, and the pace is accelerating. HSBC expects the EV penetration rate in the world's second-largest economy to reach 90 percent by 2030.