Dancing to the next stage of excellence
By Chen Nan | China Daily Global | Updated: 2023-08-21 08:33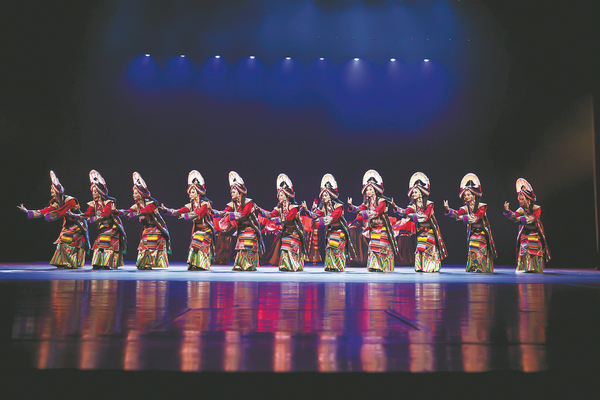 Event dedicated to performance and teaching of art form continues to produce new, national talent, Chen Nan reports.
When he was a dancer with a local art troupe in Shigatse city, Tibet autonomous region, Kalsang Tenzin traveled to remote parts of Tibet to learn folk dances that were rarely performed onstage.
One day, he visited a small town in Shigatse city where he saw a performance by a group of male dancers. One of them in particular amazed him.
"He was an older man and he danced really well, even though he'd lost his right hand," recalls the 33-year-old. "His passion impressed me, and I decided to learn the dance."
Kalsang Tenzin later learned that it was called Rgyas Gzhas, which means "ceremonious song and dance performance".
Kalsang Tenzin spent four years learning the form and then arranged the choreography for his own dance piece called Rgyas Gzhas — Ancient Charm.
On Aug 13, a group of Kalsang Tenzin's students at Tibet University, where he is now a dance teacher, performed the dance in Beijing, as part of the Achievement Exhibition of the 13th Taoli Cup National Dancing Education Performance of China.
Decked out in colorful Tibetan costumes and exquisite headwear, 12 male and 12 female students performed onstage to the music collected from Tibetan folk artists.
According to Kalsang Tenzin, there are three folk tales related to Rgyas Gzhas, and he combined them in his choreography.
"It is said that Rgyas Gzhas is a dance form born from celebrating battle victories, and that it was created so that the winners of song and dance competitions could celebrate their achievements," Kalsang Tenzin says.
He notes that, according to popular legend, it was performed when Tang Dynasty (618-907) Princess Wencheng traveled all the way from Chang'an (today's city of Xi'an, Shaanxi province) to marry the then Tubo ruler, Songtsen Gampo. The legend is a household story in China, highlighting the connection between the Han and the Tibetan ethnic groups.
"Performers usually wear heavy, sophisticated accessories because the dance is performed for grand ceremonies. For our performance, we simplified the costumes but maintained the essence of the moves, such as the repetitive movements of the head and the focus on the balance of the knees and the movements of the feet," says the man who has been dancing since he was a child.
When he was 12, Kalsang Tenzin moved to Shanghai to study dance at the middle school affiliated to the Shanghai Theatre Academy. In 2015, he came to Beijing to study at the Minzu University of China with a major in dance education, and four years later, he became a teacher at Tibet University.
"Before I learned the dance, I had never even seen Rgyas Gzhas. I have always been told that Tibetan people are hardworking, so we dance by moving our bodies closer to the ground — just like people working on the farm. During the course of this dance, though, we had to maintain graceful, elegant composure, which is quite different to the kind of Tibetan dancing I learned as a child," says 19-year-old Pema Yangzom, who received dance training in Guangzhou, Guangdong province, as a teenager, and enrolled to study at Tibet University a year ago.
This was the first time that she and her classmates were performing in Beijing, she adds, and they were all very excited to travel from Lhasa to the capital.
The 13th Taoli Cup National Dancing Education Performance of China, which was held in Beijing from Aug 9 to Wednesday, featured 200 programs in six sections divided according to style, including classical Chinese dance, Chinese folk dance, ballet and contemporary dance. Students representing 64 schools from 27 cities and provinces participated in the event, making it the largest event in the history of the cup.